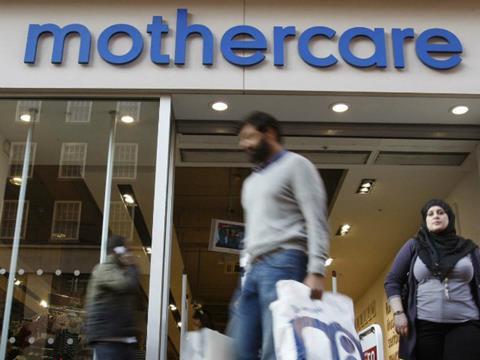 Top story
Baby and child retail brand Mothercare has announced it has signed off on a ten year deal to sell its goods through Boots UK following the closure of its own UK store estate following administration.
As part of a wider 'transformation plan', Mothercare has finally agreed contractual arrangements for Boots to become its UK and Republic of Ireland franchise partner after the arrangement was first announced in December.
The deal will be for an initial period of ten years and will see Mothercare branded clothing available in a large number of Boots stores across the UK and Ireland from this autumn with home and travel products (including pushchairs and car seats) available in larger Boots stores, as well as online.
"Boots is at the heart of one of the largest healthcare businesses in the world and Mothercare will dovetail well as the specialist brand for parents and young children in both Boots stores and online," Mothercare said.
Meanwhile, its wider new business model will see its various franchise partners contracting to pay for products directly to Mothercare's manufacturers "thus removing the timing mismatch we were experiencing with the reduction in our payment terms and so improving the group's working capital requirements".
"We believe this new way of working will ultimately have the added benefits of improving pricing for franchise partners, which in turn should better incentivise retail sales growth and assist our manufacturing partners in reinstating credit insurance for future seasons," the company stated.
It has also entered into a new twenty-year franchise agreement with the Alshaya Group, its "most significant" franchise partner.
Finally, the administration of Mothercare UK Ltd resulted in a "substantial reduction" in the amounts owed and, albeit with some potential claims still outstanding.
Management still estimate the shortfall that the group may have an obligation to make good as some £10m.
It said discussions continue with a number of parties in relation to the potential refinancing of the group's debt facilities.
Mothercare's UK retail arm entered administration in November 2019 and closed its entire 79 strong UK retail network over the subsequent months with the final stores closing in January.
Morning update
UK-listed Russian grocery retailer Magnit has posted 16% revenue growth in the first half of the year to RUB763.4bn (£7.9bn).
Net retail sales increased 15.7% y-o-y and reached RUB744bn billion driven by LFL sales growth of 7.5% and selling space growth of 5.1%.
Starting from January 2020 net retail sales growth continues outpacing selling space growth on strong LFL results leading to higher sales densities.
Wholesale revenue in 1H 2020 increased by 30.2% up to RUB19.4bn primarily driven by improvements of wholesale operations including expanded assortment and an increased customer base.
Gross profit in the first half of 2020 increased by 15.6% y-o-y and stood at RUB179.5bn with a margin of 23.5%.
EBITDA increased by 23.6% to RUB53.2bn with margin of 7%.
Since the end of the financial period, Magnit has started piloting discounter concept with the first three stores under the new format opened.
Magnit also reached an agreement to acquire long-term leasehold rights for the 89 stores currently operating under Evroros, Yablochko, and Tvoy brands in Murmansk and Murmansk region.
On the markets this morning, the FTSE 100 is down 0.9% to 6,059.2pts as the number of coronavirus cases in Europe continue to tick upwards.
Early risers include Greencore, up 3.3% to 124.9p, Nichols, up 3.2% to 1,295p and Hotel Chocolat, up 2.4% to 319.9p.
Fallers include Marston's, down 5.9% to 48.5p, Cranswick, down 2.4% to 3,736p, Domino's Pizza Group, down 2.3% to 334.2p and Premier Foods, down 2.2% to 85.1p.
Yesterday in the City
The FTSE 100 ended the day up 0.6% to 6,112pts.
The day's risers included DS Smith, up 2.9% to 284.3p, WH Smith, up 2,5% to 978.5p, Pets at Home, up 2.1% to 296.8p, Associated British Foods, up 1.9% to 2,009p and Reckitt Benckiser, up 1.7% to 7,636p.
Amongst those companies to see share price falls were McColl's, down 5.5% to 31.2p, Science in Sport, down 4.7% to 30.5p, Bakkavor, down 4.1% to 66p, PayPoint, down 3.9% to 625p and FeverTree, down 3% to 2,182p.
Cranswick, which saw strong share price growth at the start of the week due to a sharp sales uplift, fell back 3.3% to 3,828p yesterday.