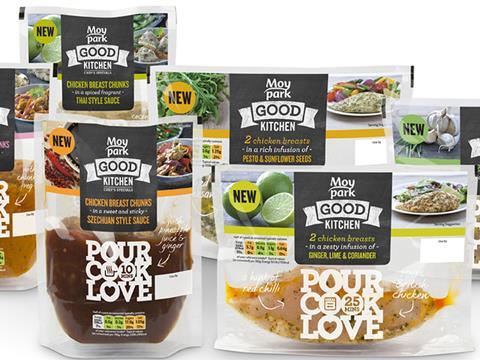 Top story
Revenues have risen 1.6% at poultry producer Moy Park in the fourth quarter according to its parent company Brazilian meat giant JBS.
JBS Europe – the division created to house its 2015 Moy Park acquisition – had net sales of £378.1m in the fourth quarter, 1.6% higher than last year mainly driven by increased volumes.
Domestic volumes were up 9.7%, which compensated for lower export prices and the strength of Sterling relative to the Euro during the period.
EBITDA totalled £30m in the quarter, a reduction of 3.0% compared with the same period of 2014, with an EBITDA margin of 7.9%.
Fourth quarter domestic revenues were up 2.7% to £340m, but exports slipped 7.7% to £38.1m
The division saw an 18.5% increased in the amount of birds processed to almost 70 million.
Overall JBS reported fourth quarter net sales of R$47.2 billion, 37.5% higher than the fourth quarter of 2014. Reported EBITDA was R$3.1bn, a reduction of 4.8%.
Morning update
After a hectic day yesterday, there's little grocery news that has hit the markets this morning.
GSK CEO Sir Andrew Witty has announced he will retire from the company in on 31 March 2017. The pharma giant and maker of Sensodyne toothpaste and Horlicks will "now conduct a formal search for a successor and will consider internal and external candidates for the role".
Philip Hampton, Chairman, said: "Andrew's retirement next year will represent the culmination of 32 years of service and leadership to GSK and the industry." Witty added: "By next year, I will have been CEO for nearly ten years and I believe this will be the right time for a new leader to take over. In making this decision it has been important to me that the board have the time to conduct a full and proper process and that we sustain the momentum of our current business performance, capitalising on the very significant progress we made last year to strengthen the group."
The FTSE has had another positive start to the day, rising 0.6% to 6,209.8pts so far this morning.
There's been a rebound for drinks maker Nichols (NICL) - one of yesterday's major fallers - back up 1.7% to 1,240p this morning.
The grocers are also having a good morning, with Ocado (OCDO) up 1.7% to 290.2p on top of yesterday's gains, Tesco (TSCO) up 1.3% to 193p and Morrisons (MRW) up 1% to 202.1p.
AG Barr (BAG) continues to head south though, dropping another 2.5% to 526.8p, while British American Tobacco (BATS) is one of the FTSE 100's major fallers, dropping 2.8% to 4,003p.
Yesterday in the City
The bombshell in George Osborne's budget that the government will instigate a tax on sugary drinks sent shares tumbling in the soft drinks sector.
Worst hit was Vimto producer Nichols (NICL), which saw its shares drop by more than 10% before stabilising to trade 6.6% down to 1,219p by close of trading.
Also hit was Irn-Bru manufacturer AG Barr (BAG), which was 2.4% down to 540.5p, but fell as low as 524p soon after the announcement in the Commons.
Robinsons owner Britvic (BVIC) – praised by Osborne for reformulating much of its range to lower sugar products – ended the day down just 1.3% to 699.5p after initially dropping to 670p.
Further afield, Coca-Cola's European bottling operation Coca-Cola Enterprises (CCE) ended the day in New York down 1.1% to $49.69 and Coca-Cola (KO) itself was down 0.4% to $45.05
No all companies were negatively affected by the news. Stevia producer PureCircle (PURE) leapt 6.8% to 411p on the announcement.
Tate & Lyle (TATE) was initially driven down 4% on the news despite its primary business now centring on sugar substitute sucralose and other ingredients after selling its sugar business in 2010. The shares subsequently recovered to trade 1% down for the day at 564.5p.
The supermarkets were not unduly affected by the announcement and potential increase in soft drinks prices – with the big three supermarkets all edging up by less than 0.7%. Ocado (OCDO) ended the day 5.5% up to 285.3p.
In general the City welcomed Osborne's budget despite cuts in forecast GDP growth. The FTSE 100 ended the day up 0.6% to 6,175.5pts.
Elsewhere, a 46% jump in interim revenues at cakes and bakery firm Finsbury Foods (FIF) helped its shares up 5.2% to 112p.