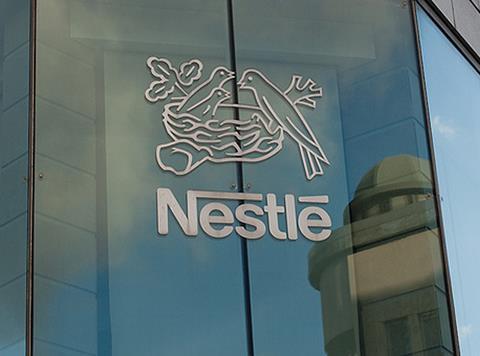 Top story
Sales at food giant Nestlé have slipped by 0.6% to CHF91.6bn (£62.99bn) in 2014 as the group was hit by negative foreign exchange of -5.5%. CEO Paul Bulcke said the "strong" results built on the good growth of past years and delivered in a soft trading environment. Nestlé's organic growth was 4.5% in 2014, composed of 2.3% real internal growth and 2.2% pricing, and the company expects 2015 to be similar.
Trading operating profit was CHF14bn, representing a margin of 15.3%, up 10 basis points – and up 30bps in constant currencies. Its net profit rose by CHF4.4bn in the period to CHF14.5bn thanks in part to the disposal of part of the stake in L'Oréal.
Despite a slowdown in its growth in 2014, Nestlé increased its proposed dividend to CHF2.20 per share. The company's stock opened this morning a touch higher than the closing price at CHF71.35.
"The results demonstrate the intrinsic strengths of Nestlé," Bulcke added. "While delivering in the short term, we remain focused on our business long term, strengthening the foundations of future growth. We expect 2015 to be similar to 2014 and we aim to achieve organic growth of around 5% with improvements in margins, underlying earnings per share in constant currencies and capital efficiency."
Morning update
Majestic Wine
The hunt is on for a new CEO at Majestic Wine (MJW) following the immediate departure of current boss Steve Lewis. FD Nigel Alldritt will become interim chief executive until a permanent replacement has been found, the wine-by-the-case retailer said in a stock exchange statement. Non-executive chairman Phil Wrigley will also attend monthly operating board meetings in addition to his current responsibilities on an interim basis.
"Steve has made a huge contribution to Majestic Wine during his time with the business," Wrigley said. "He took the helm in 2008 in the midst of the credit crunch and subsequent recession and successfully steered the business through very difficult times. He leaves the business today in good shape, with sales up 41% and profit up 42% during his time as chief executive, and with the business well positioned for the next phase of its development."
Majestic Wine's share price fell off a cliff in January when the retailer revealed it had managed to grow sales over Christmas but at the expense of its margin as it invested heavily on price. Its shares plummeted by 83p to 317.8p following the trading update, wiping almost £55m off the company's value in the process. The price has recovered some of that value since then and is up 0.4% to 331.2p this morning.
Majestic Wine added in this morning's statement that the business was entering a "crucial stage" of its development and this "busy next phase" would require leadership commitment and continuity. "And with Steve Lewis having already served 29 years in the business, 16 years on the board and six years as chief executive, the board has decided that now is the best time to clarify the timing of his succession," it said.
Lewis added: "It has been a privilege to have developed my career to date with Majestic Wine and I am proud to have played my part in its success over the years. The business is entering a busy and exciting next phase and now is the right time to hand over to a new leader. I wish everyone at Majestic Wine all the best for the future."
SABMiller
Brewer SABMiller (SAB) has also announced changes to its executive team as CFO Jamie Wilson handed in his resignation for "personal reasons". He steps down from the board with immediate effect and will leave the group the end of the current financial year on 31 March.
Domenic De Lorenzo, currently director of group strategy and a member of the group's executive committee, will become acting chief financial officer, reporting to CEO Alan Clark.
"I am saddened by Jamie's departure," Clark said. "He has been a huge support to me over many years, first in Europe and then over the past several years as CFO. His contributions to the development of our strategy, the delivery of our business capability programme, the building of our new business efficiency programme, and the strengthening of the finance functions will be a lasting legacy. He leaves the group in sound financial health, and we all wish him every success in the future."
Rexam
Ball Corporation of the US has made a formal cash-and-stock offer for can making rival Rexam, valued at £5.4bn, including the assumption of net debt. Takeover talks emerged earlier this month, with an indicative bid of 610p per Rexam share, which represented a healthy 36% premium to the London-listed company's share price, which has since soared more than 25% from 470p to 557.5p – it is already up 3.8% this morning. Today's offer is made up of 407p in cash and the rest in new Ball shares, representing in aggregate 628p per Rexam ordinary share.
It comes as Rexam posts its full-year figures showing sales and underlying pre-tax profit slipped 3% in 2014 to £3.83bn and £360m respectively, mainly as a result of the depreciation against sterling of all three of its major trading currencies: the US dollar, euro and Russian rouble.
CEO Graham Chipchase said it was a "great team effort in the face of unprecedented rises in metal premiums, the impact of foreign currency translation and some pricing pressure."
Yesterday in the City
Coca-Cola HBC (CCH) was the big loser yesterday as it shares tumbled 3.1% to 1,143p on the back of falling profits and sales in its fourth quarter and full year. Currency headwinds and challenging conditions in its Russian and Greek markets pushed net profit down 11.4% to €30.4m in the final three months of 2014 with full-year revenues also falling 5.3% to €6.51bn.
Tesco (TSCO), perhaps surprisingly, finished the day 0.7% down at 242.7p despite naming a new chairman to replace Sir Richard Broadbent in March. The appointment of John Allan, deputy chairman of Dixons Carphone, sent the retailer's stock 1% higher in the morning before damp praise from analysts, who seemed to be hoping for Archie Norman to take up the position, curbed any share price gains.
The FTSE 100 closed exactly where it started despite getting tantalisingly close to record highs earlier in the day, buoyed by investor confidence that a solution to the debt crisis in Greece was within reach. The leading index of shares fell back to 6,898.1 points after hitting 6,921.3. In December 1999, the blue-chip index closed at a record 6,930.2.