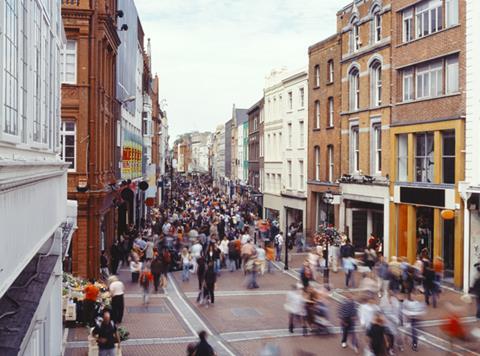 Top story
The outlook for general merchandise and retail looks to be easing, after sector bellwether Next defied its own autumn warning over trading conditions to post a 12.5% rise in profits this morning.
Next has posted underlying pre-tax profits of £782.2m for the year to 31 January on sales that were 7.2% (ex VAT) to £4bn. Retail sales were 4.8% up to £2.3bn, while its directory business saw growth of 12.1% to £15.4bn.
Next issued a profit warning in October due to the mild September weather, but hit the top end of its guided range of £750m-£790m.
Although food price deflation is causing headaches for the grocers, Next chief executive Lord Wolfson said wider UK economic conditions were "benign", arguing: "Low price inflation, an end to real wage decline, healthy credit markets and strong employment all paint a more positive picture than in recent years."
Morning update
This morning is still dominated by yesterday's pre-election budget, but other than the cut to alcohol duty there was little for the grocery industry to get their teeth into after the big news that business rates will be reviewed was pre-announced on Monday. See the media reaction to the budget here.
Meanwhile, New Britain Palm Oil will begin the search for a new CEO as its takeover by Sime Darby nears completion.
The UK-listed Papua New Guinea-focussed palm oil producer announced late yesterday that Nick Thompson will step down from his role as CEO on 18 June. He will take up an advisory role with new Malaysian owner Sime Darby. "The Board has initiated the search for a suitable replacement for Mr Thompson as CEO of NBPOL", the company said.
The firm accepted Sime Darby's £1bn takeover in December and it is set to delist from the stock exchange later this month.
Shares reacted positively to the budget yesterday and continue to be on the up early this morning. Notably, the three listed supermarkets are amongst the FTSE 100's biggest early gainers, with Morrisons (MRW) up 2% already today to 207.2p, Tesco (TSCO) up 1.1% to 244.4p and Sainsbury's (SBRY) up 1% to 273.3p.
Yesterday in the City
Drinks giant Diageo (DGE) was one of the big winners in terms of share price movement from yesterday's Budget statement. The owner of Guinness, Johnnie Walker and Smirnoff registered a 2.3% gain to 1,953p as Chancellor George Osborne announced another penny off a pint – for the third successive year – and cut spirits and cider duty by 2%.
"Thousands of people across the nation will this evening raise a happy toast to the Chancellor," said Andrew Cowan, managing director of Diageo Great Britain. "The alcohol industry generates billions for the economy and flies the flag for the UK abroad. This cut will mean that a 400-year historic industry like Scotch whisky will remain a crucial and vibrant part of the British economy for many more years to come."
Pub groups JD Wetherspoon and Greene King also benefitted from the cuts, with stocks climbing steadily from 12:30pm as Osborne kicked off his statement.
London's leading shares also saw an uptick following the pre-election Budget, climbing 1.6% to 6,945.2 points.
Shares in cigarette companies Imperial Tobacco Group (IMT) and British American Tobacco (BATS) also spiked from 12:30pm onwards as Osborne said there would be no changes to the duty on tobacco. The group's stocks moved up by 1.9% to 3,192p and 2.1% to 3,794.5p respectively.
It was also a better day for Tesco (TSCO), Sainsbury's (SBRY) and Morrisons (MRW), up 2% to 241.8p, 1.4% to 270.3p and 0.8% to 2013p.
On a day of general gains for grocery stocks, Thorntons (THT) managed a 2% fall to just below 70p.