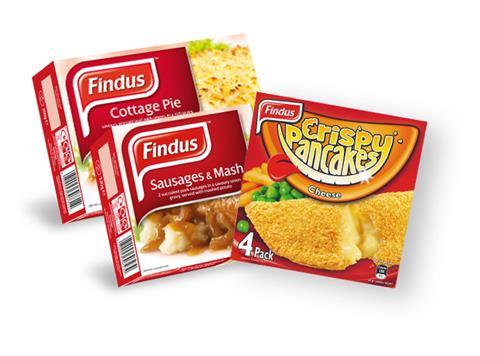 Top story
Nomad Foods has issued a rallying call to institutional investors in a bid to raise more cash to sate its appetite for further big deals, fuelling speculation that an agreement to takeover Findus is could be close.
The US investment giant, founded by US tycoons Noam Gottesman and Martin E. Franklin, intends to raise funds through a placing of up to 15,445,346 new ordinary shares, representing up to 9.99% of its existing issued share capital. The process is only open to eligible existing institutional shareholders and new institutional investors and will be carried out by UBS, Barclays and Credit Suisse.
Nomad said the price per share would be determined at the close of the bookbuilding process. "The net proceeds of the placing will be used to fund potential future acquisition opportunities," it added.
Nomad recently completed the €2.6bn acquisition of Birds Eye owner Iglo Group. It plans to use the anchor investment to build a global food empire.
Nomad last month confirmed it is in exclusive talks with Findus to buy the brand and European operations as it seeks to consolidate the global frozen food industry.
Morning update
Fever-Tree (FEVR) expects first-half sales to have soared more than 60% to £24m, with a particularly strong performance in June. The premium mixer brand said in a pre-close trading update that results for the full-year would be well ahead of expectations as a result. The news sent shares rocketing upwards by 10% to 318.6p – an all-time high and well above the 170p float price last year.
Brewing giant SABMiller (SAB) has appointed Domenic De Lorenzo as its new CFO. Lorenzo, who has been acting CFO since February, will officially start in the role following forthcoming AGM on 23 July. He is currently director of group strategy and corporate development and a 19-year-old veteran of the group. CEO Alan Clark said: "Dom proved an outstanding candidate for appointment as chief financial officer and will hit the ground running after a strong five months acting in the role. He has quickly made a positive impact and built a high level of credibility and community in our finance team, and with our senior business leaders, our executive committee, and our board." Chairman John Manser added: "The board considered a number of high quality internal and external candidates, and concluded that Domenic was the best-qualified for the role. He has a strong track record in his previous positions within the group, which has given him deep experience of developing our business and our people, and shaping our strategy." Shares in SAB opened 0.8% higher at 3,296p.
Wholesale group Booker (BOK) has reported a "solid" first quarter with total sales up 0.2% and non-tobacco like-for-likes (including Makro) up 1% in the 12 weeks to 19 June. CEO Charles Wilson said ahead of today's AGM: "Booker Group continues to make good progress. Our plans to 'Focus, Drive and Broaden' Booker Group are on track. We continue to enhance choice, price and service for our retail, catering and small business customers." Its stock opening 0.5% higher than yesterday's close at 167.2p.
Food price deflation slowed in June as oil prices rebounded but shop prices fell -1.3%, marking the 26th consecutive month of price drops. The figure was up from 1.9% in May, according to the findings of the latest British Retail Consortium shop prices index. Food reported annual deflation of 0.4%, which was the lowest deflation rate since February, and non-food deflation slowed to 1.9% in June, from 2.5% in May. BRC director general Helen Dickinson said: "Consumer confidence hit a 15-year high which suggests that shoppers will feel more comfortable about buying major purchases. It also suggests that consumer spending, one of the main drivers of the recovery, should remain robust over the summer. While non-food prices fell at a slower rate this month, June marked the 27th month of non-food deflation. Shoppers wishing to invest in their home won't be disappointed with great deals to be found in furniture and flooring and gardening and hardware in particular. Food has been deflationary throughout 2015 but the pace slowed in June, largely as the result of the rebound of oil prices in recent months."
Yesterday in the City
Shares in Marks & Spencer (MKS) finished the day 2.2% down at 535p after climbing 1% first thing in the morning to 556.6p. Food sales at the retailer climbed 3.2% in the first quarter – 0.3% on a like-for-like basis – but the performance of the general merchandise division fell back after making encouraging gains in the final quarter of the previous financial year.
Stevia producer PureCircle (PURE) also fell 5.5% to 385p – down almost 25% in the year to date – after it warned over tightening margins in a trading update on Monday.
The three listed grocers all finished the day in the red, with Morrisons (MRW) falling 2.8% to 169.9p, Sainsbury's (SBRY), which has its AGM today, down 2.2% to 257.4p and Tesco (TSCO) also down 2.2% to 200.7p.
The FTSE 100 was also down more than 100 points (1.6%) to 6,432.2 as investors remained wary over the unpredictable situation in Greece and engineering giant Rolls-Royce suffered further misery as its shares fell another 4.6% following Monday's profit warning.
Of the few grocery/fmcg stocks to rise yesterday were premium mixer brand Fever-Tree Drinks (FEVR), up 2.6% to 290p, AIM-listed value butchery chain Crawshaw Group (CRAW), up 2.5% to 61p, and Real Good Food (RGD), up 0.5% to 49.3p.