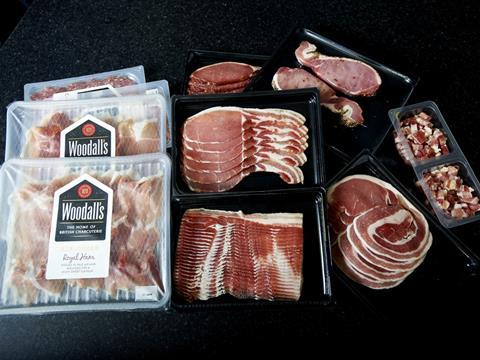 Top story
Pork and poultry producer Cranswick (CWK) has reported a healthy rise in full-year revenues and profits, boosted by acquisitions and lower input costs.
Revenue for the year to 31 March rose by 6.6% to £1.07bn with comparable volumes up 12% in the year.
Underlying revenue grew by 4.7%, with underlying sales volumes ahead 10%.
Adjusted Group operating profit increased by 12.8% to £66.2m, while adjusted group operating margin improved by 34 basis points to 6.2% of revenue.
Cranswick said the improvement in margin reflected lower pig prices, the positive contribution from its 2014 poultry acquisition Benson Park, an improved performance from the pastry business and a tight focus on cost control and efficiencies across the group.
Statutory profit before tax was up 11% to £58.7m.
Cranswick said: "Each of our categories made a positive contribution to the Group's overall performance and we continue to invest heavily, both in our infrastructure and our people, to sustain Cranswick's growth and continue its strategic development.
"Whilst, in overall terms, volumes in the categories in which we operate are either growing slowly or in modest decline, the super-premium segments of these categories continue to materially outperform."
UK pig prices fell 15% during the year and was, on average, 17% lower than last year.
Export volumes to the far east rose by 32% during the year.
Cranswick Chairman Martin Davey said: "The past year has been one of strong commercial growth and continued strategic development for Cranswick. This has enabled sales, which exceeded £1 billion for the first time a year ago, to progress further.
"The business has made significant progress both commercially and strategically over the past year. There are strong customer relationships, a broadening product portfolio and growing export channels. Aligned with well-invested and efficient production facilities, skilled management teams and a strong balance sheet this gives the board confidence that Cranswick is well positioned to meet the challenges that may arise and to continue its successful long-term development."
Cranswick shares are up another 1.2% this morning to 2,354.9p on top of good recent share price momemtum.
Morning update
Cranswick apart, it's another relatively quiet morning in the City.
McColl's Retail Group (MCLS) has announced that Georgina Harvey an existing independent non-executive director, has been appointed to the new role of senior independent director with immediate effect. She joined the board on 7 February 2014 and will remain as chairman of the remuneration committee and a member of the audit and nomination committees.
Côte d'Ivoire-focussed palm oil producer DekelOil Public has submitted plans to raise £10.8m through the placing of new shares to fund the acquisition of a 30.5% stake in CS DekelOil Siva Limited. Following the acquisition, DekelOil will own approximately 81.5% of its majority owned joint venture in the producing palm oil project at Ayenouan in Côte d'Ivoire.
The FTSE 100 has started the day up 0.3% to 6,157.4pts.
Early movers include Imperial Brands (IMB), up 1.9% to 3,730, PayPoint (PAY), up 1.3% to 868.8p and Conviviality (CVR), up 1% to 219p. Tesco (TSCO) has bounced back again from yesterday's share price fall, rising 1.6% to 162.7p this morning.
Amongst this morning's fallers are Coca Cola HBC (CCH), down 3.2% to 1,321p, Nichols (NICL), down 2.5% to 1,305p and Applegreen (APGN), down 2.1% to 344p.
Yesterday in the City
The FTSE 100 ended the day down 0.3% to 6,140.7 after the UK Chancellor George Osborne and Prime Minister David Cameron warned that voting for Brexit cause trigger a recession.
It was a mixed day for the UK's grocery and fmcg stocks. Tesco (TSCO) had another difficult day after seeing better share price momentum on Friday, with its shares dropping by 2.6% back to 160.1p yesterday.
Also falling were Ocado (OCDO), down 2.3% to 263.5p, Greencore (GNC) down 1.6% to 355.6p and Marks & Spencer (MKS), down again ahead of its annual results tomorrow by 0.8% to 441.1p.
There was better news for Cranswick (CWK) ahead of its own annual results this morning, rising 1.6% to 2,328p.
Also on the rise was Poundland (PLND), which jumped 4.2% to 173.8p after a tough run so far in 2016, while Premier Foods (PFD) rose back 2.6% to 40p after its own share price plunge following the failure of McCormick to make a firm offer.
Booker Group (BOK) was up 1.2% to 180.4p and PZ Cussons was also up 1.2% to 329.9p.
Stock Spirits recovered 1.9% to 161p after rebel shareholders succeeded in installing two non-exec directors on the board against the wishes of the current management team at its AGM yesterday.