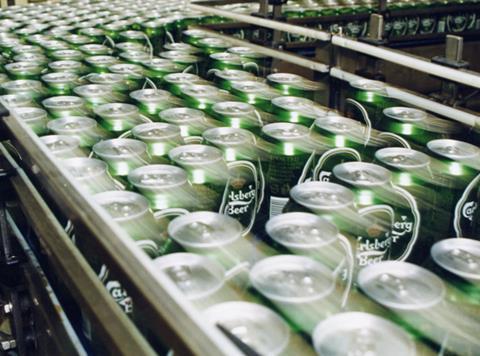 Top story
Carlsberg has issued a profit warning this morning thanks to market decline in Eastern Europe and weak results in the West. The brewer reported net revenues of DKK 32.4bn (£3.1bn) in the six months to 30 June, with flat organic growth. Reported operating profit at the group plummeted 12% to DKK 3,583m as beer volumes declined 5% as a result of a continued decline in Eastern Europe, tough comparatives and bad weather in the second quarter in Western Europe. Carlsberg said it now expects organic operating profits to decline slightly – it previously forecast mid- to high-single-digit growth. It added the translation impact on operating profits was expected to be around DKK -300m (previously DKK -400m).
CEO Cees 't Hart, who took over as boss in June, said: "The first half of 2015 has been challenging for the group with weaker than expected results in Western Europe and market decline in Eastern Europe.
"In Western Europe, we experienced bad weather in Q2 in Northern Europe and did not achieve the full range of anticipated savings. For the full year, we therefore do not expect that the strong Asian performance will be enough to offset the weaker than expected results in Western Europe and the challenging market conditions in Eastern Europe.
"Needless to say, we have a heightened sense of urgency to execute the efficiency improvement initiatives we started at the beginning of the year."
He added that he was in the process of getting to know the group's opportunities and challenges.
"While I'm delighted with the enthusiasm and commitment of our employees, I also recognise that we must step up further to achieve the full potential of the group. To do so, we have initiated a process of revising the group's strategy to re-establish and further strengthen our financial flexibility."
Morning update
Irish listed group Glanbia (GLB) has increased sales in its first half by 4.4% to €1.88bn, driven by the performance of the nutrition side of the business.
On a constant currency basis, revenues were down 8.4% thanks to the strong US dollar and weak euro. Glanbia added that good branded revenue growth was offset by pricing declines as a result of global dairy market weakness.
EBITA at the group climbed 22.5% to €158.7m in the six months to 4 July, with the global performance nutrition contributing €60.7 million – a rise of 17.4% and a "strong result".
Ingredients put in a "satisfactory" performance in the context of challenging dairy markets with EBITA of €60.3m, a 9.5% decrease on the prior half year, and €17.5m of earnings came from dairy Ireland as margins recovered to 4.7%.
"Glanbia delivered a good performance in the first six months of 2015 driven by a strong result from Global Performance Nutrition," MD Siobhán Talbot said. "Today's results demonstrate that our strategy is on track. As a global nutrition company, whose purpose is 'delivering better nutrition for every step of life's journey', we are focused on the development of a branded and ingredient product portfolio to serve the growing consumer demand for nutritional products in formats suitable for healthy and active lifestyles.
"This has provided some insulation from the challenges of volatile global dairy markets."
Glanbia reiterated its guidance for 2015 of 9% to 11% growth in adjusted earnings per share. Its shares opened 1.7% higher this morning at €18.44.
Elsewhere, Imperial Tobacco (IMT) CEO Alison Cooper said the group had had "another good quarter" building on the progress made in the first half. A trading statement for the nine months to 30 June added that underlying net revenue, underlying volume and market share were up 14%, 10% and 100 bps respectively thanks to "excellent results" from growth brands.
"Our continued focus on improving the consistency and quality of our performance has delivered excellent results from our growth brands which continue to grow net revenue, volume and market share," Cooper said. "This consistent delivery against our strategic agenda leaves us on track to deliver against full year expectations and to create further sustainable value for our shareholders."
More boardroom upheaval at Marks & Spencer (MKS) as it revealed Laura Wade-Gery was heading off on maternity leave in the autumn, missing the crucial Christmas trading period. Wade-Gery, tipped as a possible successor to CEO Marc Bolland, is head of multi-channel at the retailer and in charge of all the shops and online business. It is the latest shake-up to effect the senior management of M&S and follows Frances Russell, who headed the womenswear division being ousted last week three weeks into Steve Rowe's new role in charge of the general merchandise division. Rowe moved from his former position as head of food following the departure of John Dixon.
A short statement to the London Stock Exchange said: "Until Laura's return to the business in early January 2016, Sacha Berendji, director of retail, and David Walmsley, director of M&S.com, will report temporarily to CEO Marc Bolland, while CFO Helen Weir will be responsible for e-commerce distribution during this short period."
Yesterday in the City
All three listed grocer's ended the day in the red yesterday following rival, and privately owned, Asda revealing the worst results in its 50-year history. Asda's sales declined 4.7% in the second quarter – on top of the 3.9% fall in Q1 – to take its first-half number to 4.2% behind the same period in 2014. CEO Andy Clarke said a meltdown in the grocery industry and "unprecedented" volatility in the market had made it impossible to grow.
Tesco (TSCO) was the worst performer of the day, finishing 1.8% down at 198.5p; Morrisons (MRW) fell 0.9% to 174.1p; and Sainsbury's (SBRY) was down 0.4% to 252.5p.
McColl's Retail Group (MCLS) also had a difficult day as its shares fell back 1.2% to 147.5p after the newsagent chain refinanced its banking facilities. The group said it would help it expand quicker but the market took a dimmer view of a company which only floated last year.
The FTSE 100 was disrupted again by more turmoil for China, with the country's main index plunging yesterday. The FTSE also fell 0.4% to 6,526.3 points.