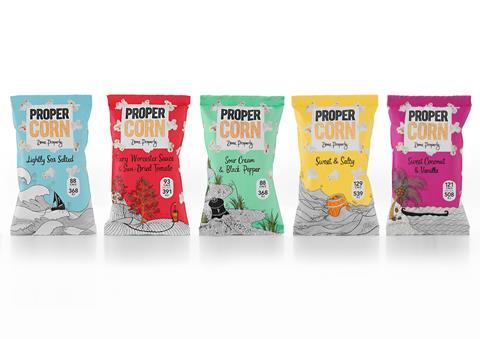 Top story
The Grocer has the story that Propercorn is close to signing a deal with private equity firm Piper for a minority stake valuing the fast-growing popcorn brand at up to £25m.
It will be the first external cash injection since Propercorn was launched by Cassandra Stavrou and Ryan Kohn four years ago and follows months of talks since The Grocer revealed Propercorn's search for an investor back in February.
Propercorn was the fastest growing popcorn brand in the UK in 2015, with sales up 78% to £10.9m [IRI, y/e 5 Dec], and listings in Tesco, Waitrose, Ocado and Boots. It's also stocked in nine countries.
Piper typically invests in brands with sales of £5m-25m. Past success stories included adult soft drink brand Bottle Green, hot dog supplier Rollover and ready meal maker Diet Chef, which all substantially grew revenues under Piper.
"Propercorn is in the sweet spot for Piper as a niche business with bags of potential," one dealmaker said.
Click here to read the full story
Morning update
Friday's are typically quiet mornings on the market and there are fewer quieter than a Friday in mid-August, with no news of note on the markets this morning.
The Grocer also has the story that the decline in sales at Birds Eye has accelerated with another £31m wiped off the top line in the challenging frozen market created by the supermarket price war.
Revenues tumbled 7% to £415.3m in the year to 31 December 2015, coming on top of a near 5% fall in the previous 12 months. The latest accounts for Birds Eye Ltd show the struggle new owner Nomad Foods, which bought the iconic brand along with parent Iglo Group for €2.6bn in April 2015, has on its hands in turning the business around.
Click here to read the full story
On the markets this morning the FTSE 100 has opened down 0.3% to 6,850.8pts.
The grocers have edged down after yesterday's rises, with Marks & Spencer (MKS) down 0.6% to 337.2p, Sainsbury's (SBRY) down 0.5% to 240.3p, Tesco (TSCO), down 158.9p and Morrisons (MRW), down 0.3% to 191.6p.
Early risers include Devro (DVO), up 4.1% to 255p, PayPoint (PAY), up 995p and Fyffes (FFY) up 1.4% to 127.8p.
Yesterday in the City
The FTSE 100 edged back up 0.1% to 6,869pts yesterday as the various economic indicators this week have suggested the UK economy currently remains in a better place than the market had feared coming into this week.
One of those surprises was the release of the ONS retail sales figures for July, which smashed market expectations by recording a 1.4% sales boost month-on-month after a 0.9% decline in June. July sales were up 5.9% on the same month last year, with the market expecting a 4.2% rise.
The news boosted the supermarket shares, with Sainsbury's (SBRY) one of the FTSE's top risers yesterday after a 3.1% boost to 241.6p. Morrisons (MRW) was up 2.5% to 192.2p, Tesco (TSCO), up 2.1% to 159.5p and Ocado (OCDO) up 1.5% to 284p.
Other risers linked to the more positive consumer retail spend in July included B&M European Value Retail (BME), up 1.5% to 276.8p, Premier Foods (PFD), up 3% to 52p, Sainsbury's-bound Home Retail Group (HOME), up 1.4% to 160.5p and Marks & Spencer (MKS), up 0.9% to 339.2p.
The tobacco companies fell back yesterday, with British American Tobacco (BATS) down 2.3% to 4,834p and Imperial Brands (IMB), down 1.7% to 4,060p.
Other fallers included Stock Spirits (STCK), down 2.1% to 175.3p, Nichols (NCLS), down 1.9% 1,414p and McBride (MCB), down 1.7% to 155p.
In the US Walmart was up 1.9% to $74.30 after recording a second quarter constant currency sales rise of 2.8% to US$123.6bn, despite the 7.5% collapse in like-for-like sales at Asda in the UK.