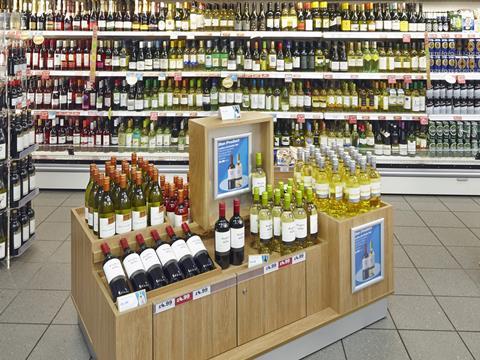 Top story
Drinks retail and wholesale group Conviviality (CVR) grew sales by 9.2% in the first half of its financial year, driven by 10% growth in its retail operations.
Overall sales for the 26 weeks to 29 October 2017 were up 9.2% to £836.3m as the group reported "strong gains in market share" during the period.
Conviviality retails posted a 10% increase in sales compared to the corresponding prior period, with like-for-like retail sales up 2.3% excluding tobacco and 0.4% including tobacco.
A total of 22 new stores were opened in the period, with average sales per store opened in the first half increasing by 53%.
Additionally, 16 existing franchisees opened 45 more stores in the first half, some of which were acquired from existing franchisees. In total there are 30 franchisees actively seeking to grow with the business.
Wholesale business Conviviality Direct saw a 6.9% increase in sales compared to the same period last year, with a 1.2% increase in outlets supplied and a 5.7% increase in revenue per outlet.
Conviviality Trading saw sales growth of 9.6% during the period.
The group reported a 1.9% drop in adjusted profit before tax to £15.1m.
Adjusted EBITDA increased 1.7% to £23.3m as the strong sales growth was offset by a 0.3% point reduction in gross margin. The increase in gross profit was partly offset by a £5.5m increase in operating costs.
Profit before tax decreased by £1m from £7.4m to £6.4m as the fall in adjusted profit before tax was exacerbated by exceptional items, including £4.1m of integration costs relating to its Bibendum acquisition.
Conviviality said it "performed well" during the Christmas trading period.
Group sales in November and December 2017 were 8.4% above the same period in the prior year. Conviviality Retail sales (including Central Convenience stores) increased 12.3%, Conviviality Direct sales increased 7.7% and Conviviality Trading grew 3.2%.
Retail like for like sales in the 6 weeks ended 31 December 2017 grew 0.6% and like for like sales for the 2 weeks ended 31 December 2017 were up 7.7%.
Also in December Conviviality acquired WS Retail from the administration of P&H to add 127 stores to its portfolio. It said all stores will move to being fully supplied by Conviviality by the end of February 2018 and all back office functions will be supported from Crewe from May 2018.
Diana Hunter, CEO of Conviviality, said: "Our customers and franchisees have continued to recognise the strength of the Conviviality proposition and the opportunities a single supplier and distribution solution affords them. This has been evidenced by our above market growth in both the on trade and the off trade during the period.
"We have made deliberate choices to successfully grow market share and enhance the quality of future earnings by agreeing long term contracts with our larger customers and securing new national account customers. These gains in market share coupled with our continued strong sales demonstrates our competitive advantage, the broad customer base we have developed and the robust nature of Conviviality as the UK's leading drinks wholesaler, distributor and solution provider to our Customers.
"As previously highlighted, cost initiatives for the second half of the current financial year provide confidence for both achieving current year Board expectations, as well as the Group's longer-term performance."
Morning update
Planning applications for new shops have fallen for the ninth year in a row as the high street continues to struggle, according to peer to peer property lending platform Lendy
The number of planning applications for new shops and shopping centres in England are down 55% since the credit crunch to just 6,090 in 2017* compared with 13,500 in 2008. As retail spend continues to shift from the high street to the internet, retail vacancy rates have risen to more than 12% and many retailers have put store openings on hold or closed underperforming outlets.
Planning applications for new shops and shopping centres fell another 8% last year.
Lendy said that falling consumer spending and Brexit uncertainties could also be forcing retailers to delay decisions on store openings.
On the markets this morning, the FTSE 100 has opened the week up 0.1% to 7,674.7pts.
Conviviality shares have dropped 8.6% to 327.1p this morning despite the solid sales figures as concerns over tightening margins seem to have driven the shares down.
Other fallers include Nichols (NICL), down 3.2% to 1,505.7p, Total Produce (TOT), down 1.9% to 204.2p, and Diageo (DGE), down 1.2% to 2,527.8p.
Risers so far this morning include Hilton Food Group (HFG), up 2.1% to 856p, PayPoint (PAY), up 2.6% to 892.5p and AG Barr (BAG), up 2.3% to 643.5p.
This week in the City
The post-Christmas retail trading updates have largely run their course, but there's still plenty of news scheduled in the City this week with Unilever's full-year results at the top of the agenda.
Tomorrow brings the half year results of health and beauty group PZ Cussons (PZC), while Greencore (GNC) is also scheduled to release a trading update.
Dairy Crest (DCG) will issue an interim management statement on Wednesday. Wednesday also brings a trading update from Robinsons maker Britvic (BVIC), while fellow drinks group AG Barr is scheduled to release its own trading statement on Thursday.
Thursday's major news will be the full-year results of Unilever (ULVR), with boss Paul Pollman under pressure to deliver higher margins for investors after it rebuffed an mega-merger approach from Kraft Heinz last year.
pork producer Cranswick (CWK) is also set to release a trading update on Thursday.
Away from the UK, Wednesday brings a fourth quarter earnings release from Cadbury owner Mondelez (MDLZ), while tobacco giant Altria will issue its fourth quarter earnings on Thursday.
In economic updates, the monthly BRC Shop Price Index and GFK's Consumer Confidence figures are both set to come out on Wednesday.