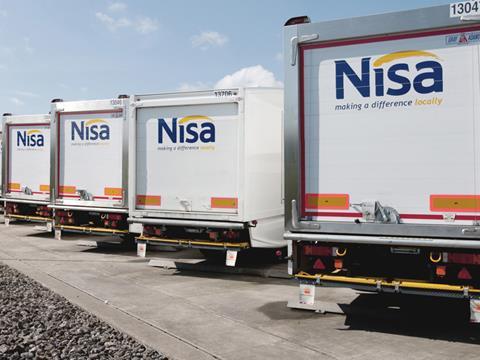 Top story
Sainsbury's has hit the pause button on its potential £130m takeover of Nisa until after the competition watchdog makes its ruling on the bigger Tesco acquisition of Booker, The Grocer revealed yesterday afternoon.
However, The Co-op is understood to have rekindled its interest in the convenience retailer and buying group.
In a note to members, seen by The Grocer, Nisa chairman Peter Hartley told members Sainsbury's had decided not to make a formal offer during its exclusivity period.
He added that the supermarket remained interested in potentially making an offer for Nisa, but would wait until after the Competition & Markets Authority published its verdict on the Tesco-Booker merger towards the end of October.
Hartley told members that another interested party had reaffirmed its interest in making a bid. He did not name the other party, but it is understood to be the Co-op.
For the full exclusive story, click here to read it on thegrocer.co.uk.
Morning update
Revenues at Moy Park, which has been up for sale by its beleaguered Brazilian owner JBS, increased 7.4% in the second quarter of 2017 to £391.6m. The rise was driven by underlying volume growth of 2% and a favourable exchange rate movement. EBITDA also climbed 1.2% to £33.9m thanks to the stronger operational performance and a tight control over costs. JBS said its European arm had continued its "solid start" to the year in a "challenging" market.
Revenues at JBS as a whole fell 4.6% to R$41.7bn (£10.1bn) as a result of the 9.2% appreciation of the Brazilian real against the dollar. EBITDA jumped 30% in the period to R$3.8bn (£920.6m) as the group improved margins from 6.6% to 9%.
"Our operations performed very well during the second quarter of 2017. Seara posted an EBITDA improvement when compared with the first quarter, which shows that this business unit is turning back to historical levels in terms of operating results," global CEO Wesley Batista said.
"Beef operations in Brazil also registered a recovery in EBITDA in relation to the first quarter of this year, in spite of a more challenging scenario during the period. Our beef operations in the US, which include Australia and Canada, performed quite positively, clearly indicating an excellent perspective for upcoming periods. Poultry operations in North America (Pilgrim's) registered an excellent performance, with an EBITDA margin of 18.7%. Finally, our pork operations in the US and Moy Park in Europe continued to deliver solid and consistent results."
JBS announced plans to sell its shareholding in Northern Irish poultry firm Moy Park as part of a wider R$7bn (£1.68bn) divestment programme in June. There was no update on the sale in this morning's results.
Pre-tax profits declined in the first-half at John Menzies (MNZS) as the group was hit by exceptional charges of £23m, including the costs for the failed demerger and sale of the newspaper and magazine distribution arm to DX Group.
Menzies revealed yesterday that it had scrapped the planned £40m merger after it had undertaken "further financial due diligence on DX" following its trading update last month.
The group recorded transaction-related costs of £12.5m in the six months to 30 June, primarily relating to the acquisition and integration of the ASIG business in the aviation division and the work to demerge the distribution arm.
Pre-tax profits fell from £3m a year ago to just £500,000 in the first half of 2017 as a result. However, underlying profits were up 36% to £24.7m as Menzies Aviation produced a strong first half performance, more than doubling earnings to £21.7m.
Underlying operating profits were broadly flat at £10.8m at Menzies Distribution as the division lost out because of the lack of a big football event to drive sticker sales.
Revenues in the half increased to £1.2bn, compared with £1bn a year ago.
Chairman Dr Dermot F. Smurfit said: "I am pleased to report that the Group is trading well.
"Menzies Aviation continues to go from strength to strength. The recently acquired ASIG business is integrating well and generating many opportunities for growth.
"Menzies Distribution remains a strong business, performing well despite cost and volume pressures.
"Overall, I am very pleased with the group's performance in the first half and we look to the future with confidence as demonstrated by the increased dividend payment."
Yesterday in the City
Sainsbury's (SBRY) shares slipped 0.6% to 240.1p yesterday, but it was unlikely to be news that it has paused discussions with Nisa that sent the stock downward, with news breaking from The Grocer after markets had closed. More likely was the latest data from BRC/Springboard that footfall on the high street slumped in July as shoppers tightened their purse strings.
Shares in Marks & Spencer (MKS), Tesco (TSCO), Morrisons (MRW) and WH Smith (SMWH) all ended in the red, down 1.1% to 323.5p, 0.5% to 176.3p, 0.5% to 245.8p and 0.4% to 1,815p respectively. McColl's (MCLS) was also among the fallers, down 1.6% to 256p.
The FTSE 100 fought back from last week's slump as the war of words between the US and North Korea, which fuelled a sell-off before the weekend, cooled. London's blue-chip index rose 0.6% to 7,353.89 points despite little in the way of market news to drive the increase.
SSP Group (SSPG) ended the day up 2.4% to 537.5p, Fever-Tree (FEVR) made more strong gains, up another 4.1% to 2,349.9p, and Conviviality (CVR) rose 2.8% to 380.2p.