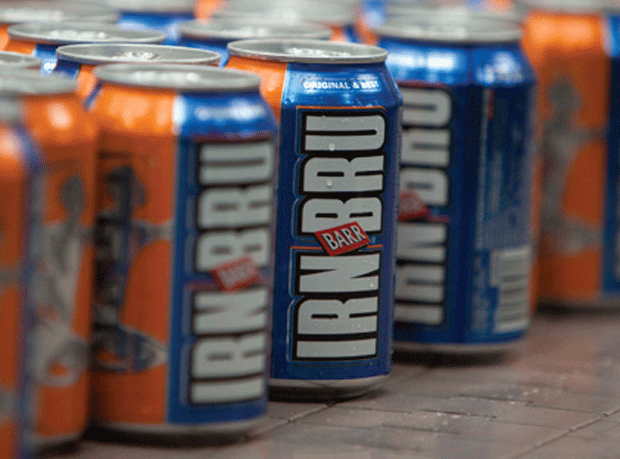 Top story
Revenues at AG Barr (BAG) have fallen 1.1% so far this year as the soft drinks group's performance returned to more normal sales compared with the strong first-half in 2014. The Irn-Bru maker was boosted a year ago by its Glasgow 2014 Commonwealth Games marketing campaign and promotional activity.
Shares in AG Barr plunged more than 3% to 603p – a five-month low – on opening thanks to the trading update.
The company said ahead of its annual general meeting later today that recently acquired Funkin business continued its growth trajectory and contributed just less than £3m to gross sales in the 15 weeks to 9 May.
In the period, the total soft drinks market recorded modest value growth of 0.7% (Nielsen).
"Margins continue to hold up well as we drive efficiency improvement across the business," AG Barr added. "We have a strong summer brand programme planned across all of our core brands and expect to see a return to sales growth in the second half of this financial year."
The group also confirmed it had signed development agreements to build further warehousing capacity at its Milton Keynes site. It includes the acquisition of an additional 1.54 acres of land and AG Barr also agreed to purchase a further 3.86 acres of land adjacent to the existing site for future expansion. The total cost of the development is £11m, including £4m for the land.
Looking ahead, AG Barr said the UK economy looked more positive but noted the volatility and competitiveness of the retail market as the supermarkets continue to battle it out with each other and the discounters.
"We remain confident in our strategy and long-term prospects," the group said. "We are on course to meet our expectations for the full year despite the challenging conditions across the market."
Morning update
Imperial Tobacco has received the go-ahead for the purchase of some of the assets of Reynolds American Inc. The listed tobacco giant announced in July 2014 that a subsidiary had entered into an agreement to buy a number of US cigarette and e-cigarette brands and assets following the proposed acquisition of Lorillard by Reynolds.
Imperial said in a statement this morning on the London Stock Exchange that the US Federal Trade Commission had now given the Reynolds/Lorillard deal the green light, paving the way for it to buy the agreed assets.
Imperial's stock opened 2.2% higher at 3,355.7p.
Yesterday in the City
After a day of general inactivity in terms of news flow from listed grocery-related groups following the bank holiday weekend and the start of school half term, many retail stocks were in the red yesterday.
Leading the way was Thorntons (THT), slumping 5% to 95p. The chocolatier's share price has been on something of a rollercoaster ride since a pre-Christmas profit warning saw the stock plummet from 119p to lows of 63p. It has since recovered 50% of its value over the past three months – which has included news of CEO Jonathan Hart stepping down from the helm – to hit a high of 100p on Friday.
Premier Foods (PFD) was another troubled stock back down yesterday, falling 4.4% to 43p. The supplier reported improving sales trends last week, but annual revenues had slipped back and it posted a big loss as a result of one-off costs.
All three listed grocers fell, with Tesco (TSCO) down 1.7% to 215.7p, Sainsbury's (SBRY) slipping 1.9% to 256.3p and Morrisons (MRW) dropping 1.9% to 177.2p.
The FTSE 100 also closed 1.2% down for the day at 6,949 points, weighed down by banking and energy stocks.
Poundland (PLND) was one of the few retail risers yesterday, closing 1.5% up to 319.3p, alongside Tate & Lyle (TATE), which reports its final results on Thursday, up 0.4% to 600p.