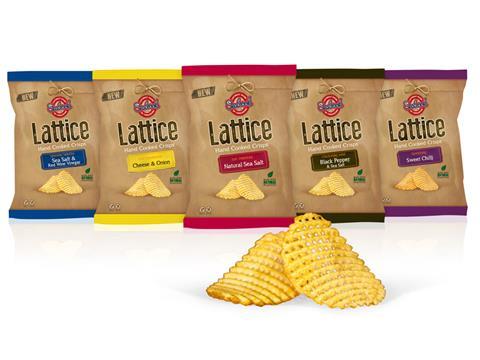 Top story
Seabrook Crisps CEO Jonathan Bye is expecting the Yorkshire snack brand to be one of the winners of the range reviews at Asda and Tesco as the business moves from turnaround to growth.
The Grocer reports this morning that profits increased 62% to £2.7m as sales rose 11% to £27.2m in the year to 29 March 2015, according to newly filed accounts.
The popularity of the new lattice and straight cut ranges, which has brought new customers to the brand, and an increased focus on driving down costs and increasing operational efficiencies contributed to the rise in top and bottom lines.
Bye said it was the first year of the "growth phrase" at Seabrook after completing a three-year turnaround. When Bye took over in 2012, the business had just made losses of £1.7m and was in real trouble. Not only has he pushed the group back into the black by winning new listings and introducing new products but he oversaw a management buyout backed by LDC in July this year, which was revealed exclusively by The Grocer.
"We are very much now into the growth phase but we are mindful of how competitive the category is. However, we have exciting plans for 2016 to maintain this level of performance," he told us this week.
Click here to read the full story.
Morning update
Weekly sales have risen a healthy 4.7% (excl. fuel) at Waitrose to £129.9m year on year as shoppers start preparations for Christmas. Personnel director Helen Hyde said the uplift in the week to 14 November was in part down to a Christmas direct marketing campaign landing with customers.
Advent calendar sales were up 11% on the same week last year and Christmas snacking also rose 14%. Online grocery sales also jumped 26.1% higher following a promotion, Hyde added.
Yesterday in the City
Poundland (PLND) had an absolute horror show of a day following its interim results. It shares plummeted an eye-watering 20% to 222.7p – a record end-of-day low. It had fallen as far as 216p at one point, putting its market value at around £580m – well down on the £750m it floated at in March 2014 when shares were 300p. It was well below the record high of February when it reached 421p as it announced it had agreed to buy 99p Stores for £55m.
Part of the problem yesterday was that CEO Jim McCarthy revealed that trading in the all-important third quarter so far had been "highly volatile" with everything now riding on the run-up to Christmas. Other bad news was pre-tax profits falling 43% to £5.3m as it came up against tough comparatives from last year when the loom band craze was at its height. FX rates also continue to put pressure on the business.
Total sales were up 6.2% as it added more stores but like-for-like figures were down. And to make matters worse, more details of just how bad a shape the 99p business is in were revealed with Poundland now accelerating the conversion to its own format - costing the group many millions of pounds more than previously revealed. The one bright spot is that the overall store target has been raised 40% to 1,400 outlets in the UK and Ireland. However, in the short-term at least, that won't provide much cheer to investors.
Other fallers included Premier Foods (PFD), down 3.7% to 38.8p, and Imperial Tobacco (IMT), down 0.8% to 3,492p.
Ocado (OCDO) and Greggs (GRG) were among yesterday's risers, up 2.2% to 354p and 1.3% to 1,200p respectively.