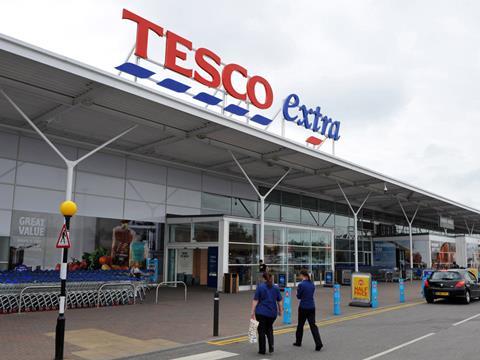 Top story
Tesco (TSCO) has announced this morning it has agreed with the UK Serious Fraud Office to pay a £129m fine to avoid prosecution for its 2014 accounting scandal.
It has in principle reached a Deferred Prosecution Agreement (DPA) with the SFO in relation to false accounting back in 2014 when it overstated expected profits arising from historic accounting practices.
The supermarket has also announced it has agreed with the UK Financial Conduct Authority to establish a compensation scheme for Tesco investors who bought shares between 29 August 2014 and 19 September 2014.
Investors will be entitled to compensation of 24.5p per share purchased, plus interest at 1.25% a year if the purchaser is an institutional investor or 4% a year if the purchaser is a retail investor.
The cost of the compensation payable is estimated to be in the region of £85m excluding interest.
In total Tesco expects to take an exceptional charge of £235m in relation to the fine, the compensation scheme and related costs. These costs will be booked as an adjusting post balance sheet event in its 16/17 accounts.
Subject to approval by the court and compliance with the terms of the DPA, this concludes the SFO's investigation into Tesco – however, the SFO has instigated criminal proceedings against individuals. It also concludes the FCA's proceedings against the supermarket.
COE Dave Lewis commented: "Over the last two and a half years, we have fully cooperated with this investigation into historic accounting practices, while at the same time fundamentally transforming our business. We sincerely regret the issues which occurred in 2014 and we are committed to doing everything we can to continue to restore trust in our business and brand."
Tesco said that over the last two and a half years, it has fully cooperated with the investigation and undertaken an extensive programme of change, "which the SFO has recognised in offering the DPA". It said this programme includes extensive changes to leadership, structures, financial controls, partnerships with suppliers, and the way the business buys and sells.
Morning update
Away from this morning's announcement, Tesco is also in the news as two key shareholders have warned the board against pursuing the £3.7bn merger with Booker (BOK). See this morning's Media Bites for more.
Irn-Bru maker AG Barr (BAG) has reported a 4.4% to annual profits as increased sales of its biggest brands boosted performance.
Reported revenue declined 0.6% to £257.1m as a result of a 53 week comparison period for the prior years, but on an underlying basis sales were up 1.5% driven by growth from innovation across two of our key brands Irn-Bru and Rubicon.
In the year to 28 January 2017 Irn-Bru sales were up 3.2% and Rubicon were up 4.9%, on an underlying basis.
This growth helped statutory profit before tax increased by 4.4% to £43.1m and profit before tax and exceptional items rise by 2.7% to £42.4m.
Gross margin increased by 10bps to 46.9% and operating margin before exceptional items increased by 50bps to 16.8%.
It said the UK soft drinks market has performed robustly across the last 12 months, with growth of 1.2% in value and 1.6% in volume. However, this total market position masks a higher degree of volatility than in prior years, both in terms of monthly market movements and individual sub category performance.
The company added that the year "as not without its challenges", pointing to a tough commercial environment and deflationary pricing pressures impacting the business – particularly across Rockstar and its regional brands.
"These customer challenges were compounded by the reappearance of inflationary headwinds from the commodity and currency markets during the second half of 2016/17… We took decisive management action which benefited us in the second half, and we expect will continue to underpin our performance going forward."
Chief executive Roger White commented: "We have made considerable progress across the business over the last 12 months and delivered a solid financial performance in volatile and uncertain market conditions.
"As consumer tastes and preferences continue to change, our recent announcement that 90% of company owned brands will contain less than 5g of total sugars per 100ml by the autumn of 2017 is a positive demonstration of how the business is responding to consumers' needs with both pace and commitment.
"The UK consumer environment remains uncertain, however we are confident that our great brands, effective business model, clear strategy and strong team ensure we are well placed to realise the full potential of our business and to deliver consistent long-term shareholder value."
Elsewhere, Premier Foods has updated the market on its pensions situation, announcing that its cash payments to schemes will be reduced by further £32m over next three financial years.
The new plan will see its pensions deficit contributions and administration costs cut from £55-£57m in 2017/18 to £39-£41m – a cut of £16m.
Contributions in 2018/19 will be down by £11m to £39-£41m and by £5m to £41-£43m in 2019/20, before rising by £5m to £44m-£46m over the subsequent three years.
Premier noted the revised schedule of pension payments "significantly reduces the group's cash outflow over the next three years".
The net present value of future deficit payments, to the end of the respective recovery periods remains at £300-320m.
CFO Alastair Murray commented: "We are pleased to have agreed a reduction in our pension scheme obligations with the scheme trustees as we continue to focus on maximising the company's free cash flow generation and debt reduction.
"While this has been a challenging negotiation, we appreciate the open and constructive dialogue which has taken place with all pension scheme trustees in arriving at this revised agreement."
Ken McMeikan, group chief executive of Brake Bros is to leave the company in April. Parent company Sysco announced his role at the head of its European operations will be assumed by Ajoy Karna, currently senior vice president international foodservice operations.
On the markets this morning, the FTSE 100 is up 0.3% to 7,312.4pts.
Tesco's share price has barely budged, edging down 0.1% to 189.8p. AG Barr is up 1.2% to 553.8p and Premier Foods is up 0.2% to 44.3p.
Risers include Stock Spirits Group (STCK), up 2.6% to 189.8p, Hotel Chocolat (HOTC), up 2.3% to 291.5p and Majestic Wine (WINE) up 1.4% to 339.9p.
Fallers include Booker (BOK) on the news is takeover could be in trouble, down 1.9% to 196.3p, Carr's Group (CARR), down 1.6% to 148p and PayPoint (PAY), down 1.5% to 1,000p.
Yesterday in the City
The stuttering Donald Trump presidency weighed heavy on international markets on Monday, driving the FTSE down 0.6% to 7,293.5pts on worries over whether he will be able to get his legislative programme through Congress after the collapse of the Republican healthcare plan on Friday night.
The grocer sector escaped the worst of the falls. Ocado was one of the major names worst hit, falling 2.1% to 241.7p, while Tesco (TSCO) and Booker (BOK) were both down ahead of the latter's full-year trading update, falling by 0.6% to 190p and 0.5% to 200p respective. British American Tobacco (BATS) was also down 0.9% to 5,228p.
Other fallers in the day included Real Good Food (RGD), down 3.4% to 28.5p, Hotel Chocolat (HOTC), down 1.9% to 285p and FeverTree (FEVR), down 1.2% to 1,450p.
Risers included Crawshaw Group (CRAW), up 12.5% to 22.5p, PayPoint (PAY), up 1.7% to 1,015p, Majestic WINE (WINE), up 1.6% to 335.3p and Finsbury Food Group (FIF), up 1.4% to 107p.
Associated British Foods (ABF) was up 0.8% to 2,650p as it was confirmed it has acquired two UK-based sports nutrition businesses.