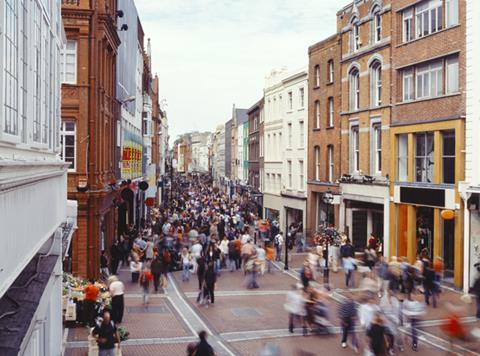 Top story
A rate of 15 stores a day closed on Great Britain's high streets in the first six months of the year, according to PwC research compiled by the Local Data Company.
A total of 2,656 shops closed on Great Britain's high streets in the first half, a slight increase on the 14 stores a day reported to have closed in the first six months of 2015.
The number of new openings has also fallen, leading to a net 503 stores disappearing from high streets, retail parks and shopping centres in the first half of 2016. This represents the highest net decline since H1 2012, when 953 more stores closed than opened.
The research said the advance of online shopping is eating into physical shop numbers. LDC analysis shows there are over 22,200 click and collect services across 130 of the largest national retailers. Carphone Warehouse (+129), ScrewFix (+58), Toolstation (+36) and Lloydspharmacy (+33) have seen the biggest growth in click and collect services between 2015 and 2016.
Madeleine Thomson, retail and consumer leader at PwC, said: "Despite the uncertainty and fall in number of store openings, consumer sentiment has rebounded following the post-EU referendum dip. With employment levels still high and price inflation yet to hit the shops, the majority of the UK public believe they will be better off in 12 months.
"To increase footfall to their stores, it is key for retailers to ensure their in store offering and price point is relevant for the younger demographic who are particularly high users of online channels and very price savvy. Our research shows that consumers value shop assistants with a deep knowledge of the product range, the ability to check stock quickly and to see and order online ranges in store."
Tobacconists, takeaway food shops, health clubs and jewellers were among those growing at the fastest rate during the first half of 2016.
Fashion shops, banks, mobile phone shops, and women's clothing shops all saw significant contraction during the period.
Morning update
Costa Coffee owner Whitbread (WTB) has reported an 8.1% rise in first half total revenues to £1.56bn and a 5.4% rise in underlying profit before tax of £307m.
The group said it was winning market share in both Premier Inn and Costa with like-for-like sales growth of 1.9% in the six months to 1 September.
Costa delivered "another good sales performance" with total sales growth of 10.7% and UK equity like-for-like sales growth of 2.3%.
Whitbread also opened 124 net Costa stores worldwide year on year as international system sales increased by 17.6% to £182m, representing 9.1% growth at constant currency.
However, it said Costa's margin in the first half was down year on year due to the early phasing of its investments in refurbishments, IT infrastructure and early introduction of the National Living Wage rates in October 2015.
Operating margins at Costa fell 1.8% pts resulting in operating profit down 4% year on year. It expects margins in the second half to improve in the second half of the year as its National Living Wage commitment annualises and the benefits of its first half investment kick in.
Chief executive Alison Brittain said: "This is another good set of results from Whitbread and we continue to deliver strong growth."
"In Costa we are trialling new 'finer' coffee concepts, introducing a new fresher food range and making good progress rolling out our Costa Pronto and Drive Thru formats."
"Whilst it is early in the second half and there is uncertainty in the UK's economic outlook, we expect to deliver in line with full year expectations."
Whitbread has dropped 2.4% in early trading to 3,753pts on the announcement. The shares are 24% down year-on-year.
Elsewhere on the markets this morning, the FTSE 100 is back up 0.5% to 7,017.8pts.
There has been a big rebound for Hotel Chocolat (HOTC) after yesterday's large fall (see below), bouncing back 5.9% to 278.5p. Also on the rise this morning are PureCircle (PURE) up 2.7% to 277.3p, Applegreen (APGN) up 2.3% to 393.8p and Majestic wine (WINE), up 2.3% to 296p.
Early fallers include Premier Foods (PFD), down 3.3% to 44.5p, McColl's Retail Group (MCLS), down 2.8% to 175p, Hilton Food Group (HFG), down 1.7% to 600.5p and Science in Sport (SIS), down 1.7% to 60.5p.
Yesterday in the City
The FTSE 100 dropped 0.5% yesterday to slip back below 7,000pts at 6,986.4pts as lower oil prices took the wind out of an early day rally.
B&M European Value Retail (BME) was one of the day's few standout performers, rising 2.6% to 244.6p yesterday, while Sainsbury's (SBRY) was up 0.7% to 242.6p and British American Tobacco (BATS) edged up 0.3% to 4,678.5p as the marketed digested its £41bn bid for Reynolds America.
McColl's (MCLS) was also up 1.7% to 180p after updating the market on its first quarter figures, which saw revenues drop but profitability rise.
Most fmcg/grocery stocks fell however, including WH Smith (SMWH), down 3.1% to 1,527p, Ocado (OCDO), down 2.9% to 269.6p, Cranswick (CWK), down 2.2% to 2,331p, Dairy Crest (DCG) down 2.2% to 628.5p and Associated British Foods (ABF), down 1.9% to 2,475p.
There were some heavy fallers amongst smaller listed companies, with Hotel Chocolat (HOTC), plunging 9.3% to 263p despite strong annual growth figures released last week, PureCircle (PURE) dropping 6.3% to 270p and Glanbia falling 5.3% to €14.75.