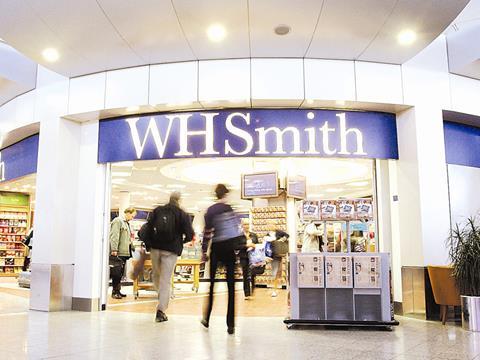 Top story
WH Smith (SMWH) has announced that chief executive Stephen Clarke has decided to step down at the end of October after 15 years with the company.
Carl Cowling, would replace him on 1 November. Cowling, is currently managing director of its high street business.
The news came alongside a trading update for the 11 weeks to 18 May during which group sales increased 15%, or 4% excluding InMotion, with like-for-like sales up 1%.
The travel business enjoyed a 26% uplift in sales, or 7% excluding InMotion, and like for like sales climbed 3%.
This performance reflected its ongoing focus on format development, customer service, space and category management as well as its continued investment in our UK and international businesses, it said.
Gross margin was in line with plan and its new store opening programme was on track both in the UK and internationally. It said it was on target to open about 20 units in the UK including 10 hospital stores.
Its new large-format Travel stores in the UK were performing well and both landlord and customer reaction to the recently opened new WH Smith pharmacy format in Gatwick North terminal had been positive.
The hospital channel continued to grow strongly and would overtake rail to become the group's second biggest channel, by revenue, this financial year with potential to grow the channel further.
Its international business continued to grow strongly and its integration of InMotion was progressing well.
Total sales in the high street business fell 1% and like-for-like sales aslo fell 1%.
Clarke said: "We have delivered a strong sales performance in the third quarter in both our Travel and High Street businesses."
While there was some uncertainty in the broader economic and political environment, it was well placed as it approached the key summer trading period in Travel.
"We continue to focus on profitable growth, cash generation and investing in the business to position us well for the future. We remain confident in the outcome for the full year," he said.
Morning update
Cranswick (CWK) has posted full-year pre-tax profit down from £88m to £86.5m on revenue down 0.2% to £1.44bn during a year of consolidation following what chief executive Adam Crouch described as three years of "very strong growth".
Crouch said the company delivered the results against a backdrop of highly competitive market conditions and ongoing Brexit-related political and economic uncertainty.
Like-for-like fresh pork revenue fell 3.8% reflecting lower wholesale and export demand through the first half of the year, convenience, which comprises cooked meats and continental products, represented 35% cent of group revenue.
Like-for-like convenience revenue decreased 1.2% per cent reflecting strong growth in continental products offset by lower cooked meats sales.
Gourmet products, which comprises sausage, bacon and pastry, represented 19% of group revenue. Like-for-like gourmet products revenue fell 3.3% year on year. Lower sales of bacon and pastry products offset Sausage sales growth.
Poultry represented 14% of group revenue. Like-for-like poultry revenue increased by 18% cent year on year.
The "Ready to Eat" chicken category continued to grow ahead of the wider UK meat protein sector and fresh chicken also continued to outperform, with market volumes ahead 2.7% and 3.9% respectively over the past year.
Crouch said: "We invested at record levels across our asset base and made further strong progress against its strategic objectives. We continue to build a platform and lay down the pipeline for future growth.
"I am confident that continued focus on the strengths of our business, which include its long-standing customer relationships, breadth and quality of products, robust financial position and industry leading infrastructure will support the further successful development of Cranswick over the longer term," Crouch said.
Adjusted pre-tax profit came in at £92m, up 2% on a like-for-like basis during a year in which the company said it showed resilience, and it was strongly positioned financially and commercially to continue its "long-term success".
Cranswick said it made a record level of investment, including the commissioning of the new Continental Foods site at Bury, Lancashire, and the start of the construction of the new poultry facility at Eye, in Suffolk.
Other projects were undertaken elsewhere in the business to improve efficiency, expand capacity and enhance the resources available for product development, it said.
The new Eye and existing added-value, poultry facilities and the group's broadening customer base provided a solid platform to further develop the poultry business and drive future growth in this attractive and expanding protein category, it added.
Greencore Group (GNC) has reported interim pre-tax profit up 58.3% from £3.6m to £5.7m on revenue down 4.6% from £73.4m to £701.4m.
When adjusted, pre-tax profit came in 17.1% higher in the half-year ended 29 March a £37.7m compared with £32.2m last time.
The period saw the group complete the disposal of its US business to Hearthside Food Solutions last November.
Patrick Coveney, chief executive of the convenience foods manufacturer, said Greencore had enjoyed a good first half to the year, with clear financial and operational progress as it had extended its leadership position in key food-to-go categories in the UK.
"We have reshaped and strengthened our capital structure, and now have a robust foundation from which to pursue a range of new food-to- go product and channel opportunities.
"While recognising that trading conditions in the wider UK grocery sector remain challenging, the growth outlook for our business continues to be encouraging, underpinned by favourable consumer trends and ongoing investment by our customers."
As a result, the company believed its market positioning, capability, customer relationships, assets and "proven" economic model would deliver strong future growth, cash generation and returns.
Greencore announced the appointment of Peter Haden as executive director from today and as chief operating officer.
Hilton Food Group (HFG) reported trading in line with board expectations in a trading update for the period from 31 December.
It said it had continued to grow the business through extra volumes and close co-operation with retailers.
It had completed the purchase of a 50% share of Dalco, a leading vegetarian product manufacturer based in Oss, the Netherlands, and the acquisition of HFR Solutions, a sous vide manufacturer based in the UK, further extending the range of proteins it offered.
UK turnover had grown relative to last year in the red meat business, and it had recently started to pack barbeque chicken products. The Seachill fish business had continued to grow compared with 2018, underpinned by recent business wins, it said.
The group's financial position remained strong after putting in place facilities to cover current expansion plans.
Hilton continued to explore opportunities in which to invest and to grow the business both domestically and in overseas markets and it was are also exploring several options for growth with its existing customers.
Tesco (TSCO) has announced it has stopped new mortgage lending and is actively exploring options to sell its existing mortgage portfolio.
Gerry Mallon, chief executive of the bank, said: "In recent years, challenging market conditions have limited profitable growth opportunities. Our focus is on how we best serve Tesco customers and align our resources effectively to their needs while ensuring that our offer remains sustainable in the long term.
"To that end, we have made the strategic decision to focus on serving a broader range of customers in more specific areas, which means moving away from our mortgage offer. We have therefore chosen to cease lending to new customers and announce our intention to explore a sale of our portfolio. Our priority in any sale, is to complete a commercially acceptable transaction with a purchaser who will continue to serve our customers well."
On the markets this morning, the FTSE 100 climbed 0.5% in early trading to 7,344.7pts.
Early risers include PureCircle (PURE), up 3.5% at 300p, Greggs, up 1.2% at 1.2% at 2,144p, Sainsbury's (SBRY), up 1.1% at 199p and Majestic Wine (WINE), up 1% at 268.7p.
Fallers so far today include WH Smith (SMWH) down 1.4% following this morning's trading statement and the decision by chief executive Stephen Clarke to step down at the end of October. Devro (DVO) slipped 1.3% to 218.2p and British American Tobacco (BATS) fell 1.1% to 2,939.5p.
Yesterday in the City
The FTSE 100 closed down 0.5% yesterday at 7.311pts.
The biggest climbers were Applegreen (APGN), up 9% at 485p, Majestic Wine (WINE), up 6.4% at 266p, Devro (DVO), up 4.7% at 221p and Greggs (GRG), up 3.9% at 2,118p.
The biggest fallers were Coca Cola HBC (CCH), down 6.7% to 2.672p, DS Smith (SMDS), off 2.6% at 318.4p, McColl's Retail Group (MCLS), down 2.5% to 83p, Glanbia (GLB), slipped 2.1% to €15.70 and Tesco (TSCO), dropped 2% to 234.7p.