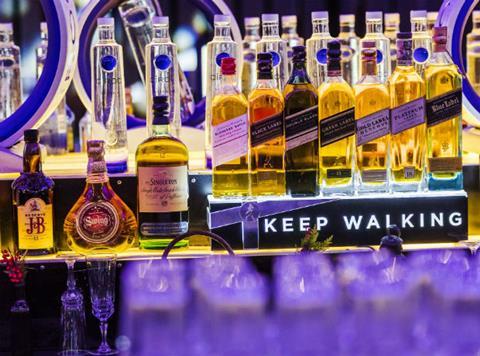 Hard-to-please investors sent shares of global booze giant Diageo (DGE) down on Thursday despite being garnished with a £4.5bn share buyback and profit growth ahead of expectations.

The UK-listed group posted a better-than-expected rise in full-year pre-tax profit, up from £3.7bn to £4.2bn on net sales up 5.8% from £12.2bn to £12.9bn. Organic sales growth was 6.1%, with strong price/mix improvement of 3.8% accompanying organic volume growth of 2.3% led by the strong performance of Johnnie Walker.
CEO Ivan Menezes said organic volume growth of 2.3% and net sales growth of 6.1% was broad-based across regions and categories, with new product innovation a strong contributor. He also announced a further return of capital to shareholders of up to £4.5bn from 2020 to 2022.

However, the group's shares fell 2.2% by Thursday lunchtime to 3,280.5p.

Analysts at SG pointed to a "small miss" in second-half organic sales growth due to "innovation phasing in North America, tough comps in India and expectations of sequential slowdown from very strong levels in China baijiu growth".

AJ Bell noted free cashflow and earnings were "slightly short of expectations" and the North American business also "disappointed a bit". The broker concluded: "A premium priced stock like Diageo can't afford even a modest miss on estimates if a hangover is to be avoided."
Diageo shares hit an all-time high of 3,500.5p in early July and remain up 14.7% year on year.
Elsewhere this week, City darling Fever-Tree (FEVR) lost some of its fizz as it warned its rapid growth in the UK had slowed amid the "dampening effect" of poor weather and strong comparatives.

The mixer producer posted overall sales growth of 13% to £117.3m in the first six months of its financial year, though UK sales growth slowed to just 5% (to £60.7m) compared with growth of 73% in the same period in 2018.

It said it anticipated full-year performance would remain in line with expectations. However, its shares fell 9.7% on Tuesday to 2,079p. They were back up to 2,420p by Thursday lunchtime.
Hargreaves Lansdown commented: "Today's disappointment stems from the group's admission it's simply become too big a fish in the relatively small UK pond, and sales growth is duly tempering in response.
"Future growth potential lies in the US, and the size of the potential market is certainly an exciting prospect. The problem is it's not clear if the same level of demand for premium mixers can be drummed up in our American cousins as we've seen in the UK."