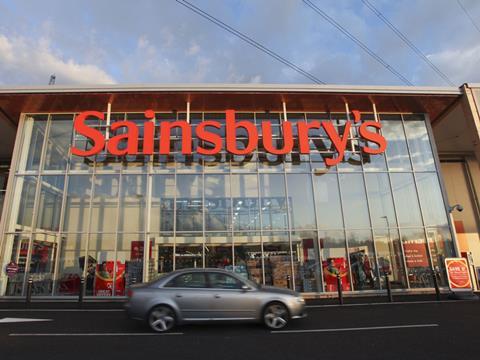 Top story
After the excitement of yesterday morning with Sainsbury's £1.3bn Argos bid accepted and Ocado making a profit for a second time, the markets are a little more subdued.
Grocery tech group Eagle Eye Solutions (EYE) has increased revenues by 30% in the first half to £3m as it signed a major contract with Sainsbury's and rolled out its platform into the majority of Asda stores.
However, despite the rise, sales in the period to 31 December were lower than management expectations, primarily the result of a delay in starting certain contract, a shortfall in messaging revenue and the phasing of new business wins.
Profit figures were not released in the unaudited trading update.
The company said its progress against key strategic milestones remained on track and was ahead of expectations when it came to international development.
Eagle Eye validates and redeems digital promotions in real-time for the grocery, retail and hospitality industries. It increased the number of retailers and brands using the its technology in the half to 190, compared with 110 a year ago, with fmcg accounted for 56 of the users, including Sainsbury's, Asda, M&S, Greggs, One Stop and Molson Coors.
CEO Phill Blundell said: "I am pleased with the strategic progress Eagle Eye has made in the first half of the year. The AIR platform has demonstrated significant growth in both transactions on our network and in revenue growth which reflects the structural market shift to the digital delivery and validation of promotions and loyalty.
"Our success in signing another two tier 1 grocers clearly demonstrates the value our platform brings to our customers."
Since the end of the half, Eagle Eye has signed Canadian food retailer as its first international tier 1 grocery client. "This signing of a multi-year deal with a client of this calibre is a major milestone in the company's growth and was achieved earlier than management expectations," Blundell added. "Having three of the world's top retailers signed up to Eagle Eye is a major endorsement of the benefits that the AIR platform delivers to our customers and will help accelerate future growth."
The business also appointed deputy CEO of Tesco Tim Mason as its new chairman in January.
Eagle Eye shares have slumped 5.8% so far this morning to 205.8p on the back of the update.
Morning update
Food prices have moved into inflationary territory for the first time since August last year. The latest BRC-Nielsen Shop Price Index for January showed food reported annual inflation of 0.1%, up from the 0.3% decline in the previous month. Overall shop prices across retail fell 1.8% from 2% in December, with non-food deflation remaining at 3% for the second consecutive month. British Retail Consortium CEO Helen Dickinson said it was too earlier to tell if the rise in food prices was a "one-off blip" or if after a sustained period of falls, prices were beginning to stabilise. "Higher levels of consumer confidence are currently translating into other parts of consumer spending – in leisure, entertainment and eating out – rather than into shopping, which is providing the backdrop to a tough trading environment for retailers but great news for shoppers," she added. Mike Watkins, head of retailer and business insight at Nielsen, added: "Sales momentum in January has been slow for some retailers with shoppers seeking out the best prices online and in store, and this competition is helping keep non-food shop prices lower than a year ago. Many seasonal lines have also come off promotion which will have moved food prices upwards a little, but there is still no general upward pressure on prices, despite recent currency appreciations. Looking ahead, we expect overall shop price deflation to remain broadly unchanged for next few months."
The FTSE 100 has started the day where it ended yesterday, sliding another 0.1% to 5,915.1p. Sainsbury's has lost some of yesterday's gains, falling 0.6% to 249p, with Home Retail more of less flat at 153p. Ocado continued its worrying decline, sliding another 2.7% to 238.7p.
Yesterday in the City
The big news yesterday was clearly Sainsbury's (SBRY) provisionally agreeing a deal to buy Home Retail Group (HOME) for an offer valuing the Argos owner at £1.3bn. The analyst community has previously expressed its doubts about the wisdom of the deal, but the City seemed reasonably comfortable with the price Sainsbury's is willing to pay. Sainsbury's shares ended the day up 2.4% to 250.5p on the news. Home Retail shareholders may have hoped for a higher offer, with its shares edging up just 0.1% to 153p.
Elsewhere, Ocado (OCDO) was in the headlines for posting another year of solid retail sales growth and its second consecutive year of profit. As predicted, there was no new news about its quest for international partnerships (which they said would come to fruition in 2015) but the online grocer was bullish once again about signing numerous agreements in the "mid-term". Ocado shares ended the day down a disappointing 6.9% to 245.2p after hitting 285p in early trading.
The overall FTSE 100 was dragged down yet again by the energy and mining firms as oil fell below $33 a barrel. The FTSE 100 ended the day 2.3% down to 5,922pts.
Sainsbury's and Ocado apart, the grocery firms were not amongst the day's major movers.
Most notably Marks & Spencer (MKS) was 2.1% down to 416.1p, while Associated British Foods (ABF) was up 1.6% to 3,200p.
Real Good Food (RGF) recovered 3.9% to 40.5p after its shares collapsed by over 12% on its profits warning on Monday.