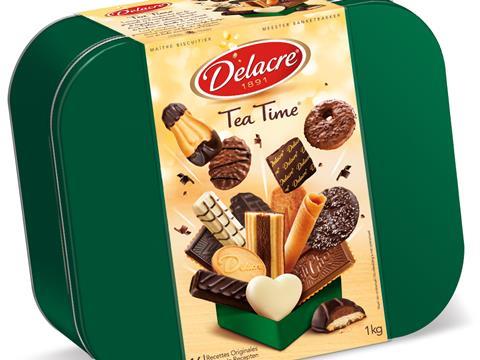 Italian confectionery giant Ferrero has announced the completion of its deal to buy Belgian luxury biscuit brand Delacre from UK-based Pladis.
Ferrero said today it has completed the acquisition, for an undisclosed sum, of Delacre and Délichoc biscuit brands. Both brands were formerly owned by United Biscuits before it was absorbed into the wider Pladis confectionery group after UB was acquired by Turkish food group Yildiz in 2014.
The deal, which was exclusively revealed by The Grocer in July, is designed to expand the Ferrero Rocher and Kinder maker from its reliance on chocolate and allows it to follow Cadbury owner Mondelez into the premium biscuit market.
As part of the transaction, Ferrero will take over all production facilities as well as retain the management and the employees of the businesses.
Jérôme Grégoire has been appointed MD of Delacre with immediate effect.
Grégoire commented: "As an iconic manufacturer of fine biscuits with a rich heritage and an established player in Belgium and France, Delacre is in a great position to build on and further expand its offering. I look forward to working closely with my new colleagues to capture the growth potential of the business."
The deal adds to Ferrero's stable of brands with a UK presence after it snapped up UK chocolatier Thorntons for £112m in June 2015.
The sale by Pladis – formed in June by combining the global confectionery assets of UB owner Yildiz – was in line with the group's strategy to focus on growing core brands, including McVitie's and Godiva Chocolatier in key markets, notably North America, industry sources told The Grocer earlier this year.
In July, The Grocer revealed that regulatory documents filed in Belgium show Delacre annual revenues of €132.5m in the year to 31 December 2015, rising from €121.9m in 2014, and generated an annual profit of €2.6m vs a €1.4m loss in 2014.
Belgium accounted for €37.5m of sales, with the remaining €94.9m in the EU. The brand is particularly well known in France, though it also supplies own-label goods to retailers such as M&S.
DeliChoc, which is part of the Delacre portfolio, was launched under the McVitie's brand in the UK in January 2015.
Established in the 1870s, Delacre is a purveyor of biscuits to the Belgian Royal House, having first been appointed in 1879.
United Biscuits bought Delacre from the Campbell Soup Company in 1998 for £78m.