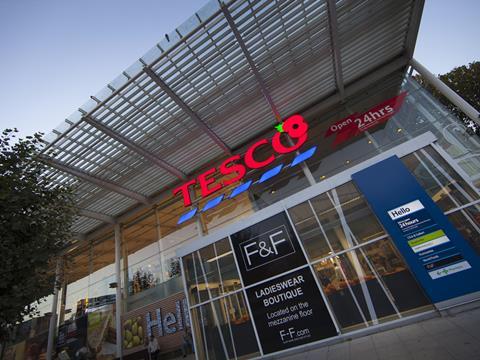 The top line from yesterday's Kantar Worldpanel grocery market share figures – that Tesco has returned to growth after a year of falling sales – has plenty of pick up across the media. The Guardian notes that Tesco's 0.3% growth represents a "a strong turnaround" from even last month's figures when Tesco's 12-week sales were down by 1.2% (The Guardian). The Telegraph notes the share price gains of the supermarkets as grocery sales in Britain "grow at fastest rate since 2008" (The Telegraph).
However, The Times cautions that Kantar's numbers may need to be taken with a pinch of salt. As the data represents total growth rather than growth from existing stores (and, since supermarkets got into trouble by growing too much, rather than too little), the figures "are a less reliable proxy for their underlying performance" (The Times £).
Meanwhile, Tesco chief executive Dave Lewis is close to selling off a stake in data arm Dunnhumby after hiring Goldman Sachs to examine options for the business in a bid to raise cash to pay for Tesco's recovery plan (The Daily Mail).
Coca-Cola yesterday cautioned that the strong dollar would hit its profits and revenues in 2015, a "transition year" where its restructuring efforts would take time to pay off in a "volatile macroeconomic environment" (The Financial Times £)
Supermarkets are challenging local councils that are making them pay about £200m of business rates on their in-store cash machines. UK retailers are set to "make thousands of claims" against council charges on about 8,000 in-store ATMs. (The Financial Times £)
Hundreds of Co-operative pharmacies bought by Bestway last year are to be rebranded Well in a move ending Co-operative Pharmacies' near-70-year presence on the high street. (The Times £).
Ocado co-founder Jason Gissing has penned a column in the FT arguing the fear of failure helped underpin Ocado's success and that creating a business requires "self-belief bordering on the sociopathic" (The Financial Times £)