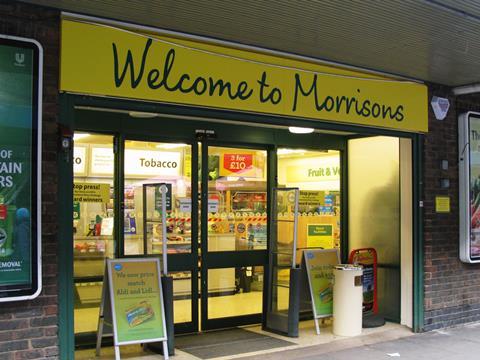 "Price war spreads to both ends of UK grocery market" reads the headline The Financial Times (£) as sales fell at both Morrisons and Waitrose. The FT notes, however, that Waitrose's 0.6% rise in operating profits meant it made the roughly the same level of profit as Morrisons (after its own 35% profit plunge) on just one third of the sales.
The FT's Lex column looks at Morrisons' decision to exit the convenience market – under the headline "back to the future", the column calls the move "wonderfully counterintuitive". "For years, it has seemed like the glory days of the standard, midsized superstore were in the past; Morrisons' strategy puts such stores front and centre," it writes, but warns: "Mr Potts is betting that the British public will decide that they do, after all, want to spend an hour or so every week pushing a trolley down the endless aisles of the modern supermarket. That, perhaps, is the most counterintuitive thing of all." (The Financial Times £)
The Mail's Alex Brummer suggests that "with a market value of around £4billion, now it is looking like a fascinating takeover candidate." He floats the idea of Aldi and Lidl taking over Morrisons as a short-cut to scale, or the firm could take the fancy of retailers now in private equity – notably Justin King and Sir Terry Leahy. "Morrison may be a basket case but its unusual vertical structure makes it a little different," he concludes. (The Daily Mail)
The Guardian's Graham Ruddick says Morrisons closures and Waitrose's decline underline food shopping's revolution. "All are suffering from falling sales as shoppers turn away from supermarkets in favour of buying more of their groceries either from local convenience stores, online or at the discount chains such as Aldi and Lidl," he writes. (The Guardian)
Meanwhile, Cut-price grocer Lidl is planning an audacious assault on central London with dozens of new supermarkets in some of the capital's most desirable neighbourhoods, according to the Evening Standard. Bosses at the German-owned retailer are looking to push deep into "Waitrose country" by opening in exclusive "villages" including Chelsea, Notting Hill, Highgate and even Mayfair. (The Evening Standard)
One of the main focuses of the John Lewis Group/Waitrose results is the group's increase in pension costs. The Daily Mail says: "John Lewis says it could lay off up to 250 warehouse workers as part of a lacklustre trading update that saw its half-year profits slump". The Telegraph notes that Sir Charlie Mayfield, chairman of John Lewis Partnership, warned that even a strong performance over the next six months would be unlikely to offset a £60m increase in full-year pension charges.
Away from retail, Belvedere, the luxury vodka brand owned by the LVMH Group, is making a big gamble on the success of the new James Bond movie Spectre, starring Daniel Craig. The company will today launch its biggest ever marketing campaign, linked to its role as the official vodka of the movie, which has its global premier in London on October 26. (The Times £)
A lack of pigs has helped buoy the Chinese economy, helping to fend off a slowdown that economists have warned could wreak havoc on a global scale. The price of pork flew higher in August, rising by 19.6% compared with the same month a year earlier. The meat's surging cost boosted overall inflation, which rose for a third straight month. (The Telegraph)