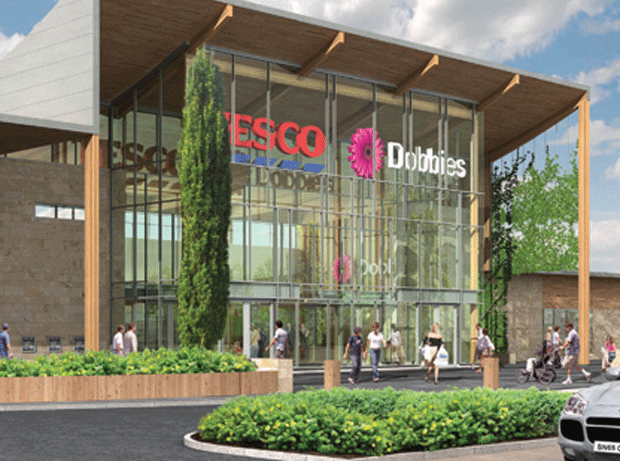 Ahead of the annual results tomorrow, the papers report on news that Tesco is looking to offload its lossmaking Dobbies garden centre chain. Sky News broke the story last night that the supermarket has appointed Greenhill, its investment banking adviser, to handle the sale. The Times writes the pruning comes amid speculation that Tesco wants to sell coffee chain Harris & Hoole and family restaurant chain Giraffe. The garden centre business, bought for £156m in 2007, reported a £48m loss last year after booking £54.4m in impairments on assets, including stores, The Guardian notes.
News that Tesco is to accept brand match coupons from rival Sainsbury's also makes most of the papers (The Independent).
UK sausage maker Cranswick has bought Crown Chicken for £40m, its second poultry business in two years (The Financial Times). A column in The Times said the deal gave food for thought: "The Cranswick story is a good example of being in the right place at the right time. Low world commodity prices have held down the cost of pork and made it more attractive to consumers, a price of £1.10 a kilo or more comparing with £1.70 or more at its peak at the end of 2014."
The Guardian carries an animal welfare opinion column asking if the US has promised to stop caging hens why can't Britain. "I urge Asda, and all other retailers in the UK and Europe still selling cage eggs, to come out of the cage age and commit to cage-free," Philip Lymbery writes.
Pets at Home has sent its finance chief packing, The Times says. Graeme Jenkins was scheduled to join the retailer as CFO but is now in the doghouse after being linked to what his former employer Wesfarmers called "a mind-blowingly stupid" decision, the paper continues. It comes as Westfarmers admitted accounting irregularities in its Target Australia subsidiary (The Financial Times).
Finally, ratings agency Moody's has warned of tough times for UK's clothes stores with sluggish profit growth over the next 18 months thanks to weaker sales and a decline in consumer spending (The Financial Times). The Telegraph says it adds to M&S and Next's retail gloom, with Moody's pointing to the pair's shaky results as evidence of the slowdown in spending on clothing.