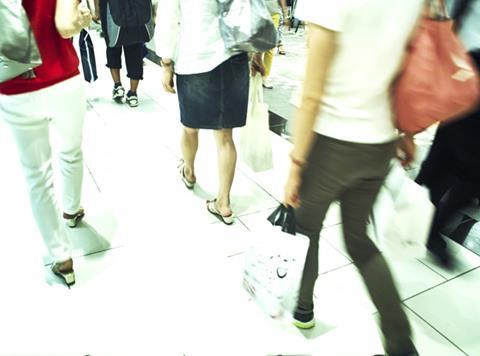 Britain looks set to slide into deflation later this week for the first time in more than 50 years as the supermarkets slug it out over price and energy costs fall. The Office for National Statistics will release its inflation figures for March tomorrow morning, with economist predicting it could register a 0.1% dip. The rise of the German discounters has pushed the big grocery chains to slash the cost of staple items such as milk and bread. Inflation, as measured by the consumer prices index (CPI), fell to zero in February for the first time since records began in 1989. (The Guardian) (The Telegraph)
Following its annual results last week when the society returned to the black, tensions have arisen at the Co-op as council members demanded that three candidates for the board be reinstated to the shortlist, according to The Guardian. The 100-strong national members' council met at the weekend to discuss the board election and other matters before the Co-op's annual meeting next month. The members' main complaint was about the selection of candidates for election to the board.
The Sunday Times (£) reports that top executives at the mutual will share a bumper bonus pot of £7m if they hit profit targets and keep debt down. It follows the group telling members that they would have to wait until 2018 for dividends to be paid again. CEO Richard Pennycook is set to benefit the most from the long-term incentive plan, which could award him £1.6m at the end of the 2016 financial year. He received a £2.5m package this year.
Asda has begun the hunt for a chief operating officer to replace Mark Ibbotson, who has moved to US parent Walmart. The retailer said the new COO would be a candidate to take over the supermarket from CEO Andy Clarke, who has been at the helm for five years (The Financial Times £).
Drink giants Heineken and Diageo are facing flat beer sales in Indonesia thanks to a government clampdown which kicks in later this week. Diageo has called on the government to postpone the ban on sales of drink with less than 5% alcohol volume in convenience and small stores (The Financial Times £).
Supermarket workers paid the national minimum wage are forced to claim state benefits totalling £11bn a year, according to a charity. Citizens UK said the employers of five million workers in the UK were being "subsidised" by the taxpayer (BBC).
Former Sainsbury's boss Justin King has resigned his position on the board of US stationery chain Staples because of "significant reservations" over an agreement with the hedge fund Starboard Value (The Times £).