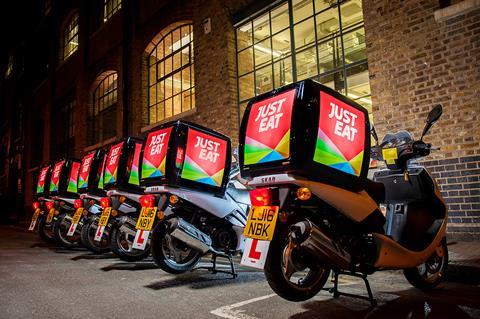 The lockdown led to a boom in sales for Just Eat Takeaway.com, which attracted a record number of new restaurants and customers in the first half of the year (The Times £). The group processed 257 million orders, up 32% year-on-year, on the back of faster growth in the second quarter.
The group predicted strong order growth throughout the rest of the year, despite the post-lockdown reopening of restaurants in markets such as the UK. Its shares were up 2 per cent on the news in morning trade on the London market (The Financial Times £).
The Lex column in The Financial Times (£) says the food delivery company is on track to be one of the few profitable players in the industry.
The UK's restaurants and bars have reported an even bigger boost from the government's discount eating-out scheme in its second week but say trade on other days is suffering while many customers are spending less (The Financial Times £).
Sales at pub, restaurant and bar chains halved in July compared to last summer, as almost two-thirds of restaurants remained closed and consumer wariness sparked a surge in home deliveries (The Guardian).
Wetherspoon boss Tim Martin has challenged a top scientist to publish evidence following claims that a recent coronavirus outbreak is linked to pubs (The Telegraph).
Marks & Spencer is creating 360 jobs with the opening of a new food distribution centre as part of its efforts to improve the availability of its most popular products in shops (The Times £).
The UK's train companies have tabled proposals to the government for an industry-wide package of rent cuts and payment holidays for station retail tenants after complaints over the lack of help during the pandemic (The Financial Times £).
Business leaders and trade unions have urged the government to provide continued support for workers to prevent the nascent economic recovery from petering out as the furlough scheme ends in October (The Times £).
Business chiefs are seeking the most corporate-friendly Budget in history to save stricken economy (The Telegraph).
The Times (£) examines whether there will be a V-shaped economic recovery in the UK. "The collapse in GDP is unprecedented. The big question is how long the recovery will take."
The Guardian writes that full recovery from the Covid slump will be slow. "Job losses and possibility of second closures likely to hinder emergence from recession."
It's time to go for growth before Covid destroys the economy, The Telegraph says. "Britain no longer has a Covid-free status to protect and therefore has far less to risk from opening up - but a great deal to gain."
The US maintains tariffs on Scotch whisky but does not escalate its battle with the EU that could have included beer (Sky News).