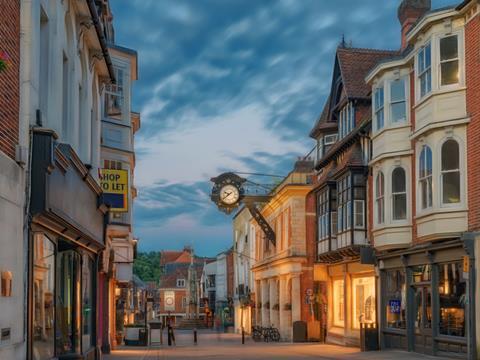 The City is bracing itself, to discover just how brutal Christmas 2018 was for the UK high street, with a string of crucial announcements threatening to add to retailing's woes (The Guardian). Nick Bubb, independent retail analyst, said: "The vultures are clearly gathering outside M&S headquarters and poor Steve [Rowe, the chief executive] is the obvious guy to blame for the disastrous Christmas trading."
Investors will this week gain a clearer picture of retailers' performances over the crucial Christmas period, as vultures circle the sector after HMV became the first victim of weak sales (The Guardian). Initial data from Springboard, a retail consultancy, showed that footfall in the week to Saturday fell by around 3% compared with last year, in line with declines seen throughout the Christmas trading period.
A Christmas savings scheme offered to staff at Iceland Foods has backfired spectacularly after HM Revenue & Customs accused the company of breaching minimum wage rules and threatened it with a bill of at least £21 million to put right (The Times £). Sir Malcolm Walker, Iceland's founder and chief executive, described the dispute — about a scheme that helps low-paid staff to set aside money over the year to help to pay for Christmas — as "just madness". Iceland is also accused of breaching minimum wage rules because it issued guidance for shopfloor staff to wear "sensible shoes".
Health officials are poised to push for a "pudding tax" covering cakes, biscuits, sweets and other sugary snacks amid warnings that Britain's sweet tooth is fuelling its obesity crisis (The Telegraph). It comes as new figures show the average child has consumed 18 years' worth of sugar by the time they reach the age of 10. Manufacturers have been set targets to cut the sugar content of common foods, but have so far made little progress - with puddings actually becoming more sugary.
The average 10-year-old has consumed as much sugar in their lifetime as the recommended limit for an 18-year-old, according to Public Health England (PHE), which is warning of serious implications for obesity and health (The Guardian). Children are consuming the equivalent of eight excess sugar cubes a day, or 2,800 a year, says PHE, which has launched a new healthy eating campaign, Change4Life (The Times £).
The government has appointed a food waste champion to tackle the problem of 250m meals being thrown away in the UK each year (The Guardian). Ben Elliot, a philanthropist and co-founder of the lifestyle group Quintessentially, will aim to help the government eliminate food waste going to landfill by 2030. He was appointed to the unpaid, voluntary role by Michael Gove, the environment secretary, who described food waste as "an economic, environmental and moral scandal".
More than 300,000 plastic bottles have been returned in the first supermarket trial of reverse vending machines that reward shoppers for recycling (The Times £). The scheme at branches of Iceland, the frozen food chain, was popular with customers and is likely to encourage Michael Gove, the environment secretary, to proceed with a national deposit return scheme for bottles and cans.
Amazon is planning to open more Whole Foods stores in the US as it seeks to extend its foray into the grocery market, it was reported yesterday (The Times £). Employees have examined potential sites for new stores in three states where Whole Foods has no presence, The Wall Street Journal said. Amazon has about 475 Whole Foods stores in the US and a handful in the UK.
Co-op intends to open 100 town centre stores in 2019, making it Britain's fastest-growing grocer (The Daily Mail). The £200million plan will focus on London, the South East, Wales and Scotland. Another 200 older stores will be refurbished.
Greedy supermarkets are pocketing huge profits from a fall in the oil price instead of cutting costs at the pump, experts have warned (The Daily Mail). Motorists are overdue a hefty cut of around 4p per litre after oil suffered its worst year since 2015, according to the RAC.
"As sales plateau in more mature markets, investors could be left with indigestion at Lindt," writes the FT's Lex column (The Financial Times £). "There is some hope for Lindt. Higher cocoa prices, from an expected El Niño weather phase, could soothe any potential dyspepsia. If higher prices ensued due to poor harvests, Lindt could later pass these on to consumers, protecting margins. That, however, is a big "if". Lindt, for the time being, remains an expensive treat."
Britain's leading share index has suffered its worst year since the 2008 financial crisis after a global stock market rout (The Times £). The FTSE 100 fell 12.5% to 6,728.1pts during 2018 as fears over a slowing world economy, rising interest rates and US-China trade wars added to jitters over a no-deal Brexit.
"Fire, flood and fish: how one family business has swum against the tide." Speaking to The Telegraph about family smokehouse H Forman & Son's, Lance Forman said: "We're happy to work with the supermarkets as long as they don't try to change the way we do things."
The Guardian has highlighted the growth of cannabis in consumer products, and the continuing downturn of high street trading among its business trends to watch out for 2019.
Mahabis, the maker of high-end slippers that gained brief fame by building a minimalist, Scandinavian-inspired brand through aggressive online marketing, has gone into administration (The Financial Times £).