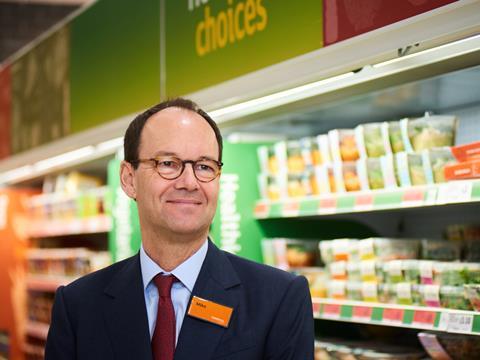 Sainsbury's spent £46m in fees on its failed attempt to buy rival Asda, the retailer revealed on Wednesday, a week after the takeover was blocked by the competition watchdog (The Financial Times £). The chief executive of Sainsbury's has said he has the full support of the board to remain in his post despite a failed attempt to merge with Asda, which cost £46m last year (The Guardian). Sainsbury's blew £46m on fees and other costs during its botched bid to merge with Asda (The Daily Mail, The BBC)
The new chairman of Sainsbury's has mounted a robust defence of the supermarket group's abortive attempt to buy Asda, arguing that the board had always privately calculated that there was a 20 per cent risk of failure but had regarded that as a gamble worth taking (The Times £). Sainsbury's has vowed to improve its stores and technology and cut prices as its chief executive said was "drawing a line under the past" following its failed merger with Asda (The Telegraph).
"Sainsbury's post-Asda strategy still looks pretty sketchy — despite full-year figures that were rather better than feared," writes Alistair Osborne in The Times (£). "Until the Asda farrago, Mr Coupe had risen to most challenges. But failed deals do change perceptions."
"No news is good news," writes The Telegraph. "And that seems to be about the best the supermarket giant can offer at the moment."
Sainsbury's boss Mike Coupe was brave to gamble on Asda deal - but sooner or later he has to go, writes Ben Marlow in The Telegraph.
But The Guardian's Nils Pratley writes that Sainsbury's was naive to pursue Asda but its CEO deserves to stay on. "Mike Coupe's plans lack whizz-bang excitement but would still be worthwhile. Let him try." (The Guardian)
No amount of fast footwork can hide the £46m cost of failed Asda deal, writes The FT's Lex column. "Stemming market share losses is key and that should put margins under greater pressure… If Mr Coupe wants to avoid investors' requests for a rendition of One Day More he will need to come up with a more impressive second act." (The Financial Times £)
Ocado shareholders have fired a warning shot over executive pay at the online grocer's annual meeting, with a quarter of the votes opposing the remuneration report (The Telegraph). Ocado Group has suffered a significant rebellion by shareholders over its remuneration policy (The Times £). Ocado has been added to a public register of shame after a shareholder revolt over fat cat pay (The Daily Mail).
Beyond Meat, the California-based company that makes plant-based burgers, raised $240.6m from an initial public offering that was increased on the strong appetite of investors for its growth prospects. (The Financial Times £)
The FT's Lex column writes: "Beyond Meat perhaps offers a more appetising product than Quorn, Tofurky or insect protein. But equally hip Impossible Foods has a pilot deal with Burger King that Beyond Meat should envy and producers like Cargill will be thinking of ways to keep consumers eating meat." (The Financial Times £)
The British food tech company behind the UK's first meatless "bleeding" burger will next week launch what it claims is the world's first plant-based hot dog that looks and tastes just like its real pork equivalent. (The Guardian)
Bankers at JP Morgan gave the short-sellers snapping at the heels of Just Eat something to get their teeth into with a downgrade of shares in the takeaway delivery group. (The Daily Mail)
Pret A Manger said it would move to fully label all ingredients in its soups, salads and other products as it looks to win back consumer trust after two people died from allergic reactions to food they bought at the chain (The Financial Times £). Pret a Manger is to begin a national rollout of full lists of ingredients on freshly-made products from Thursday to fulfil a pledge to improve labelling following the deaths of two customers who suffered allergic reactions to its sandwiches (The Guardian).
What is more important: helping smokers or hating us? That is the elevator pitch of tobacco boss André Calantzopoulos. He implores governments not to block the advance of smoke-free products. On Tuesday, his company — Philip Morris International — scored a win when US regulators approved its heated tobacco devices. (The Financial Times £)
Australian brand Bega has won the right to use the trademark yellow lids on its peanut butter jars, ending a long-running legal battle with American food giant Kraft. (The Guardian)