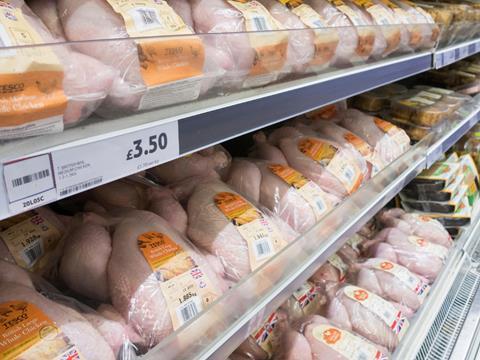 Tesco food standards inspectors unearthed a series of "major" process issues at a second 2 Sisters Food Group factory, on the same weekend that separate concerns prompted the closure of the UK's largest chicken supplier's West Bromwich site, The Guardian reports. Leaked documents show how in October the supermarket's auditors gave what they described as a "red" warning rating to 2 Sisters' chicken plant in Scotland, which supplies Asda, Sainsbury's, Marks & Spencer, Lidl, Aldi, Co-op and Iceland, as well as Tesco.
Steinhoff International has said it is unable to provide details on the magnitude of its accounting irregularities and that lenders are withdrawing their support of the beleaguered group, The Financial Times writes. The group's shares fell more than 20 per cent after it said on Tuesday that it could not provide any updates on when it would be able to publish audited results for 2017 and restated results for 2016. The Guardian adds that Poundland's parent group has started to lose credit lines from lenders, putting more pressure on the South African retailer's shares. In a presentation prepared for lenders at a meeting in London on Tuesday, Steinhoff said the position of its operating companies, including Poundland, which it bought last year, as well as Harveys and Bensons for Beds in the UK, was "evolving daily" with credit insurance being cancelled or reduced and credit facilities being suspended. The firm has a €10.2bn (£9bn) debt pile and owes creditors more than £15bn, The Telegraph points out.
Marks & Spencer has become the first supermarket chain in the UK to publish details of the use of antibiotics in its farm supply chain, in a step towards reducing the use of vital human medicines in livestock-rearing, The Guardian reveals.
In wider retail, Toys R Us stays in the news. A business editorial in The Times says the beleaguered retailer is heading for its endgame. MPs have written to Toys R Us demanding an explanation for why the struggling retailer handed a bumper pay increase to bosses despite falling sales and growing losses that is threatening its survival, The Telegraph reports. The Pension Protection Fund (PPF) has confirmed it intends to block a proposed restructuring of Toys R Us, pushing the retailer closer to collapse unless a deal can be struck within two days (The Guardian). Nil Pratley points out in a column on corporate governance in The Guardian that the Pension Protection Fund aims to protect pensions – not management. "Toys R Us can't find £9m to help save 3,200 jobs. So what went on when the UK arm wrote off a £584m loan to its US parent?"