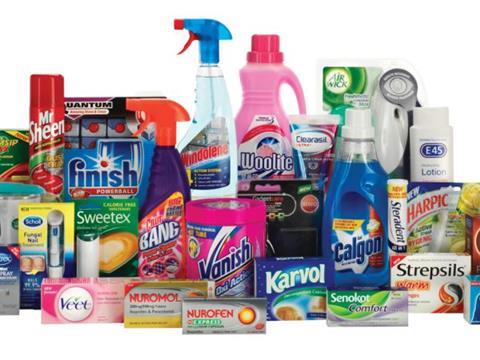 The chief executive of Reckitt Benckiser defended his acquisition strategy yesterday as the consumer brand group slumped to its worst underlying sales performance since he took charge (The Times £). Reckitt, which issued two sales warnings last year and was hit by a severe cyber attack, vowed that its sluggish performance would not continue (The Financial Times £). The consumer goods giant behind Nurofen, Durex and Cillit Bang, has vowed to return to growth after a cyber attack, tough competition and a disappointing product launch led to it posting its first ever year of flat sales (The Telegraph). Reckitt Benckiser said it expects sales to pick up this year after a tough 2017 in which revenues remained flat amid difficult market conditions and a cyber attack (The Daily Mail).
Reckitt Benckiser faces battle to regain market's trust, writes The FT. Reckitt's management has a lot on its plate, with the integration of Mead and the upheaval involved in splitting into two units, one focused on health and the other on home and hygiene. "Rakesh Kapoor may have hoped he had put 2017 behind him, but the chief executive of Reckitt Benckiser looks to have his work cut out again this year." (The Financial Times £)
Alistair Osborne asks "are Reckitt's margins even sustainable?". What other consumer businesses, in this internet age, have gross margins of 61.1% and operating margins of 27.1% — and in a poor year too, he questions? "Restoring Reckitt investors to health may need quite a bit more than Nurofen." (The Times £)
The FT's Lombard column writes that Rakesh Kapoor faces a potentially ticklish problem: could he now persuade investors to cough up, if he needed their help with future acquisitions? "That arguably leaves only investors as a source of short-term finance, via a rights issue. They may need convincing that Mr Kapoor can work through all his current headaches." (The Financial Times £)
Pressure on brands rises through fear of Amazon, writes The Times (£). The maker of Durex condoms and Finish dishwasher tablets is the latest consumer goods group to set off renewed concerns about the impact of the transformation in shopping habits.
The chief executive of convenience store chain McColl's has insisted the businesses is "in a much better position" than a year ago after its share price dropped as much as 11% following a warning its sales had been knocked by the collapse of wholesaler Palmer & Harvey (The Telegraph). Shares in convenience store chain McColl's plunged on Monday after the company revealed that the collapse of one of its suppliers had seriously disrupted its sales (The Financial Times £). Local shop chain McColl's saw shares dip more than 10% at one point today after it said the demise of supplier Palmer & Harvey has caused its sales to dip (The Daily Mail)
More than 260 workers have lost their jobs at the meat supplier Russell Hume, which has collapsed into administration just weeks after production was suspended following a food standards scare (The Guardian). Meat wholesaler Russell Hume, which supplied big names like Jamie's Italian, JD Wetherspoon and British Airways, has gone into administration just weeks after a food hygiene probe halted its operation (The Daily Mail)
Almost two-thirds of the UK branches of fast food outlet KFC remained closed on Monday due to a shortage of chicken, after "operational issues" less than a week into a new distribution contract with DHL left deliveries "incomplete or delayed" (The Financial Times £). The fast food chain KFC has been forced to temporarily close most of its UK outlets after problems with a new delivery contract led to a chicken shortage (The Guardian). Workers are encouraged to take holidays as supply problems left just over 80 of the fast-food chain's 900 sites open at one stage (Sky News). KFC has closed more than half of its 900 UK outlets after delivery problems meant they ran out of chicken (BBC).
Merger and acquisition activity in the British food industry is picking up, with Wm Morrison buying a free-range egg supplier and Granarolo, of Italy, snapping up Midland Food Group. (The Times £)
The government must not allow farming standards to slip or be undermined by bad trade deals after Brexit, the National Farmers' Union has said in a reference to fears that food standards will be sacrificed to seal deals with the US. (The Guardian)
Jamie Oliver is scrambling to salvage part of his failed steak chain Barbecoa via a controversial pre-packaged deal with administrators (The Telegraph). Jamie Oliver's two flagship London restaurants have gone into administration, although the celebrity chef immediately bought one back (The BBC).
Reports over the weekend of the demise of the restaurant brand owned by Jamie Oliver turned out to be a tad premature. While it was confirmed yesterday that Barby Limited, the holding company for the barbecue concept, which is based in London, had been placed in administration, the TV chef immediately bought back the original (and more successful) site at the One New Change shopping centre in St Paul's (The Times £).