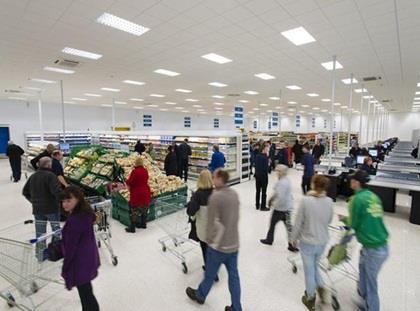 Households are the most pessimistic they have been in more than five years, with the gloom around Brexit rivalling the dark days in the aftermath of the financial crisis (The Times £). In news that will do little to boost Britain's beleaguered retail sector, the closely watched GfK consumer confidence index dropped to -14 in December, down one point to its lowest level since July 2013.
Consumer confidence has slumped to a five-year low as Brexit uncertainty left shoppers fearing for the stability of the UK economy in the months ahead (The Guardian). The GfK index, which is used by the European commission to judge consumer confidence, fell to -14 in December, down from -13 in the previous month and -10 in October.
Retail sales grew at a healthy pace in November, contrary to evidence of muted consumer confidence and strains on retailers in the run-up to Christmas (The Financial Times £). Official data released by the Office for National Statistics on Thursday showed sales volumes had increased by 1.4 per cent month on month, well ahead of the average forecast of 0.3 per cent growth.
Shoppers kept tills ringing in November, defying expectations of belt-tightening and surprising retailers with a stronger start to the festive season than last year (The Telegraph £). Online sales led the way, but growth in clothing was sluggish, backing up gloomy reports from both high street and internet retailers.
Heavy discounting by online retailers on Black Friday and Cyber Monday fuelled a sharp rise in sales during the second half of November, according to official figures (The Guardian). The surge in spending on the web, which surprised the City after a succession of doom-laden reports by retailers, pushed the quantity of goods bought last month up by 1.4% compared to October. The annual increase hit 3.6%.
Strong Black Friday sales helped tills ring in November - a crucial Christmas trading month that Sports Direct tycoon Mike Ashley had described as "the worst in living memory" for the high street (Sky). The Office for National Statistics (ONS) reported sales volumes growing by 1.4% compared to the previous month and by 3.6% on an annual basis.
Black Friday sales bailed out retailers last month but rivals are cutting prices at the fastest rate for almost two years, official figures showed on Thursday (The Evening Standard). Retail sales were up 1.4% in November after two months of decline, bolstered by the online bonanza, but the Office for National Statistics deflator — its measure of how fast retailers have raised their prices in the past year — sank to 0.5%, the weakest since January 2017.
UK retail sales picked up by more than expected in November due to Black Friday discounting – but trading is still slow ahead of Brexit (The Independent). Sales volumes were up 1.4 per cent from October, well ahead of City analysts' prediction of 0.3 per cent, the Office for National Statistics reported.
A government-backed report into the UK's beleaguered high streets has recommended a national town centre clean-up day and local reviews of parking charges in an attempt to bolster trade at local shops (The Guardian). A 13-page report by an expert panel put together by the high streets minister, Jake Berry MP, in July and led by Sir John Timpson, the chair of the Timpson shoe-menders group, recommends a National High Street Perfect Day "one day in the year when every shopping street looks the best it possibly can".
The UK has twice as many shops as it needs, according to the author of a report into how to save the nation's high streets, which are coming to the end of a dismal year (The Independent). Businessman Sir John Timpson, who chaired an expert panel tasked with advising how the government can support traditional retailers, said it is "obvious" that empty shops could be used for housing.
Retailers are hoping for a surge in sales this weekend as shoppers switch from ordering online to hitting the high street for last minute Christmas purchases (The Guardian). Supermarkets are preparing for Super Saturday, their biggest day of the year with Sainsbury's predicting it will ring up £150m in online and in-store sales.
England's chief medical officer has called on the government to consider imposing taxes on foods high in sugar and salt, as it has done with sugary drinks, and accused the food industry of failing to help deliver healthier diets (The Guardian). In her annual report, Dame Sally Davies said tougher action was needed to tackle obesity.
The American owner of Boots has made its UK retail operations a focus of a new $1 billion cost-cutting drive after a further deterioration in its financial performance (The Times £). Walgreens Boots Alliance said yesterday it had initiated "global smart spending and smart organisation" programmes focusing on its British retail business, its American pharmacies and other "global functions".
The American owner of High Street beauty chain Boots has blamed tough trading in the UK for a fall in profits (The Daily Mail). Walgreens Boots Alliance posted a 4.1 per cent dip in profits to £1.3 billion in the three months to the end of November compared with a year earlier.
The owner of Boots has become the latest company to take a hit to profits from the UK's "very weak" high street in the run-up to Christmas (Sky). US-based Walgreens Boots Alliance said UK pharmacy sales fell 3.5% in the three months to the end of November, while retail sales dropped 2.6%.
Wagamama staff are to receive Christmas bonuses of up to £2,000 each after the £559m sale of the restaurant chain (The Guardian). Around 4,000 staff will share in a £4m bonus pot as part of a payout ordered by the outgoing chief executive, Jane Holbrook, and Wagamama's former private equity owner Duke Street.
Employees of Wagamama will receive a £1,000 bonus as a result of the £559 million sale of the Asian noodle bar chain to The Restaurant Group (The Times £). The bonus payments, totalling £4 million, are being paid by Duke Street, its private equity backer, and Wagamama management to all employees who had worked for the company for at least 12 months as of November 28.
Wagamama staff are to receive Christmas bonuses of up to £2,000 each following the £559m sale of the restaurant chain (The Independent). Head chefs and managers will bank £2,000 each, while waiting staff will pocket £1,000, provided they have worked at Wagamama for more than 12 months.
Altria raised eyebrows on Wall Street on Thursday after the New York-listed tobacco group that sells the Marlboro brand shelled out about $13bn for a stake in the ecigarette company Juul at an "unusually high" valuation (The Financial Times £). While broadly welcoming the strategic rationale — traditional cigarette sales are in terminal decline in the west and more consumers are adopting new technologies to help them quit — several analysts questioned the price and terms.
Marlboro cigarette maker Altria Group has bought a 35pc stake in Juul Labs for $12.8bn ($10.1bn) as it seeks to gain a foothold in the growing e-cigarette market (The Telegraph £). As the popularity of smoking declines, the deal extends Altria's move away from traditional tobacco products and into higher-growth businesses in order to protect its revenue.
Juul likes to boast about its independence from the big tobacco groups, writes the Financial Times (£) Lex columnist. That claim now rings hollow. The ecigarette company is selling a 35 per cent stake for $12.8bn to Marlboro cigarette maker Altria. The deal involves big risks on both sides. These are worth taking.
Frozen ready meals retailer Cook on Thursday cheered higher sales and said it has signed off on plans for a new production site that will help revenues pass the £100 million mark (The Evening Standard). The Kent-headquartered firm, which has 89 UK shops including scores in London, said it will invest £10 million to open a second kitchen to develop products in Sittingbourne in 2019.
Campbell Soup, having settled its proxy battle with Dan Loeb's Third Point hedge fund, has appointed Mark Clouse, the former head of Pinnacle Foods, as its new president and chief executive (The Financial Times £). Mr Clouse will take on the role on January 22, the company said after the market's close on Thursday. He is succeeding the soupmaker's interim president and CEO Keith McLoughlin, who took on the role after Denise Morrison abruptly stepped down in May.
The hot summer, World Cup fever and demand for new flavours combined to create a potent cocktail for the gin trade, driving another record year (The Times £). According to a report from the Wine and Spirit Trade Association, which uses figures from Nielsen and CGA, UK sales of gin over the past year jumped by 53 per cent from £1.26 billion last year to £1.93 billion — a leap from £732 million in 2013.
The chief executive of online clothing giant Asos raked in £1.2 million from selling shares just weeks before a profit warning cut their value by more than half (The Daily Mail). In a shrewd move, Nick Beighton, sold 22,808 shares on the last day of October for 5450p each.
The café bar operator behind the Lounge and Cosy Club brands is to push ahead with plans for a £250 million-plus stock market listing despite growing economic and political uncertainty (The Times £). Loungers, which is backed by Lion Capital, the private equity firm, is understood to have drawn up a shortlist of four City advisers — Numis, Peel Hunt, Berenberg and Liberum — to handle a potential initial public offering.
The price of US soyabeans has fallen back to its level before the trade truce between US president Donald Trump and his Chinese counterpart Xi Jinping, as traders expressed disappointment with the volume of purchases from China (The Financial Times £). CBOT January soyabean futures closed at $8.935 a bushel on Thursday, down 0.7 per cent and the lowest for a near-month contract since November 29.