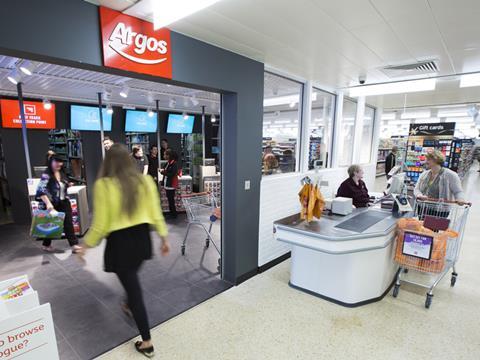 This weekend's papers are dominated by Sainsbury's coming out on top in the bid to buy Argos and the fallout from George Osborne's controversial sugar tax.
Sainsbury's deal for Argos is now set to go ahead after rival Steinhoff pulled out of the race before Friday's takeover panel deadline. The bid includes a potential special dividend which pushes up the value of Sainsbury's offer to £1.4bn. The Mail writes the supermarket hopes the deal would push it ahead of rivals Tesco, John Lewis and Amazon UK. The Times called the result a "significant victory" for the British supermarket group and said it had now "all but won the battle" for Home Retail. The Telegraph said the City had been anxiously waiting for a resolution to a month-long "Mexican stand-off" with South Africa's Steinhoff ahead of the 5pm deadline on Friday. However, with just two hours to go the furniture retailer ended its pursuit of Argos owner Home Retail in favour of a £673m takeover of French electricals retailer Darty. Sainsbury's CEO Mike Coupe called the deal a "career defining moment".
The Guardian said the unchanged bid was likely to be disappointing for the Argos-owner's shareholders who were hoping £100m extra in annual cash reserves revealed by Home Retail last week and a competing bid from Steinhoff would lead to a higher offer. The Financial Times noted that Sainsbury's had tightened its grip on Home Retail despite declining to sweeten its terms to the original cash-and-shares offer announced in February. However, an increase in Sainsbury's share price since then has boosted the value by 7%. And Home Retail shareholders will benefit from £40m of extra profits, on top of the £120m synergies revealed in Sainsbury's initial offer. In a separate article the paper focused on the takeover of Darty by Steinhoff in an all-cash £673m offer, which trumped a rival bid from Fnac. Home Retail shares fell almost 10% per cent in response, as prospects of a bidding war with Sainsbury's ended.
Elsewhere, the sugar tax got plenty of mileage across the board with The Sunday Times splashing with eye-catching news that soft drink giants – led by Coca-Cola – were preparing to sue the government over the levy. Industry bosses are drawing up plans for a legal challenge after the chancellor announced a charge to be levied from 2018.
The FT employed seven of its top columnists to weigh up the motives and benefits of the sugar levy, asking is the sugar tax an example of the nanny state going too far? Martin Wolf said: "Done well, a sugar tax would make sense. I have no objection to measures that improve people's decisions. But it is done disgracefully badly: ill-targeted and ill-justified. The right tax would be related to the harm done and would tax all sugary foodstuffs, as well as alcohol, systematically. This is not such a tax." The paper also profiles a "slightly overweight grey-haired New Yorker" who has spent almost two decades studying childhood obesity. Professor Robert Lustig is known as the "godfather "of the sugar tax and the man who started the war on fizzy drinks. The University of California San Francisco School of Medicine professor said Osborne's move may not go far enough. Observer columnist Phillip Inman asks "will the sugar tax be all fizz or a weighty blow against obesity?".
The Sunday Telegraph puts the My Local chain among potential bidders for 100 former Somerfield stores that the Co-op is looking to offload. The Co-op is also in discussions with turnaround firms Hilco and Gordon Brothers, according to the paper.
A Guardian article on Saturday looked at the battle for BHS to stay on the high street. After nearly 90 years of trading, the chain is seen as old-fashioned and needs millions to survive, the paper said. And without support from its creditors, it could disappear. The Mail on Sunday reports that the Pensions Regulator is understood to be considering enforcement action to compel billionaire Sir Philip Green's family or its retail business, Arcadia Group, to stump up at least £300m to plug a pensions black hole at his former company, BHS.
The Sunday Telegraph has an exclusive detailing a pay revolt at British American Tobacco with the Dunhill and Rothmans maker forced to water down a bumper new pay package for its chief executive. It is understood BAT's remuneration committee has decided against hiking base salaries for CEO Nicandro Durante and CFO Ben Stevens, who took home £1.2m and £842k in base pay in 2014/15.
The Telegraph also reports on a possible break up for Whitbread following disappointing trading and a slide in its share price. It is understood some shareholders believe the case for examining a separation of its Costa coffee stores from Premier Inn and Beefeater pubs has been strengthened by the downturn since Alison Brittain took the reins.
The Guardian reports on calls from farmers for more support for the British lamb industry by retailers, with only one supermarket chain set to sell entirely UK-grown lamb for Easter.