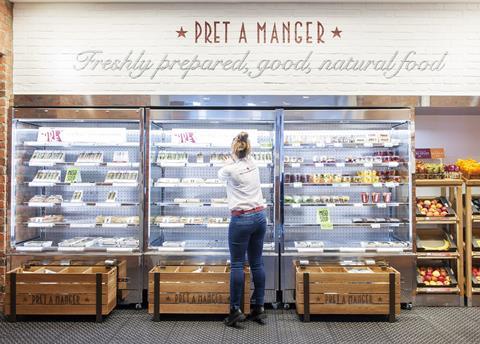 Mars has sued JAB Holdings over allegations that a former executive handed the Pret a Manger owner stolen business secrets after he was offered a job at the food rival (The Telegraph). Mars has sued rival JAB Holdings over claims a former executive stole thousands of secret company documents and passed them to the owner of Pret A Manger and Panera Bread, sparking a rare public battle between the privately held food multinationals (The Financial Times £)
Pets at Home says that profits will be lower next year, despite a surge in people buying puppies and kittens for company in lockdown (The Times £). Pets at Home maintained its full-year dividend and said it would step up online investment but warned that first-half profit would be "materially below" that of 2019 (The Financial Times £).
Dogs will be able to get a haircut before their owners when Pets at Home reopens its grooming sites next week (The Telegraph). Pets at Home is reopening its puppy parlours for grooming as it prepares to work through a waiting list of around 45,000 dogs (The Daily Mail).
Amazon has been accused of peddling 'patently false' information to boost its case for investing in Deliveroo. The internet giant is accused of misleading UK takeover watchdog the CMA by claiming Deliveroo will take a hit from Covid-19 when it's really getting a boost. (The Daily Mail)
The volume of retail sales in April fell by a record 18.1%, according to the Office for National Statistics (Sky News). The drop in April worsened from a fall of 5.2% in March, when the government first introduced lockdown measures (The BBC). Over 14% of UK shops reported no turnover at all in April, due to the Covid-19 shutdown (The Guardian).
Consumer confidence deteriorated this month because of growing concern about the depth of the damage caused to the economy by the pandemic, according to a closely watched survey (The Times £).
Economic activity is still deteriorating at a rapid pace in Britain but the rate of decline is easing as parts of the economy emerge from the lockdown. (The Times £)
Reformulating fizzy drinks for food giants has helped Tate & Lyle remain part of a shrinking band of companies still paying a dividend during the crisis. (The Times £)
More than 30,000 pubs, bars and restaurants may remain permanently closed because the coronavirus shutdown has sent a wrecking ball through the UK's hospitality trade. (The Guardian)
The UK has 27,000 pub beer gardens that could host physically distanced drinking as soon as 4 July, the industry's trade association has said. (The Guardian)
Companies could be asked to pay more in tax and employer pension contributions to keep staff on the government's emergency wage support scheme. (The Times £)
Is our food system broken, askes The FT? The pandemic has opened up discussions about the resilience of global supply chains. (The Financial Times £)