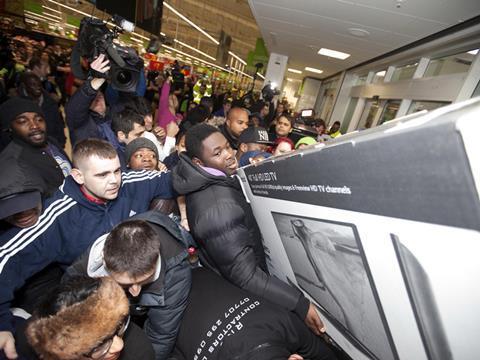 The papers reflect the fact that this week brings the Chancellor's Autumn Statement and Black Friday.
And it seems like Briton's appetite for deals has not been dimmed this year – no matter what Andy Clarke over at Asda says – with news that a record £1.9bn will be spent on Black Friday sales (The Financial Times). The day, brought over from the US, has become the biggest spending day of the British calendar. According to forecasts by Visa Europe this weekend, shoppers in the UK will spend £721m online and £1.19bn in store, an increase of 17% and 4% on a year ago. In 2014, £1.75bn was spent on the day. The same analysis by Visa estimated that thousands of people across the country are considering taking a sick day to take advantage of massive discounts on offer (The Times). "Employers have been warned to expect a drop in productivity as staff take the day off this Friday or spend hours at their desks searching for bargains online."
The two largest business lobby groups in Britain, the CBI and IoD, have urged the Chancellor to "hold his nerve" on reducing the deficit in the public finances in this week's Autumn Statement (The Telegraph). A poll by the Institute of Directors found that 85% of its members supported the Osborne's pledge to produce a £10bn surplus by 2020. However, the Chancellor is facing building pressure to act to reduce onerous business rates.
Activist hedge fund Third Point is the latest investor to launch a big bet against Morrisons. run by The fund, which manages $17.5bn and is run by US billionaire Daniel Loeb, has built a short position on the stock worth almost £20m, or more than 0.5% of Morrisons' market value (The Telegraph). Morrisons is one of the most shorted stocks in the FTSE 100, with 20% of its total shares on loan, according to data from Markit.
The Mail on Sunday reports that despite falling sales at Morrisons, its CEO is still in line to receive a multimillion-pound bonus. Under new objectives David Potts and his fellow directors will not be expected to increase grocery sales over the next three years from the £13bn achieved in the year to February, the paper added. The retailer has changed its remuneration scheme to pay out bonuses if sales stand at £12.7bn – down from £15bn that the trigger previously stood at.
Losses at Harris & Hoole, the coffee chain part-owned by Tesco, doubled last year to more than £25m after a rapid expansion of the business, The Telegraph writes. The chain opened 22 new shops last year, taking the total number to 45.
A number of private equity firms are circling the owner of Argos and Homebase, according to The Sunday Times. Several retail industry figures have been asked to advise on approaches for Home Retail Group, with the business expected to fetch up to £1bn.