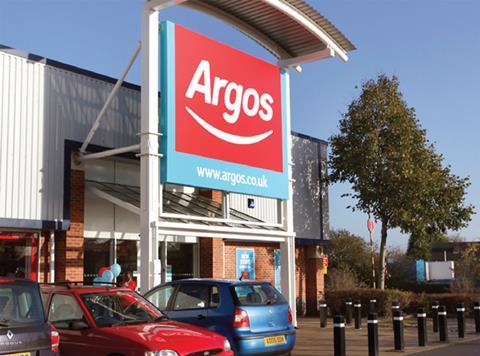 As the Sainsbury's board tours the City to stir up support for its Home Retail/Argos deal, The Sunday Telegraph splashes with a warning for the supermarket from top investors not to overpay in the takeover bid. The calls from worried Sainsbury's shareholders come as a number of Home Retail's top investors asked for the offer to be upped to as much as 220p, implying a valuation of about £1.7bn for Argos, the paper writes. However, Sainsbury's efforts to drum up support for the deal have been "frustrated because the supermarket has not disclosed the level of synergies it expects to generate from the deal," the Telegraph's retail correspondent added. "As a result, shareholders and analysts have wildly different views on valuation, sources said."
The Daily Mail had an eye-catching headline over the weekend – "Amazon wages war on grocers" – as it reported that the online retail giant was hiring 2,500 UK staff. The Mail said Amazon was upping its assault on Britain's retailers as experts bet on a takeover of online grocer Ocado. A separate Mail on Sunday article said Ocado had been "besieged" in the past week by hedge funds placing huge bets on a share price fall at the online grocer, with about £275m now being staked on a decline.
Tesco is preparing to tackle its growing debt pile after the sale of the South Korean business last year, The Sunday Telegraph writes. The supermarket is planning to repay £1.4bn of its borrowings over the coming months as two repayment deadlines loom. This morning's Telegraph reports that Tesco is also abandoning its attack on the UK sandwich market by closing its two food-to-go concept stores in London originally opened to lure in lunchtime trade. "Tesco's attempt to squash Pret in the sandwich market has ended with a retreat by Britain's biggest supermarket after it admitted customers were not interested," the paper said.
The Times picks up on a study this morning stating that supermarkets are still routinely mistreating suppliers by paying bills late. An analysis of thousands of invoices from small and medium-sized suppliers by MarketInvoice found almost 70% of payments made by supermarkets were late in 2015.
Consumer goods giant Unilever has said its 7,500 UK jobs are safe even if Britain votes to leave the EU. In an interview with the Guardian, CEO Paul Polman threw his weight behind the 'in' campaign, but said Unilever's UK sites would not be affected by a vote to leave.
Diageo is expected to unveil a 2% sales slip in the US market this week, contributing to an estimated 5% fall in first-half profits, putting boss Ivan Menezes under renewed pressure (The Sunday Times).