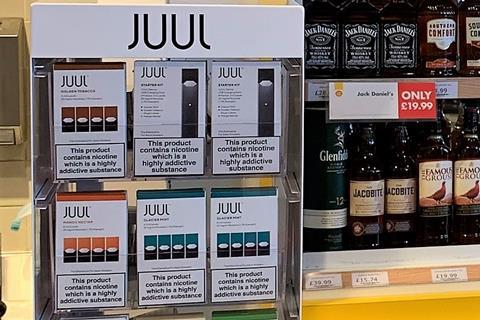 The $200 billion merger between two of the world's biggest tobacco companies has been called off because of mounting regulatory scrutiny of the vaping market (The Times £, The Telegraph). The regulatory crackdown on e-cigarettes has prompted Philip Morris International to call off talks about a $200bn merger with Altria and sparked a shake-up at vaping company Juul, which sacked its chief executive and suspended US advertising (The Financial Times £).
As news was breaking that the deal was off, Juul announced that its chief executive, Kevin Burns, was stepping down, to be replaced by KC Crosthwaite, Altria's chief strategy officer, who is experienced in regulatory matters. It also said that it would be suspending all broadcast, print and digital advertising in the US (Sky News). Kevin Burns, chief executive of vaping firm Juul, has stepped down, amid growing concerns around vaping health risks and criticism of its marketing (The BBC).
Philip Morris International has seen the future, and it is not in vaping - not in the US anyway, writes The FT. "PMI is right to walk away. It was doing just fine without Altria. Excluding currency headwinds, sales and profits were up during the last quarter [and] its gross margins have consistently been higher than Altria's… For Altria, the short-term outlook is fraught." (The Financial Times £)
"It looks like PMI doesn't want to go back to where cigarette makers were a decade ago, dealing with years of painful litigation and pending regulation." (The Financial Times £)
J Sainsbury is to close about 125 supermarkets and Argos stores, stop selling mortgages and cut costs as the grocer sets out its stall for the future after its failed tie-up with Asda (The Times £). Sainsbury's announced plans to reduce annual costs by £500m over five years by closing some Argos stores, reducing financial support for its bank and cutting pension contributions (The Financial Times £). Sainsbury's has announced a shake-up aimed at saving the company £500m over the next five years (Sky News).
Sainsbury's has announced plans to close more than 100 Local and Argos stores around the UK, as the supermarket giant halts mortgage sales, amid dipping profits (The Daily Mail). Sainsbury's is to close up to 70 Argos stores and replace them with outlets inside its supermarkets (The Guardian). Sainsbury's is shutting another 60 to 70 Argos shops and moving them inside its supermarkets as part of a reorganisation (The BBC).
Sainsbury's chief executive Mike Coupe has pledged to shut dozens of stores and slash £500m of costs as he battles to keep his job after a failed merger with Asda (The Telegraph).
"Mike Coupe's a man with a plan — but which one?" writes The Times. "Five months after the merger was blocked by the competition watchdog, Sainsbury's announced "some tweaks" to its business plan and pretended that the whole Asda debacle never happened." (The Times £)
"The doubters said Mike Coupe would struggle to come up with a grand plan for life without Asda. They were wrong. Only it's all a bit dull and uneventful." (The Telegraph)
Tesco is axing the first Jack's a year after the supermarket giant unveiled the discount chain that is meant to help it take on the likes of Aldi and Lidl. (The Telegraph)
New front in the war against Aldi and Lidl - Tesco and Sainsbury's plan store shake-up. (The Daily Mail)
Fonterra, the world's biggest dairy exporter, posted a record annual loss as the New Zealand co-operative reels from a troubled overseas expansion, while announcing that it will also pay out less in dividend payments in future. (The Financial Times £)
Casino tackles its debt — but the shares remain a gamble, writes The FT. The retailer has the dubious honour of being one of the most shorted stocks in Europe. (The Financial Times £)