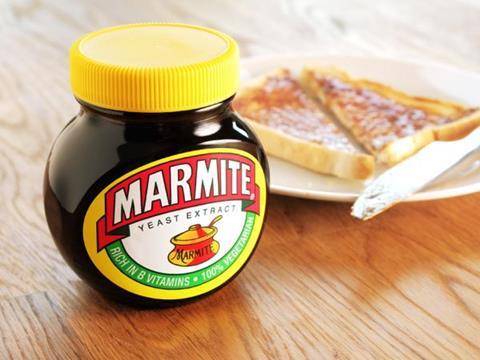 The papers look for Marmite angles in the full-year results of Unilever and Diageo showed further signs of a turnaround.
The Marmite maker says it was right to increase prices after the Brexit vote. Unilever CEO Paul Polman has defended the multinational's decision to raise the price of Marmite, saying many other suppliers have followed suit with price rises or by reducing the size of products in response to the weakening pound, The Guardian reports. Polman told Sky News that consumers should 'get used to higher prices after pound's fall'. The Unilever chief defended price hikes and questioned the reason for the stand-off between his company and Tesco.
"I live in the UK and shop here," Polman says in The Telegraph. "I happen to like French cheese and French wines and noticed that most of the brands the supermarkets sell themselves have increased prices and that is not surprising because they are paying 20% more." Speaking to journalists on a conference call, Polman said Unilever had already altered prices amid 'huge currency swings' in Egypt, Argentina, Brazil and Nigeria, and warned that the UK should expect more price hikes (The Mail). He added: "There's nothing new here, we should get used to that."
The comments came after Unilever reported its full-year results, which showed sluggish sales in the fourth quarter had continued into the new year (The Times) Unilever underlying sales growth was 2.2% in the three months to 31 December – below market expectation of 2.8%. "Like Macavity, TS Eliot's mystery cat, growth is proving elusive for Unilever, the world's fourth-largest consumer goods company by sales," The Financial Times writes. A share price fall of 5% on the results took the Anglo-Dutch group's underperformance against the FTSE 100 to 11% over the past 12 months.
Diageo boss Ivan Menezes claimed the maker of Johnnie Walker and Guinness was on target to become one of the world's best performing consumer goods companies after half-year results showed further signs of a turnaround, The Times reports. The group reported better-than-expected interim results, the latest sign the world's largest producer of spirits has successfully reversed multiple years of slowing profits and sales growth, The Financial Times says. Diageo organic net sales were up 4.4% in the six months to the end of December, with organic operating profit up 4.4%.
US giant Johnson & Johnson, which owns Band Aid, Neutrogena and Listerine, has struck a complex $30bn deal to buy Europe's biggest biotech company Actelion (The Times).
Shares of Whitbread fell by almost 5% yesterday morning as the owner of Premier Inn and Costa Coffee delivered a muted third quarter update in what was "a difficult market" (The Times).
A 'big shop' at one of the discounters ends up costing as much as £15 less on average compared with one at one of the Big Four supermarkets, new figures by Nielsen suggest (The Mail).