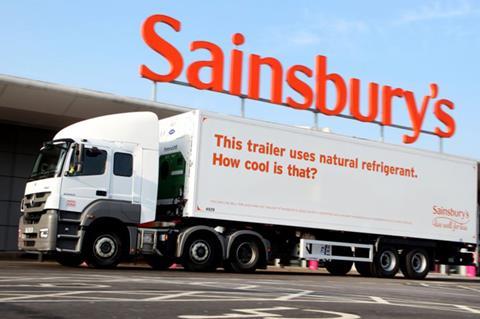 Sainsbury's has pledged £1bn to tackle food waste, carbon emissions and plastic use in a bid to become carbon neutral by 2040, beating the government's target by a decade (The Telegraph). Writing in the Daily Telegraph, Sainsbury's exiting CEO Mike Coupe said: "With UK households now more worried about the climate crisis than the economy and even crime, it's clear we need to help our customers live well for less impact and make sustainable choices easier and more affordable for the 27 million people who shop with us each week."
Measures planned by the retailer to achieve its objective include improving fridges' efficiency, increasing the use of alternative and low-carbon fuels among its vehicles and halving plastic packaging usage by 2025 (The Guardian).
Critics, however, noted how Sainsbury's pledges do not include its supply network, accounting for most of its emissions (BBC).
Dry January participants this year have found themselves surrounded by a raft of no-alcohol or low-ABV options, at leading bars and restaurants showing that "there could be money in sobriety" as the new low & no category is now worth £188m a 23% increase year on year, according to Nielsen (The Telegraph).
Amazon and Deliveroo have hit back at a CMA probe into their proposed tie-up describing it as "speculative and not supported by evidence". In a letter to Deliveroo shareholders, the take-away app accused competition authorities of a series of misunderstandings about Britain's food delivery market (Sky News).
Irish PM Leo Varadkar has linked EU access to UK fishing waters with access to EU markets for UK financial services companies, as the "fish-for-finance" battle emerged as the likely next topic in trade discussions among the UK and EU following the Brexit deadline on Friday. Downing Street vowed the UK will take back control of its fishing waters (Sky News).
Trump's secretary of agriculture has insisted the US will push hard to include politically sensitive topics, such as the export of chemical-washed chicken in a mooted transatlantic trade deal with the EU. Sonny Perdue said the EU should accept production methods that are currently banned to secure the deal, including making changes to its hygienic regulations (The Financial Times £).
However, diverging from EU food standards risks knocking quality and hampering choice on shelves, ministers have been told. An industry report warned the UK should give "careful thought" to any move away from the EU rulebook after leaving the bloc on Friday as the EU is the UK's largest market and supplier and making changes to current regulations to accommodate partners such as the US will cause supply chain disruption (The Times £).
Barry Callebaut, the leading industrial chocolate manufacturer, is investing £24m in its British operations. The business, which supplies brands such as Nestlé, Unilever and Mondelez, is planning to increase capacity at its plant in Oxfordshire by about a quarter (The Times £).
Over 350 Amazon employees have publicly criticised the company's climate record in a post published on blogging platform Medium. The letter, which could cost the named staff members their jobs, also touched on controversial areas of the business such as warehouse conditions and Amazon's surveillance techniques (The Financial Times £).
Around one in 10 US listed companies has gone bankrupt since 2008, with shopping centres losing 30% of their value so far and expecting further cuts in a sign of the struggles of the retail industry to cope with the rise of ecommerce (The Financial Times £).