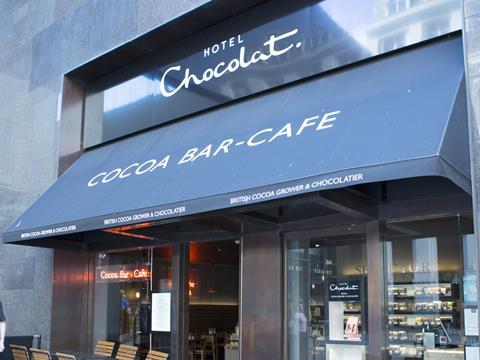 Hotel Chocolat's profits have doubled in the past year as the addition of experiences in store helped lure customers and an investnent in a new truffle-making facility helped boost margins, The Telegraph reports. The upmarket chocolatier reported a jump in pre-tax profits from £5.6m to £11.2m in the year ending 2 July, with sales up 12% to £105.2m. Lombard in The Financial Times says with shares trading at a "hedonistic" 30-plus times forecast earnings, it does not give founders Angus Thirlwell and Peter Harris room to err. "Confectioner Thorntons is a case study in how to lose control of brand and margins in the race to find sales outlets for products," the column adds. "Hotel Chocolat full of beans after doubling profits? I should cocoa," reads The Times headline. CEO and co-founder Angus Thirlwell said the results showed the strength of the brand.
Thousands of workers at Britain's biggest tobacco supplier were facing an anxious wait for news on Wednesday night about a rescue deal aimed at safeguarding the company's future. Sky News reports that talks about a takeover of Palmer & Harvey, which supplies every Tesco outlet in the UK, remained in the balance amid an increasingly urgent need for new investment.
Sir Richard Greenbury, the former chairman and chief executive of Marks & Spencer, has died aged 81. The respected businessman joined the high street retailer at the age of 16 as a management trainee on £4 a week, The Times writes.
The Tempus share column in The Times notes that the WH Smith stock is up by 30% so far this year as investors get on board with the overseas growth story. Share have been climbing beyond their previous peak in August, hovering above the £20 mark ahead of preliminary results in October.
Strong demand for beef in the United States and Canada and for chocolate across the world helped Cargill, the agricultural commodities trader, to report an improved quarterly profit yesterday (The Times).
Retailers have reported the fastest growth in sales in two years, according to figures from the CBI that are likely to fuel speculation that the Bank of England may raise interest rates as soon as November (The Times).