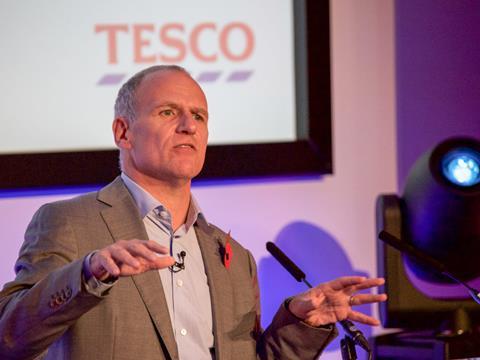 The boss of Tesco has criticised those who look down on shop jobs, accusing ministers of sidelining the retail industry and prioritising car and steel manufacturers (The Times £). Dave Lewis, who has led Britain's largest supermarket chain since 2014, said the way people talked about his sector and the roles it created was "a source of anger". The government was failing to "shepherd and help" retailers in the face of seismic challenges, he said, while providing support for "so-called traditional industries" such as automotive.
The frustration of business leaders with MPs over the handling of Brexit was laid bare again last night as they told MPs to "just get on with it" (The Times £). They accused Westminster of wasting almost three years "going round in circles" by "chasing rainbows" since Britain voted to leave the EU. William Kendall, best known for expanding New Covent Garden Soup Co and Green & Black's, the chocolatiers, said that many companies had adopted "a bunker mentality", halting investment until Brexit was resolved.
Financial markets are often mocked for their volatility. One of the remarkable aspects of the present chaos at Westminster is how little turbulence it has caused in the City, writes Alex Brummer in The Daily Mail.
Ocado boss Tim Steiner has been handed £1.5m worth of shares (Daily Mail). Steiner, 49, was awarded 214,942 shares as part of the company's long-term incentive plan. He sold 101,266 of these at 1287p each for tax and national insurance purposes, totalling £1.3m.
Consumer confidence is holding steady in the face of growing uncertainty about Britain's departure from the European Union, according to a survey (The Times £). The closely watched GfK consumer confidence index came in at -13 in March, unchanged from the previous month but down 6 points over the year.
Unilever is to create a "white list" of publishers for its online marketing campaigns in the latest attempt by the owner of Lynx deodorant and Marmite to prevent its ads appearing alongside repugnant material (The Times £). Unilever, the world's second largest advertiser, wants to exercise more control over where its ads are placed amid growing scepticism over online digital marketing.
The market can be fickle – particularly, it seems, when it comes to the sin stocks. Take Imperial Brands. On Wednesday, nobody wanted to know, even after an upbeat trading statement. Yesterday, punters were happy to get involved. (The Daily Mail)
The ever earlier appearance of Easter eggs on shop shelves is encouraging obesity, according to the Royal Society of Public Health (The Times £). One in four Britons have already bought and eaten at least one full-size Easter egg this year and one in two has consumed at least one Easter-related chocolate, treat or cake, even though there are more than three weeks to go, a society survey found.
Campbell Soup's chairman Les Vinney is retiring as part of another shake-up of the board of the US food company that was targeted last year by an activist investor (Financial Times £). The 70-year-old, director since 2003 and chairman since 2015, is being replaced by Keith McLoughlin, former interim chief executive. The company said Mr Vinney was leaving due "personal commitments".
The company behind restaurant chains Franco Manca and The Real Greek is poised to start paying dividends despite the ongoing malaise in the casual dining sector (Telegraph £). Fulham Shore said both sales and profits were expected to be ahead of the previous year, steadily increasing each quarter (The Times £).
Problems in China hit Cargill as a trade war coupled with a deadly swine virus and sharp moves in the country's iron-ore futures market each weighed on the global commodities trader and processor's quarterly profits (Financial Times £).
Eddie Stobart, the UK logistics and haulage group, reported a strong revenue performance but lower than expected profits and falling margins in 2018, caused in part by the cost of new contract wins and acquisitions (Financial Times £).
China's two largest dairy companies have reported record profits this year but are seeking to increase sales in south-east Asia through investment in production facilities, as growth slows in their domestic market (Financial Times £).