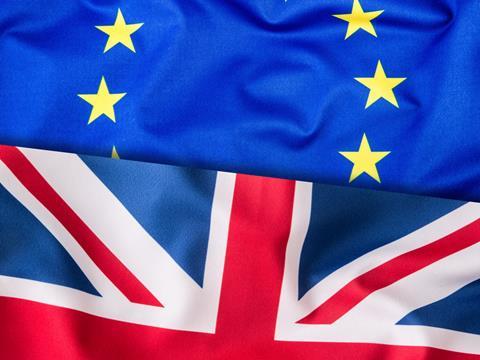 The UK's food and drinks industry expressed support for Theresa May's withdrawal agreement from the European Union at a parliamentary hearing, arguing that while it did not address all their concerns, it would help avoid the chaos of a no-deal Brexit (Financial Times £). Speaking before the Business, Energy and Industrial Strategy Committee, executives from spirits maker Diageo, food giant Nestle, and lobbying group the Food and Drink Federation also outlined how they were contingency planning for the various possible outcomes ahead of the 29 March deadline for Britain to leave the EU. KitKat and Nescafe maker Nestle has warned of the "very severe" consequences of a no-deal Brexit - as it was revealed that warehouses for frozen and chilled food are nearly full (Sky News).
Britain is running out of food warehousing facilities needed by retailers and manufacturers to stockpile goods before a possible no-deal Brexit – and the shortage may be the result of Amazon booking the space, MPs have been told (The Guardian). Ian Wright, the director general of the Food and Drink Federation, told the business, energy and industrial strategy committee (BEIS) on Tuesday that a shortage of space had driven up the cost of chilled warehouse space, even though the shelves may be empty.
GlaxoSmithKline has entered into exclusive negotiations to sell its nutrition business to Unilever, ending a multi-month auction process for the $4bn unit that includes the prized Horlicks malted drink brand (Financial Times £). The Anglo-Dutch consumer company beat a rival bid from Swiss food and beverage group Nestlé, which was looking to build on its market-leading position in powdered hot drinks, where it already sells Milo and Nesquik, people familiar with the sale process said. Coca-Cola was also shortlisted to join the final round of the auction for the business which began in September but its interest cooled, one person added.
Greggs, the UK bakery chain known for its hot sausage rolls and pasties, has boosted its 2018 earnings forecast after reporting robust sales growth over the autumn season and tight cost controls (Financial Times £). The bakery chain was the top FTSE 250 riser after reporting a 9% increase in sales in the eight weeks to 24 November (The Guardian, The Times £). As well as offering its traditional favourites such as sausage rolls and pasties, Greggs customers can now indulge in the chain's Christmas range, including its festive bake, its turkey, bacon and cranberry roll, and its mince pies.
Five of the biggest high street restaurant and coffee shop chains gave out false or misleading information on potentially deadly allergens to customers (The Guardian). Undercover journalists working for the BBC visited a host of sites, where they posed as customers with allergies. They said they were given incorrect advice at branches of Pizza Hut, Nando's and Frankie & Benny's, as well as at the coffee shops, Starbucks and Costa.
Sainsbury's "well-fired" loaves of bread are at the centre of a health controversy amid claims they are actually just very burnt and could therefore pose a cancer risk (Telegraph). Health experts have said that the loaves, which are deliberately sold with overcooked, black crusts, should now come with a health warning, despite them having been available at the supermarket since the 1980s.
Scandal-hit Patisserie Valerie is preparing to drop the auditing firm that oversaw its books before it was plunged into crisis (Sky News). The move to replace Grant Thornton comes days after the Financial Reporting Council revealed it had launched a probe into the accountancy group (Daily Mail). Grant Thornton has been responsible for checking Patisserie's accounts since 2006, but last month bosses uncovered a £40million black hole.
John Lewis & Partners said sales last week were "the biggest in its history" although volumes were partly driven by price-matching activity, which reduces profit margins (Financial Times £). "Sales were driven by demand for our Black Friday offers and competitor offers, which we price matched through our commitment to our 'never knowingly undersold' policy," it said in its regular weekly sales update (The Times £). Total sales rose 7.7%, it said, though in its financial year to date sales were level with the same period last year (The Guardian).
It was supposed to encourage children to turn to broccoli and bananas instead of junk food. Instead, a £40 million scheme handing out fruit and vegetables is putting them off healthy eating, the Soil Association said (The Times £).
Over the past year cheesy triangles and Babybels are surging in popularity among adults seeking out healthy snacks which do not contain high levels of sugar (Telegraph). Over the same period volume sales of sweet biscuits have fallen slightly, industry data shows.
Cyber Monday pulled in a record US$7.9bn in online sales this year, as Americans opened up their wallets to snap up deals on everything from toys to TVs and laptops (Financial Times £).
Pets at Home's half-year profits have tanked by 80.5% after the animal goods retailer said it would be nursing a hefty writedown on its veterinary business after an ill-fated rampant expansion (Telegraph).
A group of vegan activists is planning to stage a series of raids at restaurants that serve meat after bursting into a steakhouse and playing a recording of animals being slaughtered (The Times £).