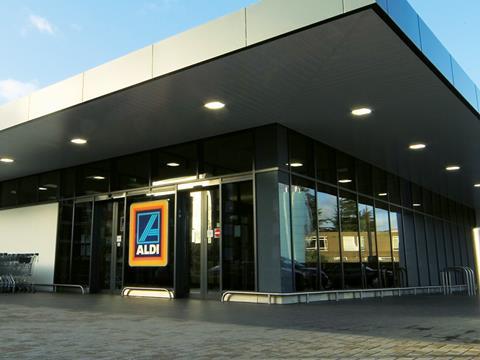 Aldi's annual results and the announcement it will launch a new UK online offering dominate the grocery headlines this morning.
The Telegraph writes that Aldi was "firing its latest salvo in the battle to win over Middle England shoppers" by launching an online store and opening a supermarket in the Prime Minister's stomping ground of Chipping Norton. The Guardian says Aldi's decision to sell cases of wine online "opens up new line of attack in supermarket wars", while the Financial Times (£) says the move further "steps up the pressure on the big supermarkets".
However, Aldi's annual results proved the discount sector is not immune to the price wars despite a 30%-plus revenue rise. The Daily Mail leads on Aldi's first drop in profit for six years, with the retailer blaming the supermarket price war and its chief exec Matthew Barnes saying: "'there is no doubt it has hurt us too". The Times (£) quotes Barnes as saying that the supermarket price war could continue to affect profits in the current financial year, but he reiterated that maintaining low prices was key to the Aldi model and it will "never be beaten on price".
Elsewhere, Whole Foods is cutting about 1,500 jobs over the next eight weeks as it looks to lower prices and keep up with competition. The cuts represent about 1.6% of its workforce. It anticipates workers whose jobs are cut will find other jobs from the almost 2,000 open positions across the company or from new jobs that will be created by more than 100 new stores in development. (The Guardian)
Burger King has started on a campaign to dethrone McDonald's as market leader in French fast food with a deal to buy Quick, the Belgian hamburger chain that is ubiquitous throughout France. The acquisition will see Burger King expand its number of restaurants in France tenfold to 500, storming back into a market that has for decades been dominated by Quick and McDonald's. (The Financial Times £)
Retail bosses fear the government is to dampen down a revamp of business rates that could help fund the introduction of the national living wage. Industry sources with knowledge of the talks between retailers and the Treasury warned they were "extremely concerned by the lack of ambition" and that "patience is running out across the business community". (The Guardian)
Andrea Guerra, former chief executive of the Italian multinational behind sunglasses brand Ray-Ban and for the past year senior adviser to Italian prime minister Matteo Renzi, has been appointed executive chairman of food retailer Eataly. (The Financial Times £). In a separate article, the FT says his role is to "double Eataly's revenues within the next couple of years, ready for a stock market listing in Milan". (The Financial Times £)
Chocolates shaped like cheeses, retro biscuits and politicians have helped artisan confectioner Choc On Choc post sales of more than £1m, as shoppers seek out novelty treats. Choc on Choc sells through high-end retailers including John Lewis, Selfridges and Waitrose, but since investing in its own online shop, e-commerce sales have soared by 40%. (The Telegraph)