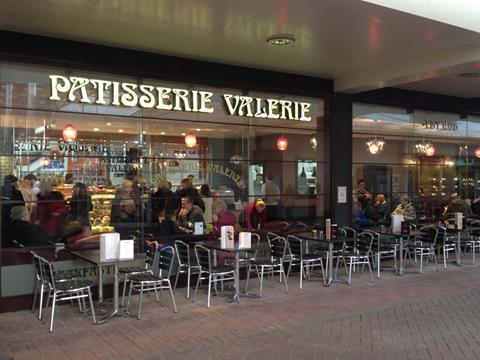 The private equity firm that rescued Little Chef from collapse is among the front runners in the race to acquire most of the remaining Patisserie Valerie business from administration (The Times £). Rcapital, a turnaround specialist, is one of a small number of suitors vying to buy the 122 cafés that continue to trade after the appointment of KPMG to handle the administration of the chain's parent company, Patisserie Holdings. Accounts for Patisserie Valerie dating back to at least September 2014 contain unreliable figures on its financial performance, according to information sent to potential bidders for the stricken cafe chain (The Guardian). Interested parties have been asked to put forward first round bids by Friday but so far have only limited information about the recent trading performance at the company, which fell into administration this month.
"Tesco investors are still waiting for Dave Lewis' plans to bear fruit," write Jonathan Eley and Owen Walker in an analysis for Financial Times (£). "Since Dave Lewis took over at Tesco, the supermarket group has made nine major disposals, one big acquisition, hundreds of operational changes and thousands of redundancies. But after more than four years, its share price is back to where it was the day he started as chief executive."
"Why I won't miss Tesco's fake 'posh' deli, fish and meat counters," writes Tony Naylor for The Guardian. "The news that Tesco is to shut the fresh food counters at 90 of its UK stores was surprising in one detail: it has chosen to retain the butcher's, cheese and deli counters at 700 more."
Shop prices rose in January at the highest rate in almost six years, despite heavy discounting by retailers during the post-Christmas period, according to the British Retail Consortium (The Times £). Overall shop price inflation rose from 0.3% in December to 0.4% this month, as food price inflation held steady and non-food deflation eased.
HelloFresh managed to lift revenues by more than 40% in the final quarter of 2018, helping the fast-growing Berlin-based meal kit company to full-year results that exceeded its own previous guidance (Financial Times £).
"The meal kit group remains unprofitable but that should not detract from its achievements," writes the Financial Times' (£) Lex columnist. "Despite intense competition, it has secured a 40% market share of the pure-play meal-kit market in the US and 70% in its other markets. Last year it overtook Blue Apron, the former US market leader."
Difficulties integrating its Norwegian operations hurt revenues at Domino's Pizza in the final quarter of 2018, the London-listed group said on Tuesday (Financial Times £, Daily Mail). The pizza chain said its underlying profit before tax would be at the lower end of the consensus range of £93m-98.2m after "business integration challenges" in Norway dragged down its international sales growth (The Times £). Domino's Pizza has for the first time admitted to failings in its ambitious store expansion, with some stores having been opened "a year or two early" (Telegraph £). Domino's sold more than 535,000 pizzas in the UK on the Friday before Christmas – equivalent to 12 a second over a 12-hour trading day (The Guardian).
Shares in PZ Cussons have lost their lather after the maker of Imperial Leather soap and Original Source shower gel warned that annual profits will be £10m lower after "extremely challenging" conditions in Nigeria, its largest market (Telegraph £).
For Marks & Spencer, the accusations of cultural appropriation are beginning to sound all too familiar. Last year it came under fire for producing curry kits that were "bastardised to the point that they are unrecognisable". Now it has been criticised for selling biryani wraps that are not only wrapped in flat bread — a new take on an Indian classic — but also contain no meat or fish (The Times £).
McDonald's, KFC and Burger King have been urged to reduce greenhouse gas emissions in their supply chains by a coalition of global investors, with the animal agriculture industry criticised for being one of the world's highest-emitting sectors without a low-carbon plan (The Guardian).
French luxury goods group LVMH on Tuesday announced record sales and profits for 2018, and said that its fast-growing Asia business had yet to be affected by the Chinese economic slowdown or the incipient US-China trade war (Financial Times £). Net profit for the year rose 18% to €6.35bn, from €5.36bn in 2017, on sales that rose 10% to €46.83bn. The results were roughly in line with analysts' forecasts (Daily Mail).
Plastic recycling bins will be set up in hundreds of Marks & Spencer stores and schools in a pioneering scheme. The packaging would otherwise go to landfill, be burned or end up as litter (Daily Mail).
Ministers are facing renewed pressure to reform business rates to bolster the UK's high streets, with calls for a "complete review" from the Conservative mayor of the West Midlands (The Guardian).
"Starbucks boss Howard Schultz's presidential ambitions, as many predicted, are endangering the coffee company's brand," writes the Daily Mail's Dastardly Mr Deeds columnist.
One of Britain's biggest brewers and pub operators, Greene King, will announce plans today to double the number of apprentices to 20,000 and launch an employment programme for ex-offenders as part of a commitment to improve social mobility (The Times £).