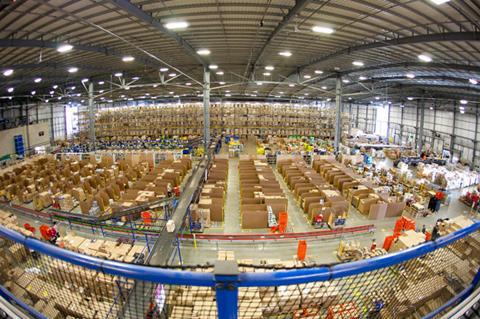 UK retailers such as John Lewis and Marks & Spencer have defended their decision to maintain their online sites operational during the coronavirus crisis among attacks they are putting workers and suppliers lives at risk, as smaller chains like Next and TK Maxx have completely shut down (The Financial Times £).
The British Retail Consortium is to write a letter to ministres outlining practices to ensure social distancing that will be implemented by its members which are continuing to operate warehouses during the crisis (Sky News).
The Times has reported that food retailers are in line to benefit from a £3bn tax break as business rates are suspended for a year, at the same time as sales surge because of the coronavirus lockdown (The Times £).
M&S has started offering online £30 boxes containing 20 essential items - such as pasta, rice, curry and cooking sauces - marking its first foray into online sales before its partnership with Ocado begins this September. The grocer will limit the boxes to one per customer, with priority for those over 70 and will deliver free-of-contact for an additional £3.99 (The Telegraph).
Fruit and vegetables suppliers globally are under threat from labour shortages as travel bans imposed to contain the spread of the coronavirus outbreak limits workers availability (The Telegraph).
Convenience stores selling Easter eggs are facing police interference as officers try to restrict the range of goods they can sell under coronavirus curbs, with some shops having been told by police and local councils that the chocolate eggs are considered non-essential goods (BBC). The Association of Convenience Stores however, accused council officials of "misreading" the Government rules which stated which shops can stay open and not what items they can sell (Sky News).
The UK could be facing a cardboard shortage as local authorities start suspending their collection services to avoid spreading the coronavirus outbreak and shoppers rely increasingly on home deliveries (The Guardian).
Employees who have recently changed jobs are missing out on the government help due to a loophole which risks leaving them with empty pockets. To be eligible for the government wage subsidy, an employee must have been on their company's payroll on 28 February, with thousands at risk of losing out on support (Sky News).
Italian restaurant chain Carluccio's has collapsed into administration putting 2,000 jobs at risk becoming the latest casualty of the coronavirus lockdown (The Telegraph, The Times £). Carluccio's appoint FRP Advisory who was hoping to mothball the business under the government scheme which would provide 80% of wages to its employees (The Guardian, BBC).
Shares in US supermarkets such as Kroger have held up well over the past month as they benefit from a surge in "pantry-loading", with shoppers stockpiling everyday items. The optimism is underpinned by the decision of supermarket chain Albertsons, who decided to file for an initial public offering this month, despite market crashing and lower valuation risks (The Financial Times £).
Meanwhile, US retailers are on the brink of collapse with 630k outlets having been forced to close due to fears about the coronavirus and restrictions on movement to contain its spread (The Financial Times £).
KFC, Taco Bell and Pizza hut owner Yum Brands has raised $600m in a bond issue, becoming the first juck food business raising capital since the coronavirus outbreak halted trading (The Financial Times £).