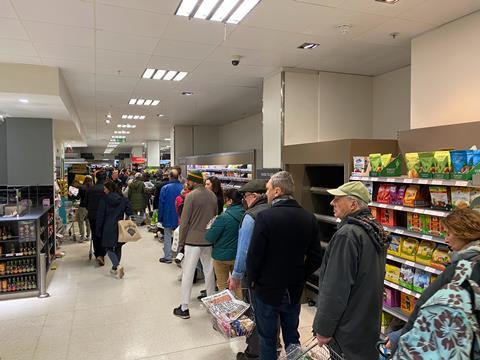 Business leaders have suffered a record drop in confidence during the pandemic and fear the economic recovery will be slow (The Daily Mail). Executives are braced for coronavirus to knock corporate revenues by more than a fifth this year, dashing hopes of a swift economic recovery after the end of the national lockdown (The Times £)
Applications for Bounce Back Loans, to help small businesses navigate the coronavirus crisis, open on Monday morning (Sky News).
Ahead of the BBLS launch, Treasury officials and bank bosses are locked in discussions over the final details, with lenders unwilling to go through the chaos of CBILS again. Bank bosses have raised the concern that allowing businesses to self-certify their viability will open the system to fraud. Senior executives also fear they will be held personally liable for failing to lend responsibly, which could lead to criminal prosecutions. (The Times £)
The government will provide up to £617m to fund grants for small business owners who had been overlooked by emergency help for companies caught up in the fallout from the Covid-19 pandemic (The Times £).
Businesses are fearing a rash of insolvencies and the Government could publish and ram emergency legislation through Parliament as soon as this week to make insolvency rules fit for purpose in the current crisis, according to industry sources. (The Telegraph)
Taxpayers could subsidise the rent bills for "furloughed" shops and restaurants in the pandemic recession under plans being "seriously considered" by ministers as tensions mount between landlords and troubled businesses. (The Telegraph)
McDonald's has said it is hoping to reduce the rent it pays to landlords as it slowly begins reopening its branches (Sky News). McDonald's is in talks with some of its landlords in the UK about cutting rent payments as the fast food chain prepares to reopen some of its sites (The BBC).
Ocado faces a row over boardroom pay at its annual meeting on Wednesday after awarding a £59m long-term shares bonus to chief executive Tim Steiner. (The Times £)
City analysts didn't mince their words yesterday as they cut Greggs, the high street bakery and stock market darling, down to "sell". "The coronavirus crisis is a disaster for Greggs," Clive Black, at Shore Capital, said. (The Times £)
The owners of burger restaurant chain Byron will launch an auction next week as the coronavirus pandemic threatens hundreds of thousands of jobs in the casual dining sector. (Sky News)
Zizzi and Ask Italian's owner has become the latest casual dining chain to hire restructuring experts. (The Times £)
The Guardian looks at how How Tesco's 'doomsday exercise' helped it cope with the coronavirus. The supermarket's boss Dave Lewis details how remote working tools were in place and supply systems readied for an emergency. (The Guardian)
Drinks giants Diageo and Pernod Ricard are facing sales falls of up to 15% this year as the closure of bars and restaurants around the world dampens demand for spirits. (The Telegraph)
If any company can weather coronavirus well, it should be Deliveroo. The early days of lockdown saw demand surge for the service delivering food from restaurants and takeaways. However, Deliveroo's real business model has almost nothing to do with making money from delivering food. Deliveroo loses money on every single delivery it makes… What these companies rely on is telling a story – largely to people who will invest in them. (The Guardian)
Superdrug, the UK high-street health and beauty chain owned by one of Asia's richest tycoons, has slashed its rent payments despite keeping a number of its stores open during the coronavirus crisis. (The Financial Times £)
Unilever has become the latest FTSE 100 company to throw its weight behind a campaign to provide essential items to health service staff. (The Times £)
The FT looks at how the coronavirus will change British retail. The British Retail Consortium has painted a picture of queues outside stores, guards on doors to monitor entry and fitting rooms unavailable as shops gradually reopen with strict social distancing rules. (The Financial Times £)
Costa is setting out to break America and challenge Starbucks with self-service espresso machines and branded coffee products. (The Times £)