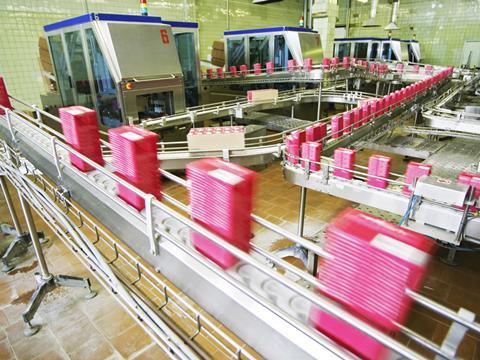 Factories are enjoying some of the best conditions in two decades as the fall in the pound and a strengthening global economy boost factory orders and rates of production, writes The Times (£). More manufacturers are reporting that their order books and levels of output are increasing than at any time since 1995, according to EEF, the manufacturers' organisation.
British manufacturers and retailers are reporting an upswing in sales, despite fears Brexit could hamper future growth, as the weak pound bolsters exports abroad and consumer spending at home (The Guardian). UK manufacturers report benefits from a stronger eurozone economy and weak pound, though there are jitters about the domestic market (Sky News).
The Times (£) and The Daily Mail follow up yesterday's FT story that four top executives are set to quit Reckitt Benckiser, as the consumer goods giant battles sliding sales of some of its big brands.
The Mail's Alex Brummer writes: "Reckitt's ability to deliver superior growth is down to ruthlessness. It takes no prisoners when it comes to marketing and a similar muscle power is now being demonstrated at headquarters where four senior executives are moving on… There has been an effort in recent years to bring in new blood. But some of those at the very top have passed their sell-by date and no longer dispense the kind of prophylactic advice required." (The Daily Mail)
Magners owner C&C has become the latest drinks company to seize a position in the UK pubs market by acquiring Admiral Taverns alongside a US investment fund (The Telegraph). It was third time lucky for C&C Group today as the Irish cidermaker and brewer finally secured a pubs deal, teaming up with the New York-based Proprium Capital Partners to acquire Admiral Taverns (The Times £). The owner of Magners cider and Tennent's lager is to snap up hundreds of pubs as it becomes the latest brewer to buy big chains (The Daily Mail)
Rising petrol prices after the impact of Hurricane Harvey have forced economists to increase their forecasts for inflation in Britain this year. Retail prices inflation could peak above 4.2% this autumn, according to Scotiabank, which has revised its figures to reflect rising national average petrol prices. (The Times £)
The announcement that Amazon was to take over Whole Foods Market sent a shudder of fear through many other retailers, but news of how the deal came about has given those retailers hope. Hope that they might be next. Bankers report an upsurge in requests from their retail clients asking that they put a call in to see if Amazon would be interested in acquiring them, too. (The Financial Times £)
Up to 200 people rallied outside the Houses of Parliament in London to protest against poor pay and conditions at McDonald's as workers at the restaurant staged their first UK strike. (The Guardian)
Sky News notes that some 40 workers - the company says it is actually only 14 - going on strike, out of a total UK workforce of 115,000, hardly seems earth-shattering. Only two of the company's 1,270 UK restaurants - in Cambridge and Crayford - are affected. "The question is whether other McDonald's UK employees will want to take similar action. The chances are that they will not." (Sky News)