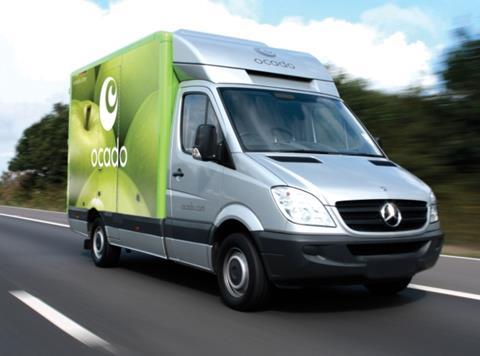 Ocado was firmly in focus today after it slipped back into the red, warned of a squeeze on futures profits and revealed plans for a £150m share placing, while the abandoned Tesco trial also merited plenty of column inches.
The Financial Times focuses on a 7% drop in the Ocado share price after the online grocer said its headline profits would take a hit this year and that it needed to raise capital to transform itself from an online grocer into a technology provider building robot-operated warehouses for other retailers. The Telegraph viewed the results announcement as a profits warning from the company and writes that Ocado served up investors a "trifecta of unwelcome news": a profit warning, an annual loss and a plan to tap investors for more cash. The Times notes that Ocado announced plans to raise about £150m to plough into its international licensing business. The online food delivery group is carrying out a cash placing, equivalent to 5% of its share capital, "to provide us with the necessary flexibility to take full advantage of our current opportunities to grow Ocado Solutions [its licensing arm] and accelerate the development of our platform as well as future opportunities in our retail business". Ocado reported a full-year loss in underlying earnings and booked pre-tax losses of £500,000 for the year to December 2017, despite seeing sales rise by 12.4%, The Mail writes. In the previous year Ocado's profits were £12m. The company's 2018 profits are expected to be hit by a £210m investment in its UK logistics hubs, which include a distribution centre in Andover, Hampshire, and its technology platform. Lombard in The Financial Times says that Ocado tastes less like a Marmite stock to long-term tech investors.
The trial of three former Tesco executives accused of fraud has been abandoned after one of the defendants suffered a heart attack and the judge ruled that it would be unfair to continue, The Times writes. Carl Rogberg, Tesco's former finance director, was admitted to hospital last week after a cardiac episode, leading to judge Deborah Taylor to dismiss the jury, saying it was not "right and proper" to continue, The Telegraph adds. The Financial Times adds that the collapse of the 18-week trial is a blow for the UK's Serious Fraud Office. The case has been one of the most high profile prosecutions brought by the agency, which faced questions about its future last year. It must decide in the next month whether to go for a re-trial.
Breaking news this morning also has Tesco in the spotlight as the supermarket is facing a £4bn gender pay claim, which is 'potentially the largest ever equal pay challenge in the UK', The Financial Times writes. A law firm has launched legal action on behalf of nearly 100 shop assistants who say they earn as much as £3 an hour less than male warehouse workers in similar roles, The Guardian reported. Up to 200,000 shopfloor staff could be affected by the claim, which could cost Tesco up to £20,000 per worker in back pay over at least six years. Paula Lee, a Leigh Day who is representing the women, said: "We believe an inherent bias has allowed store workers to be underpaid over many years," (The Times). She added that it was time for Tesco to address the problem, which had been "hiding in plain sight" for years (The Telegraph).
Britain's grocers leaned heavily on price inflation to deliver rising sales in January, with Tesco once again leading the pack, The Telegraph writes. Grocery price inflation ran at 3.6% last month, according to Kantar Worldpanel, above the 3% recorded by the official consumer price index.
Sales of organic food and drink in the UK rose by 6% last year to a record £2.2bn, fuelled by strong growth through independent outlets and home delivery which outpaced sales in rival supermarkets, The Guardian reports. Almost 30% of all organic sales now take place online or on the high street, according to a new report from Soil Association, the trade body which licenses organic products and promotes organic farming.