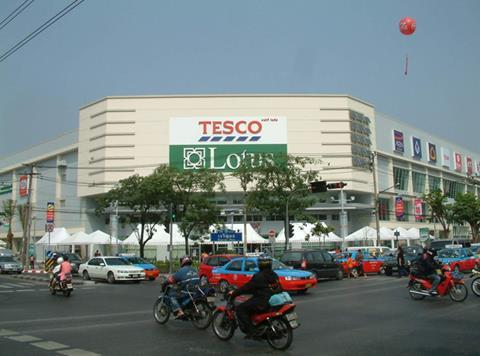 Tesco is to open 750 convenience stores in Thailand over the next three years in its first major overseas expansion under chief executive Dave Lewis. Thailand is the grocery group's biggest market outside the UK and its most profitable – Lewis's move will create up to 10,000 new jobs in the country. (The Daily Mail)
Premier Foods, maker of Bisto gravy and Mr Kipling cakes, faces a rebellion after paying its ousted boss almost £1m (The Times £). Premier Foods is set for a showdown with investors over a pay award handed to former chief executive Gavin Darby (The Daily Mail).
The Co-op failed to mention its online ambitions to the competition watchdog during the investigation into the proposed tie-up between Sainsbury's and Asda earlier this year, raising fresh questions about how rigorous the process was. (The Telegraph)
Sainsbury's finance chief Kevin O'Byrne last week admitted during a frosty shareholder meeting that the £46m spent on merger talks with Asda was 'an awful lot of money'. (The Daily Mail)
Fears over Brexit, trade and a global economic slowdown have sent corporate sentiment to its lowest level for a decade, amid subdued investment and a weakening employment outlook. (The Times £)
An alliance between Amazon and Deliveroo is under threat after the Competition and Markets Authority ordered that work on the deal be halted (The Times £). The competition watchdog has fired a warning shot towards Silicon Valley with an investigation into Amazon's investment in Deliveroo (The Daily Mail). The UK's competition regulator has ordered Amazon and the food delivery company Deliveroo to pause any integration efforts pending an investigation into potential breaches of competition rules (The Guardian). An investment in food delivery app Deliveroo by Amazon, worth hundreds of millions of pounds, could be blocked by the competition regulator (Sky News).
The Telegraph has a piece on the supermarkets' battle for online shoppers. "Today, as more shoppers order their groceries online, the sector has ballooned to be worth about £11.6bn a year. That still only amounts to 6pc of the UK's £193bn grocery market. But it has nevertheless become one of the most fiercely contested segments of the hyper-competitive retail industry." (The Telegraph)
Britain's largest supermarket chain is launching a drive to reduce food waste from bread by turning unsold baguettes and batons from its in-store bakeries into new products. (The Guardian)
A "for sale" sign has been hoisted over the Pitcher & Piano chain as part of its owner's efforts to reduce debts. Marston's is understood to have appointed Sapient Corporate Finance to evaluate a potential sale of the brand, which has 20 bars with an estimated value of at least £40m (The Times £). The Pitcher & Piano pubs chain could be about to change hands for up to £30m (The Daily Mail).
Restaurant closures averaged 15 per week in the year to the end of March. But not all are struggling. Some smaller, more focused operators are differentiating themselves. Liberum has said that since the first wave of mass market chain restaurants there had been a move to more informal eateries aimed at customers who did not want to stick to rigid meal times. (The Financial Times £)
Baked potato specialist Spudulike is seeking landlords' backing for a rescue restructure involving rent cuts and closures in the latest sign of meltdown on the high street. (The Guardian)
The Sunday Times has an interview with AB InBev boss Carlos Brito, noting he is facing the twin pressures of the rise of independent craft brewers and evidence that millennials are drinking less and the more immediate concern of its debt pile of more than $100bn and a share price that languishes below the level it stood at when AB InBev first approached SABMiller in 2015. (The Times £)
By 2025, Spanish winemaker Henkell Freixenet intends to be selling 10% of all the world's sparkling wine. It is already the largest player on the planet, accounting for about 8.7% of all fizzy wine sold, according to the International Wines and Spirits Record. To boost those numbers still further, Freixenet has taken an unusual step, expanding from cava into prosecco in Britain and elsewhere. (The Times £)