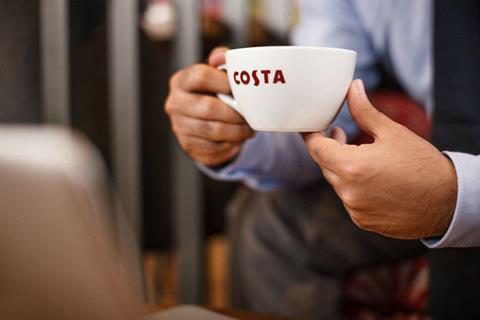 Whitbread has mooted the possibility that it could sell its Costa Coffee or Premier Inn businesses rather than pursue its proposal to demerge its coffee business within the next two years. In a circular to shareholders outlining a new executive pay scheme, the FTSE 100 group suggested it would be open to considering a sale of either business rather than spinning off Costa into a separately quoted company. (The Times £)
The board of Marks & Spencer has blocked annual bonuses for its top executives after the chain's plunge in annual profits meant shop-floor staff would not qualify for payouts (The Guardian). Directors at Marks & Spencer will not be paid a bonus this year after a poor performance from the retailer as it seeks to enforce a turnaround plan (The Times £). Marks and Spencer directors have missed out on bonuses this year after the retailer's remuneration committee decided its results were too poor to warrant a payout (The Financial Times £). The chief executive of Marks & Spencer saw his pay packet fall by a third last year after a huge slump in profits forced senior bosses to forgo their bonuses (The Telegraph). Marks and Spencer boss Steve Rowe has had his pay slashed by 30 per cent, losing all his bonus after a dive in profits (The Daily Mail).
Discount retailer Poundworld has given itself 10 working days to find a buyer, without which it will head into administration (The Financial Times £). On Thursday the retailer, which has 5,000 staff, filed a notice of intention to appoint an administrator. The filing temporarily shields Poundworld from its creditors, giving bosses 10 working days to come up with a restructuring plan for the 355 store chain (The Guardian). TPG wants to buy time in order to push through a deal with Rcapital, the company behind Little Chef, either through a solvent sale or a pre-pack administration (The Telegraph). The budget retailer, which has 5,300 staff, is low on cash and is filing the notice because it will give it time to structure a deal, which could be undertaken through a pre-pack administration, with private equity firm R Capital (The Daily Mail).
Britain's retail woes deepened on Thursday as House of Fraser, the department store group, and discounter Poundworld announced moves that threatened to leave hundreds of shops vacant and put more than 13,000 jobs at risk (The Financial Times £). Barely a week goes by without another crisis on the high street, says The Telegraph. Yesterday brought news of 6,000 jobs under threat at House of Fraser, which wants to close half its store estate, and 5,000 roles on the line at Poundworld, which is close to calling in administrators. The Guardian writes that battling difficult conditions on the high street, a string of retailers and restaurant groups have fallen into administration in recent months, such as Toys R Us, Maplin, Warren Evans and Jamie Oliver's Barbecoa restaurants.
The property industry has been grumbling about House of Fraser's company voluntary arrangement since it was first mooted in early May. Now it has arrived, landlords are in open revolt and contemplating a legal challenge (The Financial Times £). Landlords are furious at House of Fraser's announcement yesterday that it plans to shut 31 stores and have called for an urgent government inquiry into the growing use of company voluntary arrangements (CVAs) by struggling retailers (The Times £).
The boss of Britain's biggest supermarket has blamed the collapse of some retailers partly on the expense of business rates. Dave Lewis, Tesco chief executive, said the charges that firms must pay on their buildings played a "large part" in sending some retailers to the wall. (The BBC)
An upholstery manufacturer with 160 employees has become the latest casualty of the decision by Britain's largest supermarket to shut Tesco Direct. Ultra Furniture Limited, which is based in Dudley, made 70% of its sales by supplying the online homewares website. (The Times £)
Despite Rémy Cointreau billing its results "excellent", the shares fell by 5% on Thursday, writes The FT's Lex column. There was disappointment over an unchanged dividend and foreign exchange fluctuations that are likely to hit profits nearly as much this year as the last. But the main reason the results failed to impress was that the shares are priced for perfection, at a rating akin to top luxury stocks. (The Financial Times £).
Costco shares hit a record high on Thursday after the retailer reported steady sales growth for May. (The Financial Times £).
Fuller Smith & Turner, the London brewer and pub operator, has bought a small chain of Home Counties country inns in a deal worth an estimated £18 million. (The Times £)