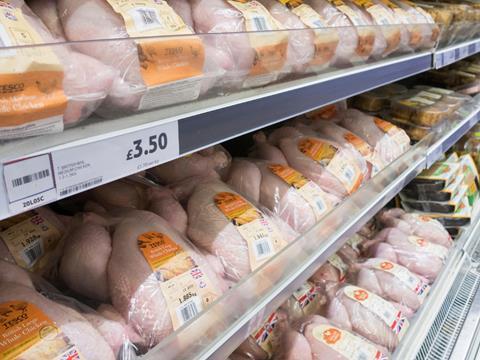 Nine hundred jobs are under threat at three poultry plants belonging to 2 Sisters Food Group, the UK's largest supplier of supermarket chicken, which has been dogged by a controversy over food standards (The Guardian). The owners of a chicken production plant near Glasgow have said it could close with up to 450 jobs at risk. Another 450 jobs are believed to be under threat at 2 Sisters plants in Smethwick and Wolverhampton (The BBC).
Read The Grocer's full report of the story posted last night here.
L'Oréal ready to buy Nestlé's €23bn stake in cosmetics group, writes the FT. The chief executive of L'Oréal has said that if Nestlé wanted to sell its 23% stake in the French cosmetics company, L'Oréal would be a buyer and "we have what it takes" to do so. (The Financial Times £)
More than £1 billion was added to the market value of Compass Group yesterday as the world's biggest catering company served up a forecast-beating trading update (The Times £). Compass Group, the world's largest catering company, was heading for its largest one-day share price rise in more than seven years on Thursday (The Financial Times £)
Coty's makeover showed signs of accelerating when the US cosmetics group upgraded its full-year sales forecast on Thursday after a better than expected second quarter. (The Financial Times £)
Pernod Ricard has raised its profit forecasts after seeing demand for its spirits grow strongly. The owner of Chivas Brothers scotch, Malibu rum, Beefeater gin and Absolut vodka was buoyed by stronger sales in India and China as well as demand in shops at transport hubs around the world. (The Times £).
The FT has an interview with Pernod Ricard CEO Alexandre Ricard. It writes that when he took over the reins following the sudden death of his uncle and then-chief executive Patrick Ricard, Ricard embarked upon a sweeping transformation of the company triggered by the changing habits of consumers. The company has switched its focus away from brands or categories like vodka, gin or whisky towards what it calls "consumption moments", based on the social contexts in which its drinks are drunk. (The Financial Times £)
Department store chain Debenhams is cutting about 320 jobs as part of a shake-up of management roles in its shops. (The Telegraph, The Guardian, Sky News)
The firm which salvaged HMV from the wreckage of administration five years ago is among a small group of bidders plotting a rescue deal for the British operations of Toys R Us. (Sky News)