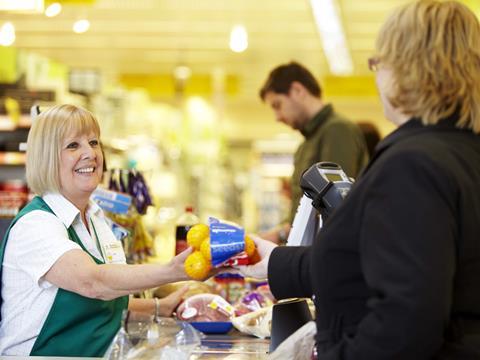 Morrisons has kept its full-year forecasts unchanged after it reported Christmas store sales marginally ahead of expectations, despite cautious consumer spending (Financial Times £). Its shares fell on Tuesday, however, as its wholesale business, which supplies food to Amazon, convenience store group McColl's and petrol station operators, performed less well than expected. Chief executive David Potts said that there had been a "change in consumer behaviour during the period", adding that customers were feeling the effects of a "spend-up summer with the heatwave and English football success" and were now "pulling their horns in" (The Telegraph). "Wonky veg" may have proved a winner with holiday shoppers, but Morrisons found yesterday that a fourth consecutive Christmas of sales growth was not enough to tempt investors to tuck into the smallest of Britain's Big Four supermarkets (The Times £). Shares in Morrisons slipped by nearly 4% in early trading, as investors punished the supermarket for a softening in retail sales over the Christmas period (Daily Mail).
Morrisons shares dipped, but the prospect of the Sainsbury's-Asda deal could help it out of a tight spot, writes Matthew Vincent in the FT's Lombard column. "Suggestions that J Sainsbury's proposed merger with Asda may be running into difficulties with the Competition and Markets Authority raise the prospect of more forced store disposals — at forced-seller prices. Many potential disposals would be of large format stores that are too big for the Aldi model. For Morrisons, though, they look like rather a good fit, offering scope to move south."
Sainsbury's and Waitrose have emerged as the biggest losers in the latest set of numbers for the grocery sector, recording declining sales in the last 12 weeks (The Telegraph). Two-thirds of UK households visited a discounter over Christmas, handing Aldi and Lidl their biggest ever slice of spending as political uncertainty prompted shoppers to keep a tight hold on their wallets (The Guardian). All the major supermarkets lost market share in the 12 weeks to 30 December as Aldi's sales jumped 10.4%, according to the latest data from Kantar Worldpanel, and Lidl's by 9.4%. Shoppers shunned Waitrose in the crucial run-up to Christmas, fuelling fears the high-end grocer has lost its lustre (Daily Mail). UK shoppers spent a record £29.3bn at supermarkets in the run-up to Christmas (Independent).
John Lewis, Morrisons and Aldi are among the winners over the 2018 festive shopping season so far, writes The Guardian.
A post-Christmas spending splurge has continued at John Lewis & Partners, with sales rising by double digits in the first week of clearance sales (The Times £). The department stores chain said that total sales in the week to 5 January had risen by 11.2% compared with the same time last year. The jump was driven by demand for its fashions, with sales rising by 20.4%.
A struggling toilet roll maker lost more than a third of its value yesterday after warning that rising pulp prices would wipe out most of its annual profits (The Times £). Accrol blamed increasing tissue costs and the pound's bumpy ride on foreign exchange markets for the downgrade.
Brewer and pub operator Greene King toasted to a "strong" Christmas and New Year as festive drinkers boosted sales at its managed pubs (Daily Mail). Greene King, which owns Hungry Horse and Chef & Brewer, said like-for-like sales in the last two weeks were up 10.9%, with sales hitting a record £7.7m on Christmas day alone.
"In a swish research centre on the edge of a Swiss lake, the world's biggest cigarette company is re-inventing itself," writes Thomas Moore for Sky News. "Philip Morris International - which makes Marlboro and several other leading brands - has vowed to phase out cigarettes and move into smoke-free products instead. Sky News was given unprecedented access, allowed to see banks of machines that "smoke", and a laboratory where scientists monitor the impact of chemicals on the tiny hairs inside the lungs and airways."
"Greggs' vegan sausage roll shows appetite for its 'smart' marketing," writes the Financial Times £. "Greggs's share price has risen by about 100p to £13.73 since January 2 — the day before the snack was put on sale."
Eddie Lampert, the billionaire backer of struggling department store chain Sears, will have another chance to keep the retailer trading as a going concern, allowing it to avert a liquidation for now (Financial Times £).
China has bowed to American concerns over agricultural exporters' access to its markets, approving five new genetically modified crops as talks between the world's two largest economies continued yesterday (The Times £).