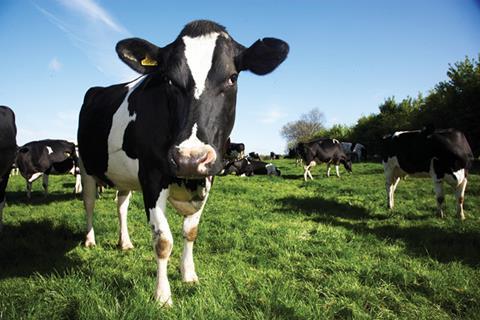 Top story
Nestlé (NESN) has entered into an agreement with French company DBV Technologies to PAY up to €100m to sell a test for milk allergies in children.
Nestlé will pay €10m upfront to help fund the development of the patch test, which it will sell globally. DBV said it expects to request regulatory approval for the test by 2021.
DBV said this morning: "Nestlé Health Science will support [the test's] worldwide commercialization through its range of nutritional solutions tailor-made for babies and young children suffering from CMPA and other food allergies and intolerances."
DBV Technologies' chairman and chief executive officer, Dr. Pierre-Henri Benhamou, said: "Improving the lives of those suffering from food allergies is DBV's mission, and through this exciting partnership with Nestlé Health Science, we are further extending our portfolio of potentially transformational and cutting-edge products.
"Combining DBV's innovative and proprietary technology with Nestlé Health Science's global presence and expertise in nutritional therapies is a synergistic approach that we believe has the potential to improve the overall health of our patients."
Greg Behar, CEO of Nestlé Health Science, added: "This innovation can become the breakthrough diagnostic for CMPA. Early diagnosis and nutritional intervention helps get infants happily back on the path of healthy development, alleviate the anxieties of parents and reduce healthcare costs. Our reach in the field of pediatric allergy makes Nestlé Health Science an ideal commercialization partner for DVB's innovative diagnostic patch. This collaboration is another step in our strategy of advancing the role of nutrition through science-based innovation."
The companies said that currently CMPA is a difficult to diagnose condition that impacts up to 2-3% of infants and toddlers aged two and under "during a critical stage of their development".
Nestlé already has a range of products aimed at children with cow's milk protein allergy and other food allergies, including its Althéra, Alfaré and Alfamino ranges.
Morning update
It's a relatively sedate start to the short week this morning after the recent glut of annual results.
One notable piece of news is that the merger of Coca-Cola Enterprises (CCE) with fellow European Coke bottlers Coca-Cola Iberian Partners and Coca-Cola Erfrischungsgetränke completed yesterday. The newly combined Coca-Cola European Partners will being trading on London's Euronext, Euronext Amsterdam and the New York Stock Exchange today.
The big news late on Friday was that the Competition and Markets Authority is to examine Sainsbury's (SBRY) takeover of Argos owner Home Retail Group (HOME). The CMA said it will investigate whether the deal could results in "a substantial lessening of competition" for consumers". The CMA is accepting responses until 13 June and will make a decision by 25 July.
A Sainsbury's spokesperson said: "The combination of both businesses will create a multi-product, multi-channel proposition with fast delivery networks, benefiting customers by accelerating our strategy to give them what they want, where and when they want it. We look forward to the successful completion of the deal."
Elsewhere, this morning AIM-listed Ukrainian egg producer Avangardco Investments has reported its first quarter results. Consolidated sales were 45% to US$39.8m , with export sales dropping from US$24m to US$15.4m. Gross profit was down 43% to US$8.3m.
Provexis, the business that develops and licenses the Fruitflow heart-health food ingredient, is had issued an update on trading following the end of its financial year on 31 March 2016. In its preliminary results statement expected in early September the Company expects to report a " strong year of progress". Revenues for the year ended 31 March 2016 were £92k, a 140% year on year increase.
The FTSE 100 has opened 0.2% lower this morning at 6,261pts.
Nestle has eased 0.7% to CHF73.65 this morning.
Elsewhere, Real Good Food (RGD) is down 2.8% to 35p, Applegreen (APGN) is down 2.2% to 335.1p and Greggs (GRG) down 1.3% to 1,124p.
Early risers include McBride (MCB) up 1.2% to 154.8p, Kerry Group (KYGA), up 1.1% to €80.88 and Fyffes (FFY), up 1.1% to 123.4p.
The week in the City
It looks like a quiet week in prospect with little in the diary until Sainsbury's issues its first quarter trading update on 8 June.
Most notably Anheuser Busch InBev (ABI) is holding an ordinary shareholders meeting tomorrow, while Thursday brings Wal Mart's AGM in the US.
There's a little more on the horizon in other newsflow this week. Tomorrow will see the publication of the latest Kantar and Nielsen grocery market share figures and the BRC Shop Price Index for the month is also scheduled to be released tomorrow.