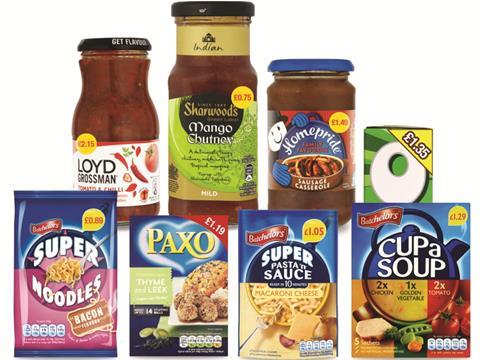 Top story
After the announcement of a new partnership between Premier Foods (PFD) and Japanese Food Group Nissin yesterday, Nissan has agreed to buy 17.27% of the UK-listed food group.
Nissin has bought the stake from an existing shareholder and, as per yesterday's announcement, will now have a seat on the Premier board. The 17.27% was previously held by US private equity house Warburg Pincus and was purchased for 63p per share.
Under the terms of the co-operation agreement Nissin is prevented from making a takeover offer for Premier for six months.
Its co-operation agreement is dependent on Premier no longer being in an offer period after announcing it had rebuffed two approaches from US food group McCormick yesterday.
Premier said it "welcomes Nissin as a long-term shareholder who understands and supports Premier's growth ambitions".
David Beever, Chairman of Premier said: "We welcome Nissin as a new long-term shareholder in our business. By gaining a strategic investor who understands and supports our growth ambitions, we have an exceptional opportunity to deliver shareholder value. Based on the conditional cooperation agreement we announced yesterday, we very much look forward to working with Nissin to develop ways our two businesses can co-operate to drive growth."
Morning update
Newsagent and convenience group McColl's (MCLS) has appointed Jonathan Miller as chief executive, replacing outgoing James Lancaster.
Miller joined McColl's in 1991 and has been chief financial officer since 2004, as well as leading store development, human resources and IT.
McColl's said: "He has extensive knowledge of McColl's, a deep understanding of convenience retail and a real desire to lead the continued development of the business."
He will be replaced as CFO by Simon Fuller, who has previously worked at Tesco in a variety of finance director roles. "Simon has considerable retail knowledge and expertise, across distribution, supply chain, retail operations, on-line and trading," the company said.
Lancaster, who co-founded the business in 1973, will take over as non-executive chairman until April 2017. He led a management buyout of the business in 1995, a secondary buyout in 2005, numerous acquisitions and the IPO in 2014.
McColl's added: "James has been instrumental in the growth of McColl's and, given his extensive experience and retail knowledge, the Company are delighted to retain his expertise on the board."
Finally, Angus Porter has been appointed as a non-executive director. Porter is chief executive of the Professional Cricketers Association until March 2016.
Elsewhere, UK-listed Russian grocery Magnit has announced its audited financial results for the full year to 2015. During the year the company added net 2,378 stores (1,250 convenience stores, 29 hypermarkets, 58 "Magnit Family" stores and 1,041 drogerie stores) and increased its selling space by 22.9% in comparison to 2014 to 4,413.7 thousand sq. m. The total store base as of December 31, 2015 reached 12,089 stores.
Revenue increased by 24.5% year on year from RUR763.5bn in 2014 to RUR950.6bn. The top line growth was due to an increase in selling space as well as to a 6.2% increase in like-for-like sales. Gross profit increased by 22.8% to RUR270.8bn, while gross margin in 2015 amounted to 28.5%. EBITDA increased 21% to RUR104bn.
The FTSE has opened 0.9% down to 6,142pts after retailer Next warned this morning it was facing its toughest year since the financial crash of 2008.
Premier Foods has slumped 10.9% back to 47.9p this morning after the market decided the share purchase agreement by Nissin makes the McCormick deal look less likely to happen.
Next's warning has hit Marks & Spencer (MKS) shares, driving them down 2.9% to 400.7p, while Tesco (TSCO) is down another 2.1% to 193.4p and Hilton Food Group (HFG) has fallen 2.3% to 530p.
McColl's is up 0.4% to 160.8p after today's announcement.
Yesterday in the City
Long-suffering Premier Foods shareholders got a fillip yesterday as the Oxo and Mr Kipling maker was boosted by a remarkable 70.6% share price rise back up to 53.8p on news of its rejection of a 60p per share approach from US food group McCormcik.
The shares had previously closed at 31.5p before yesterday's announcement, which included a new strategic partnership with Japan's Nissin and upgraded revenue expectations. The shares were driven up to their highest point since the summer of 2014.
Overall it was a less than dramatic day for the FTSE 100, which ended the day 0.1% up at 6,199.1pts.
Tesco (TSCO) was one of the FTSE's bigger fallers, dropping 2% to 197.6p after a downgrade to "sell" by broker Stifel, which said the supermarket was "too optimistic" about its future margin prospects.
Elsewhere it was generally a solid day for the grocery and fmcg sectors.
Unilever (ULVR) was up 2% to 3165p, PZ Cussons (PZC) up 1.8% to 309.6p, Greencore (GNC) up 1.8% to 360.1p and Tate & Lyle (TATE) up 1.6% to 561p.
Ocado (OCDO) continued its better run recently, rising past 300p again after gaining 1.6% to 301.1p yesterday. After its strong recent earnings statement Finsbury Food Group (FIF) was up another 3% to 116p.